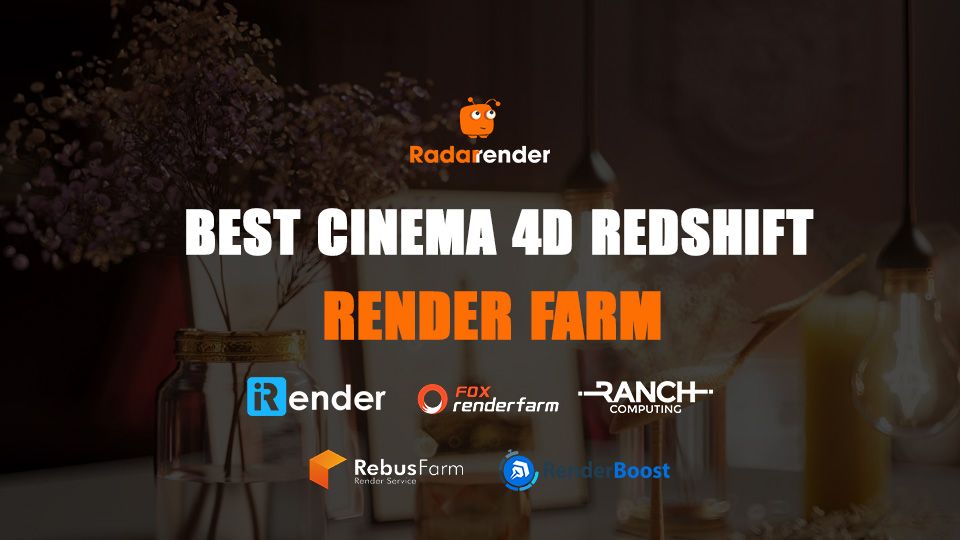 Top 5 best Cinema 4D Redshift Render Farm
As an industry insider, are you looking for the best render farm for Cinema 4D Redshift? For 3D artists, the definition of render farm is familiar to them. Check this article to find the best Cinema 4D Redshift render farm. 
Why uses Redshift for Cinema 4D? 
The world's first fully GPU-accelerated biased renderer. Redshift is a powerful GPU-accelerated renderer built to meet the specific demands of contemporary high-end production rendering. Redshift is making it even better integrated into Cinema 4D. 
Cinema 4D is a professional 3D software. It comprises modeling, simulation, animation, and rendering software solutions. With its quick, strong, adaptable, and stable toolkit, professionals in design, motion graphics, VFX, AR/MR/VR, game development, and visualization get greater access to and efficiency from 3D processes.
Reasons to use Redshift for Cinema 4D
Speed up workflow 
This you'll see more clearly if you're rendering with a standard, physical CPU. When you switch to Redshift and render with GPU, the rendering speed is much faster than CPU. 
Redshift is a renderer biased
Unlike other render engines, Redshift can ignore some things like Global illumination and still ensure accurate and realistic rendering quality so you can get your job done faster. 
Integrated more 3D software 
Redshift is available for more 3D software such as Cinema 4D, Maya, 3Ds Max, Houdini, and Katana,… You use any software without spending on additional licenses.
Support all render farms
As seen below, Redshift is a famous render engine that integrates more 3D software. So that, there are a lot of render farms supporting it. 
Pay attention to choosing the best Cinema 4D Redshift render farm
Some render farms don't support all versions of Cinema 4D or Redshift. So, you should contact their customer service for assistance with the software version.

License: Although Redshift's license is simpler than Octane, it is also quite complex and technical; you should prepare well before choosing to render farm. 

Redshift uses many Nodes: You should render farm has multi cards.
Recommend Requirements
16 GB of RAM or more

Core i7 or Xeon equivalent, 3.0GHz or better

For Windows and Linux: NVIDIA GPU with CUDA compute capability 7.0 or higher and 8 GB of VRAM or more. We recommend an NVIDIA Quadro, Titan, or GeForce RTX GPU for hardware-accelerated ray tracing.

For macOS: Apple M1 16 GB, AMD "Navi" or "Vega" GPU, or later with 8 GB VRAM or more. Multiple GPUs
Top 5 best Cinema 4D Redshift render farm
iRender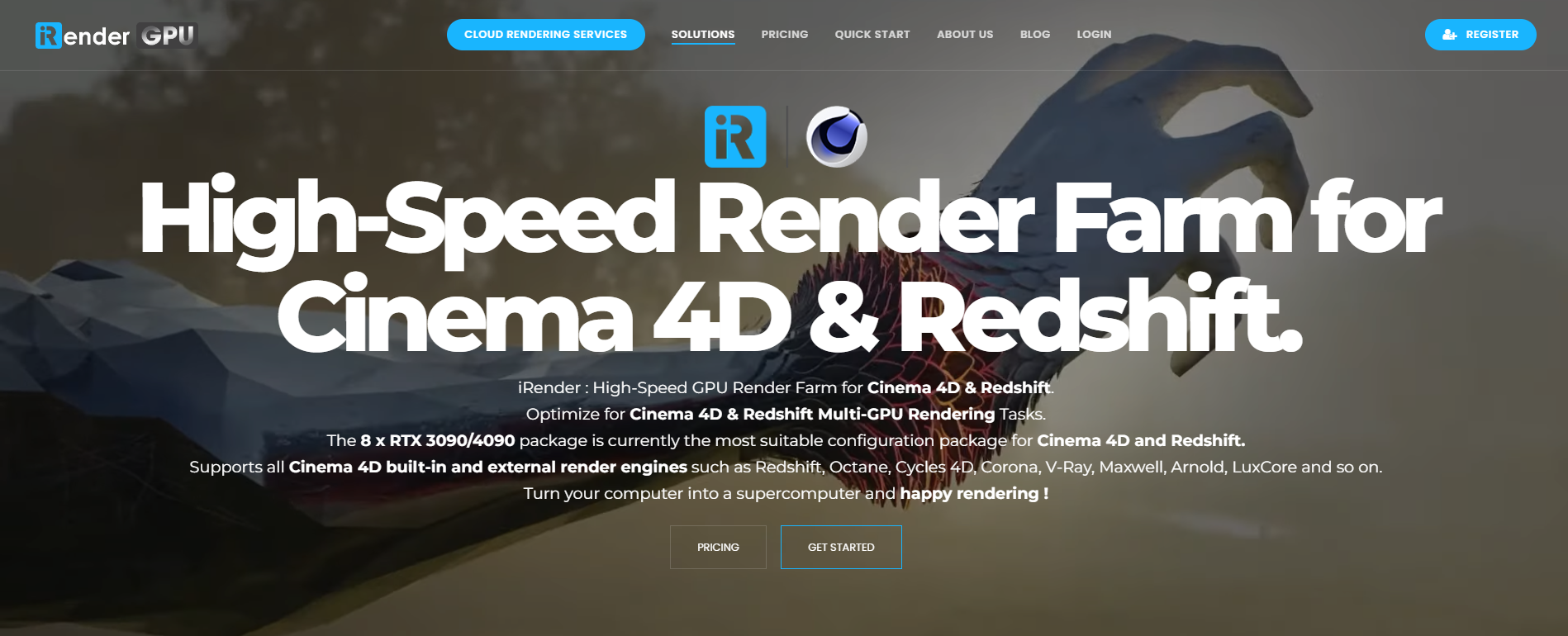 CPU: AMD Ryzen Threadripper Pro 3955WX processor

GPU: RTX 3080/ RTX 3090; 8x RTX 3080/ RTX 3090; 2x RTX 4090; 6 x 8.704 to 6 x 10.496 CUDA cores

RAM per node: 128 – 256 GB

Price: 7.2 – 28$/node/hour for GPU
At the first of the best Cinema 4D Redshift render farm list, we prioritize the iRender render farm under the IaaS model. When using the service of iReder farm, you will not need to care if the service supports the Cinema 4D and Redshift versions. iRender is the only render farm you can download the software version. It isn't different from your computer, but its performance is more advanced.
In addition, if you can render Redshift with any software on iRender, you can just download that software and use it. This is the most significant advantage of this render farm. You can only render with Cinema 4D or one original software for other render farms.
You can also control rendering errors and stopping; editing your scene anytime because you can control the computer.
Recommend service
iRender has many service packages for multi-cards. You should use the newest graphics cards from NVIDIA RTX 2080Ti/RTX 3080/RTX 3090, especially RTX 4090. Additionally, you can utilize their Redshift license in place of your own; the number of Redshift license keys you need will depend on the number of servers you intend to use. Prices for 2/4/6/8x RTX 3090 are 7.2$/hour, 14.8$/hour, 22$/hour, and 28$/hour, respectively. The cost will be significantly less if you want to utilize it for a daily, weekly, or monthly plan.
Rebus Farm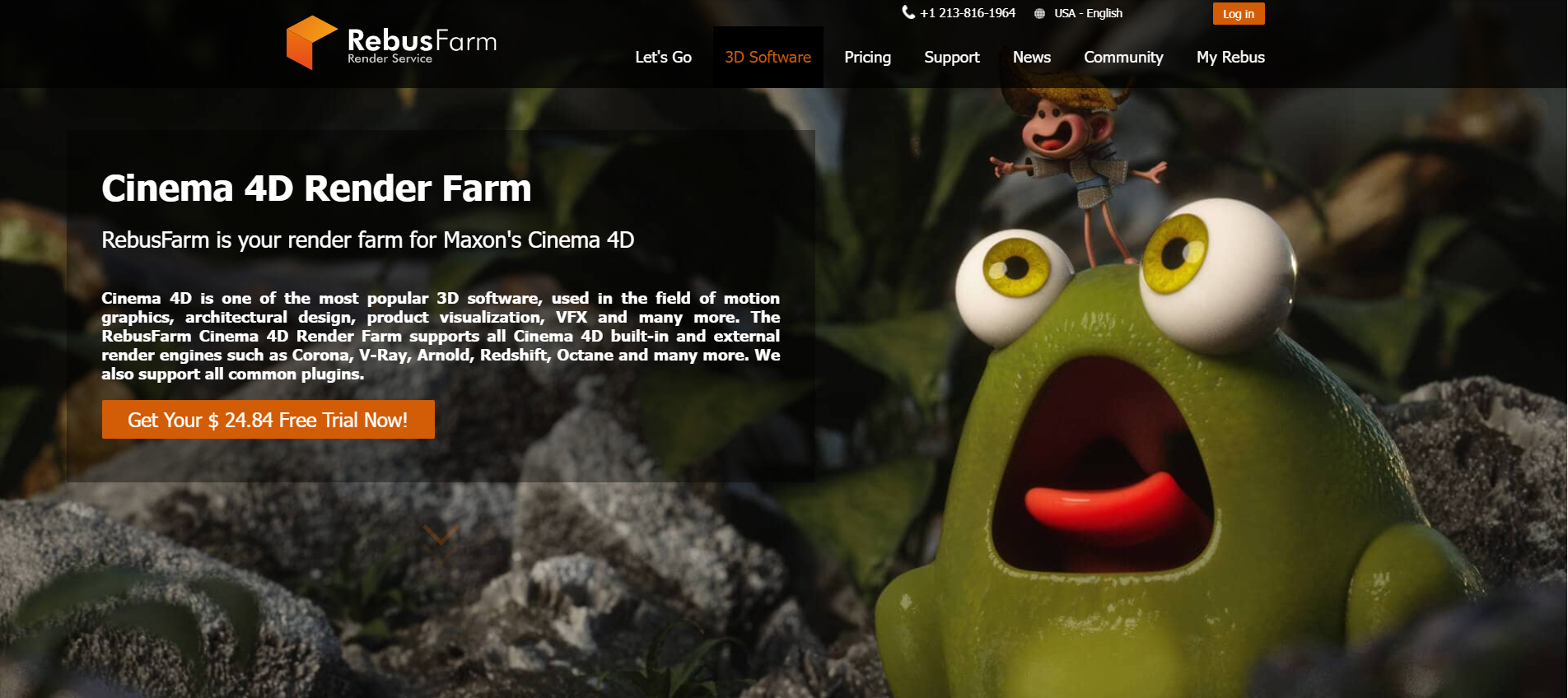 CPU: AMD's Threadripper 3970X for CPU rendering

GPU: NVIDIA's Quadro RTX 6000 for GPU rendering

RAM per node: 64 – 256 GB

Price: 1.19 cent/GHzh and 0,55 cent/OBh
Rebus farm is one of the leading names in the render farm industry. This business is founded on the SaaS (Tools-as-a-Service) paradigm. Many artists choose this render farm to work with Cinema 4D Redshift. All Redshift versions and Cinema 4D are supported. In addition to Redshift and Cinema, Rebus supports much other software and render engines.
When using Rebus's service, your work will take fewer steps than iRender. You do not need to install software and install it yourself, just package your project and upload it to Rebus' system through their file transfer tool.
You will not be involved in the rendering process, and we need to know if this is an advantage or a disadvantage. But with our projects that need to be fixed during render, this is a big drawback.
Recommend service
This render farm for Cinema 4D divides rendering into two groups, each including a different list of supported programs. Rebus Farm, for instance, offers CPU rendering options for Vray Cinema 4D, Physical Cinema 4D, Advanced Renderer Cinema 4D, and Corona Cinema 4D at 1.47 cents/GHzh. Rebus farm supports many Cinema 4D versions, including R14 to S26 and Redshift from 2.0, 2.5, 2.6, 3.0, and 3.5. Only Redshift (2.0, 2.5, 2.6, and 3.0) and Octane, both of which cost 1.10 cents/Obh, are available for GPU rendering.
Fox render farm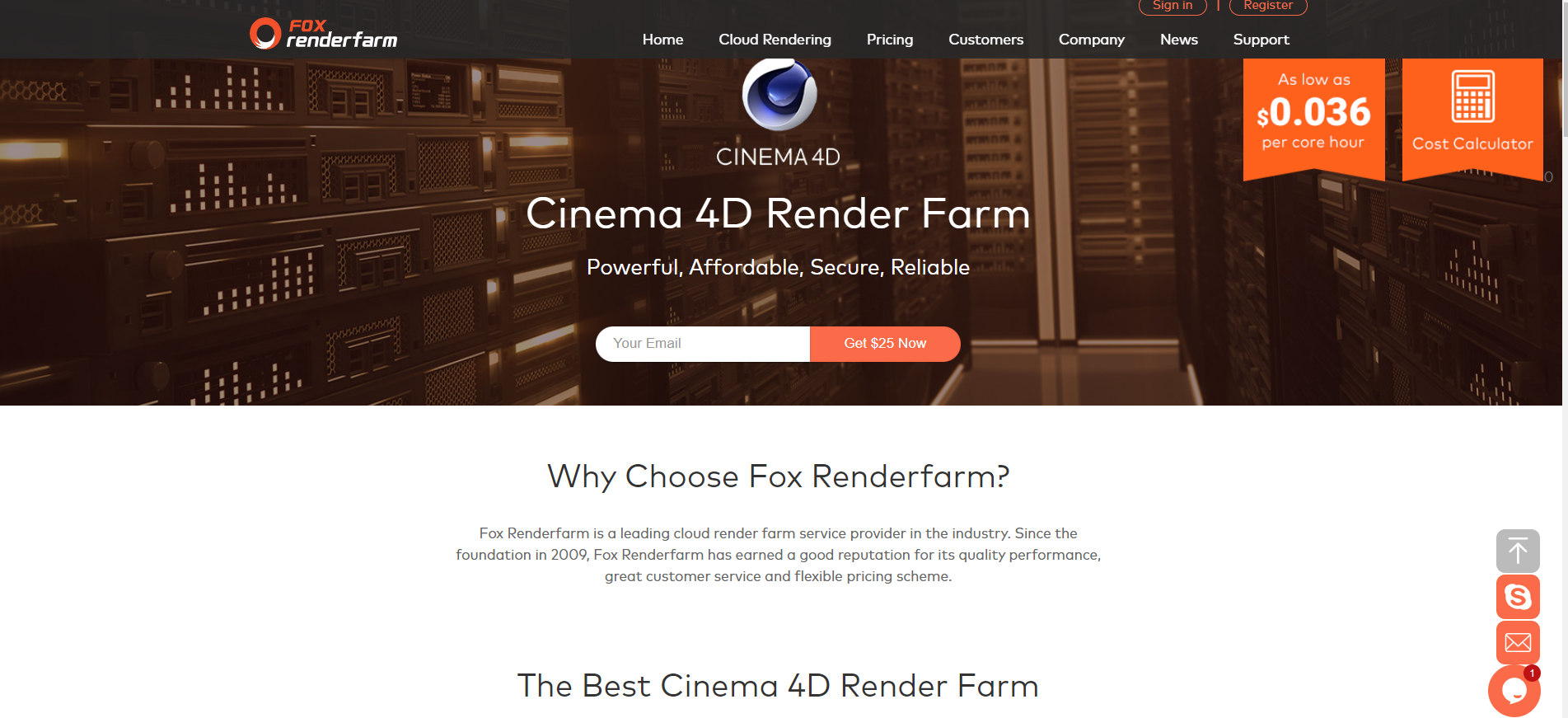 CPU: Dual Xeon E5 2660

GPU: GTX 1080Ti, 2080, 3080, 3090. TESLA T4

Ram per node: 64GB – 128Gb

Price: From $0.06  per core hour or from $2.0 per node per hour
This isn't a new render farm, and Fox Render Farm has 15 years of experience. Many studios use Fox render farm to complete their projects, some of which are famous: Disney, Dreamworks, etc. 
We love the how-to security of Fox's customer information. For each artist, our information and project information should be confidential. And Fox did a great job with this. Fox render farm has the same workflow as Rebus because it is the same render farm SaaS model. You will convert the scene, 3D software, and renderer into a file and upload it to Fox's system.
One thing at the Fox render farm that we don't like is that we need to check the versions of Redshift and Cinema 4D on their website. If we wanted to render at Fox, we would have to contact support to ask about it.
Recommend service
Fox render farm has an extensive nodes system, with thousands of nodes, which satisfies the basic requirements to operate Redshift and Cinema 4D.
You can use their fee calculator to estimate how much time and money you will spend on your project. You will use both GPU and CPU rendering on the Fox render farm with prices corresponding to the service of your choice.
Ranch Computing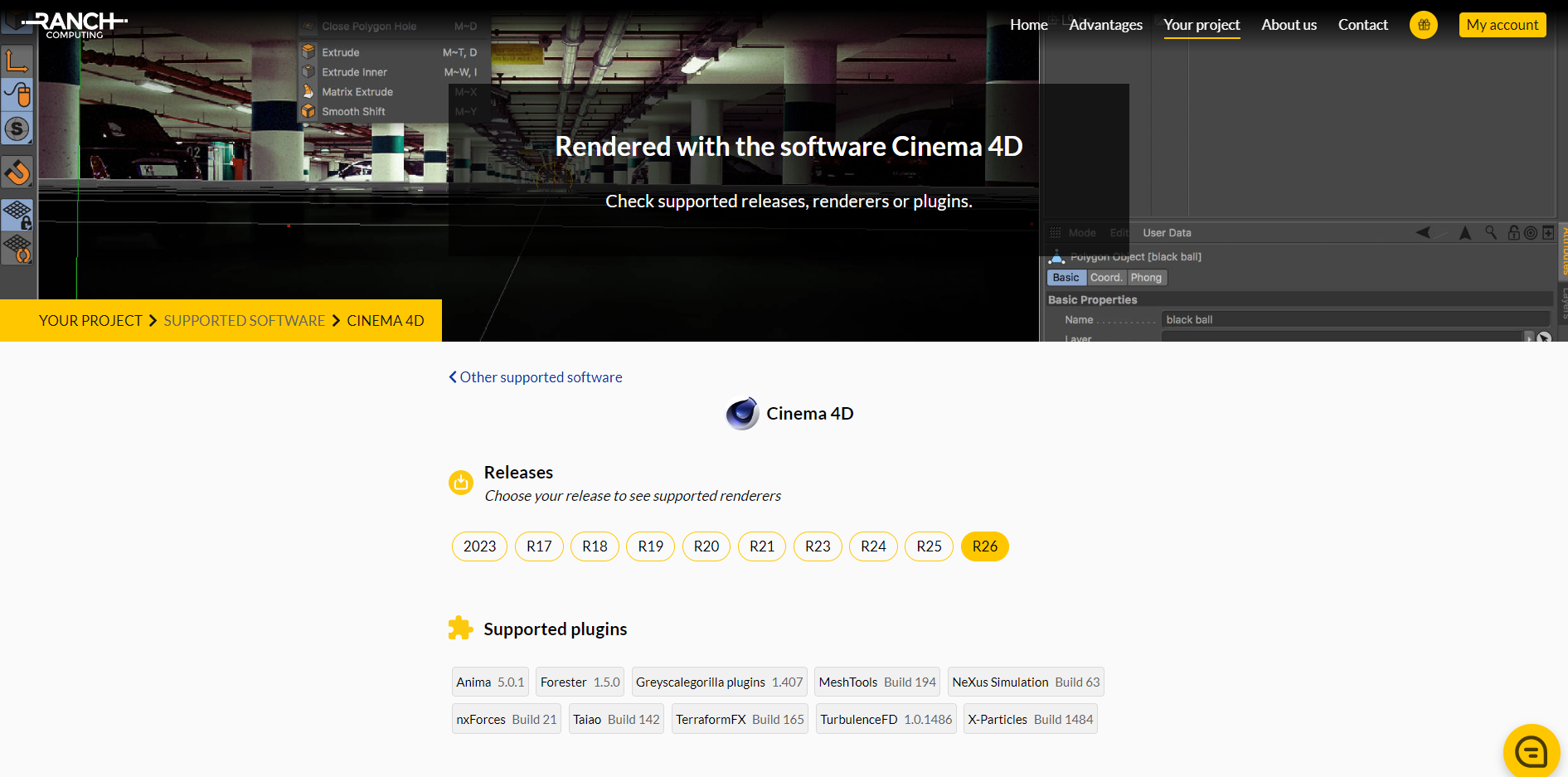 CPU: Dual Xeon E5-2697A v4 and Dual Xeon E5-2690 v2

RAM per node: 128 – 256 GB

Price: 0.016 – 0.039€/GHzh for CPU; 0.009 – 0.015€/OBh for GPU
Ranch Computing is a render farm in France. It has made it possible for any visual artist, independent of their line of work (animation, VFX, architecture, design, video games, etc.), to approach rendering calmly to meet deadlines and adhere to budgets.
When we used Ranch Computing's service to render our project, we found the service very fast. We don't have to wait for our turn to render like other render farms we can't name. However, with Ranch, rendering is quite "expensive." If you are a freelance artist, you should consider financial issues.
Recommend service
The platform specializes in supporting Cinema 4D, and you can select from a range of Cinema 4D releases, from R16 to R26. You can choose from various render engines with the most recent versions, including Redshift 3.0.35, Octane 2021 1.6 R4, Arnold (GPU) Cinema 4DtoA 3.2.1, and others. They also support several Cinema 4D plugins.
Ranch Computing shows customers CPU farms and GPU farms based on their quality, such as GPU-low (max 14 nodes), GPU-medium (max 28 nodes), and GPU-high (max 32 nodes) (max 56 nodes). The GPU rendering packages cost 0.011€/OB.h, 0.016€/OB.h, and 0.019€/OB.h (Octane Bench point per hour).
Renderboost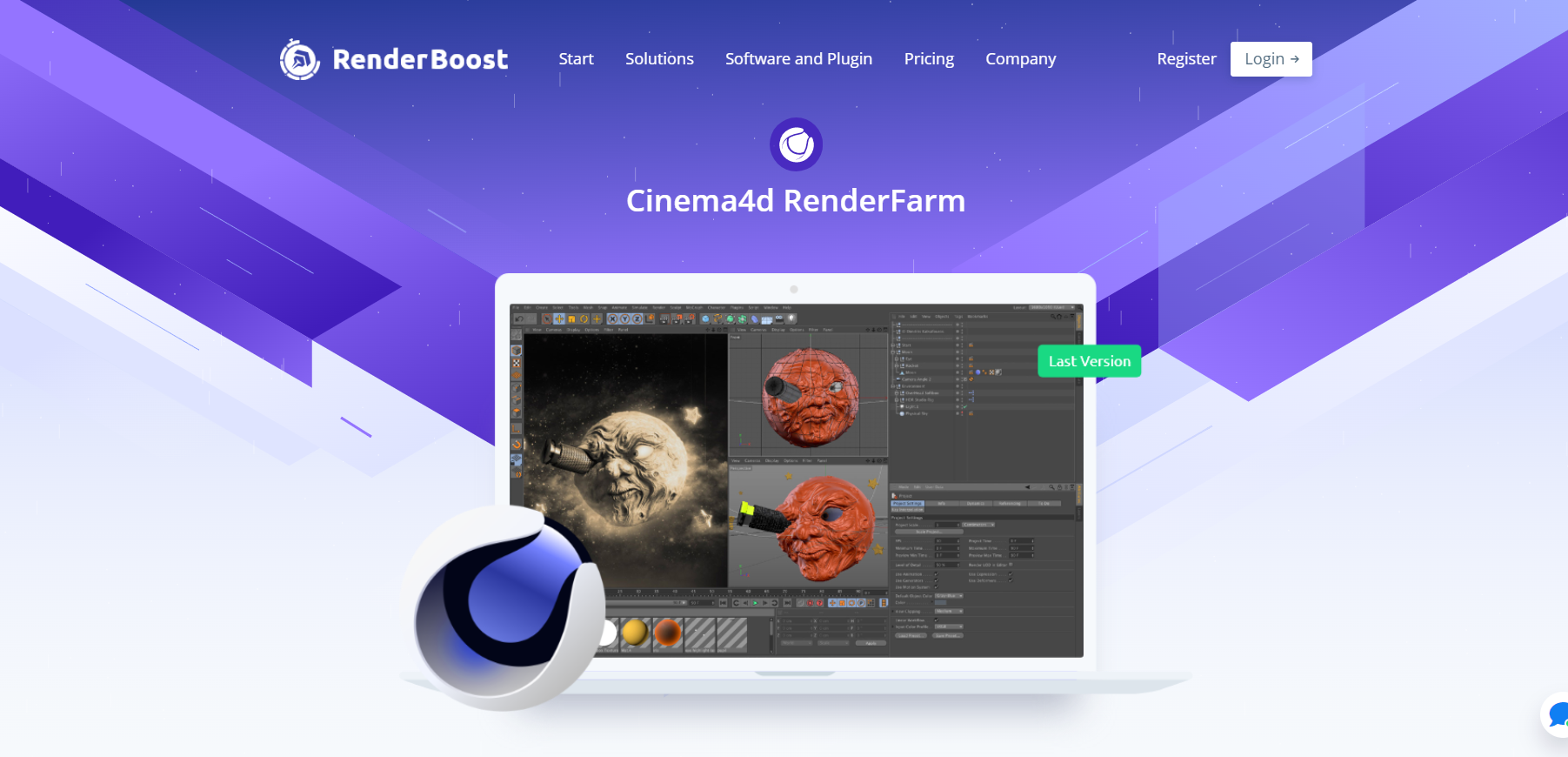 CPU: Intel® Xeon® Processor E5-2699 v4; Ryzen™ 2nd Gen Threadripper™ 2990WX

RAM Per Node: 64 – 128 GB

Price: 1.2 Cents/GHz; 2.2 Cents/GHz; 4.2 Cents/GHz
RenderBoost is a high-performance cloud rendering platform for your VFX and animation projects that gives you on-demand rendering capabilities. The rendering server's CPU and GPU are powered by a cloud application (SaaS) that leverages the most recent cloud computing technology.
RenderBoost offers a variety of rendering services using a Cinema 4D render farm. Depending on the clients' needs, these may create complex landscapes, animations, or still images. Additionally, RenderBoost has supported V-Ray and SolidAngle Cinema 4DtoA, two of Cinema 4D's internal rendering engines. Ask the RenderBoost staff if they support any other renderers you want to utilize, such as Arnold, Corona, or Redshift. When using Cinema 4D with Vray or Corona, RenderBoost is a fantastic solution. Its power supplies Cinema 4D with CPU rendering.
Recommend service
Renderboots has three service packs with different prices, each of which can be used for other project purposes. The Student Plan (1.2 cents/GHz) is now available for students, the Artist Plan (2.2 cents/GHz) for artists or freelancers, and the Corporate Plan (4, 2 cents/GHz) for companies with urgent missions.
Conclusion 
With the 5 Best Cinema 4D Redshift render farms that we introduce to you, through the information we share with you, we hope you can choose the right Cinema 4D Redshift Render farm for your project.
See morre: 1. Best render farm for Redshift