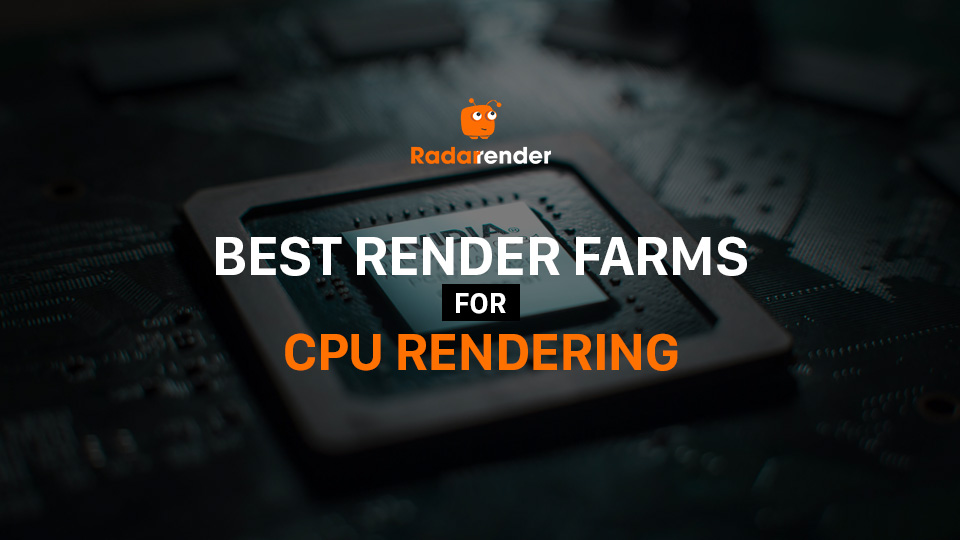 Top 3 Best render farms for CPU rendering
If you prefer and use CPU render engines for rendering and looking for the best render farms for CPU rendering to speed up your workflow, this article will help you. Let's get explore the 3 best names of render farms for CPU render engines with Radarrender!
A CPU (Central Processing Unit) render engine works to convert data input to information output as its core task as the control center of the entire computer. Being the first renderer available historically, CPU renderer has widespread usage and is basically the industry standard when it comes to rendering. Let's find out some benefits that CPU rendering brings us: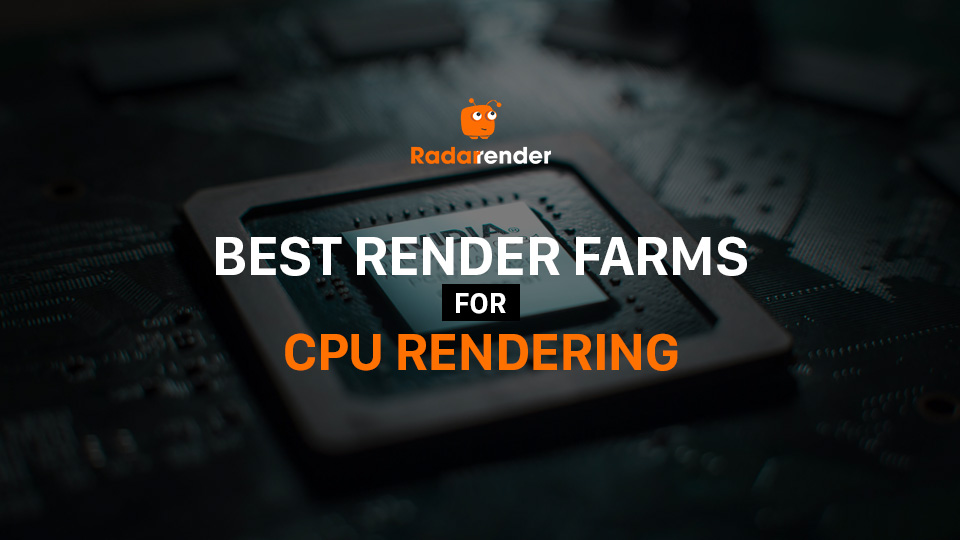 GPU rendering seems faster at rendering low complexity imagery, but once you add complexity things, it starts falling apart. Nowadays 128 GB of RAM may be adequate for production rendering. However, let's think about 100+ million input polygons, sub-pixel tessellation for the input geometry into subdivision surfaces and displacement, 1TB+ textures, render time procedurals which can increase scene complexity by multiples because they expand new geometry during rendering by running a sub-program that generates it procedurally, a large number of (smooth) curve rendering for hairs and grass, large particle rendering for FX, OpenVDB for clouds and explosions… (Chan Dra) And at this point, there is simply no chances to fit all this in the GPU memory, so CPUs are still necessary for projects that have complex geometry, physics simulations, particle systems, but depending on your rendering software, GPU rendering is going to be much more important in the foreseeable future.
2 | Capable of Handling Complex Tasks
Regarding complex tasks, the CPU can outperform the GPU. GPU is optimized for processing huge tons of data by performing the same operation quickly and repeatedly. It means that if all cores are doing the exact same operation simultaneously, you could harness the optimal processing power of the GPU. When it comes to handling different tasks that are not similar, it's hard to keep everything in sync, where the CPU could perform smoothly. Therefore the architecture of a CPU is much suitable for processing 3D scenes.
The driver can be a problem with GPU-based rendering. If computer crashes are a common occurrence in your computer, your graphics card is the one causing the issue due to Driver. Unfortunately, the graphics card is one of the least stable and highly complex parts of a computer setup. If a driver update crops up then expect to render problems later on. There is no need to worry about such problems with a CPU–based solution, it's a stable, well-established renderer with few hiccups.
For many 3D artists, the quality of the image is more important than the speed at which the media is processed. Thanks to being an integrated solution, CPU renderers offer a vastly improved image quality. If you are a person who prefers precise quality above time efficiency, CPU rendering is for you.
There are well-known CPU render engines in the world and widely-used by 3D artists. The two brand names below can be considered as the best render engines for CPU rendering. 
Corona Renderer is both a biased and unbiased renderer that is capable of outputting photorealistic visuals. Corona Renderer now only works in Autodesk 3ds Max, MAXON Cinema 4D, and as a standalone application.
The development of Corona Renderer started back in 2009 as a solo student project of Ondřej Karlík at Czech Technical University in Prague. In August 2017, the company became part of Chaos Group, allowing for further expansion and growth. Despite its young age, Corona Renderer has become a production-ready renderer capable of creating high–quality results. Corona has built in denoiser that makes use of data from the render passes and your 3D scene to remove noise from the image. This means that you don't have to wait for the entire render calculation to complete.
Arnold is an advanced ray tracing renderer built for the demands of feature-length animation and visual effects. Arnold has a quality about it that can make images look as close as you can get to photorealistic. Part of that is because Arnold is an unbiased render engine. That means it tries to mimic the real world as closely as possible without taking shortcuts. It also has to do with the algorithms it uses behind the scenes to calculate its images. 
Arnold is CPU-based bought by Autodesk in 2016 and recently was introduced to use GPU rendering in early 2019. Now, Arnold is compatible with Autodesk 3Ds Max, Maya, Maxon Cinema 4D, SideFX Houdini, and Katana. 
Which best render farms for CPU rendering
Apart from the aforementioned advantages that CPU rendering solutions bring users, there are still apparent drawbacks of CPU rendering. In detail, it often takes a lot of time, even hours or days to render a project through CPU. If you need to speed up your render time, increasing the number of render nodes that will render many frames simultaneously can be an ideal solution. However, building a powerful workstation or your own render farm with a large number of render nodes will cost you thousands of dollars. In addition to investing money into purchasing robust machines, you need to pay for electric bills, maintenance costs, and so on to operate those render nodes. It seems that this solution may be more time-consuming and costly. Is there another way to reduce your render time at a reasonable price? The answer is YES. Render farms were born to handle your problems when they utilize the power of hundreds of CPU render nodes to complete your job at ease. According to what we researched, used, and reviewed render farms in the world, there are the top 3 best render farms for CPU rendering. Let's figure it out:
Fox Render Farm was established in 2009 in China with a team of experienced staff in the field of computer graphics. With professional services and industry-leading innovation, they provide cloud rendering services to a wide range of entertainment studios and animation studios from more than 50 countries and regions. Fox Render Farm is currently one of the fastest-growing companies in the global market, especially in Asia and North America. Fox Render Farm provides Cloud Rendering services – SaaS (Software as a Service) – that allow customers to use their applications to render their projects.
It can say that Fox Render Farm came first when it comes to the best CPU-based render farms. Fox Render Farm owns a friendly UI/UX that makes customers easy to use. They offer a free transfer files tool which is fast and useful. As a SaaS-based render farm, what you need to do first is prepare your project on your local computer, then uploading or downloading files through Raysync which is a free app developed by Fox and can be considered a high-speed transmission solution. Users can upload any type of file format through Raysync at any size. Although Fox does not have robust hardware with cutting-edge CPU or GPU when offering Dual Xeon E5-2660, 2.20 GHz, 8 cores, 64GB (standard), users can utilize the number of render nodes to render their job. Fox Render Farm supports the best for CPU rendering, especially 3Ds Max, Maya, or Houdini. Some CPU render engines that can be used on this render farm are Corona, Renderman, or Clarisse. On top of that, quick support is a plus point when using Fox Render Farm service. Fox supports customers 24/7 through live chat on their website or skype and are always ready to answer all your questions as well as issue. 
RebusFarm is a German-based company that is part of the growing commercial rendering service for studios around the world. They offer a cloud rendering service that can handle major 3D software out there. It is based on the model of SaaS (Software-as-a-Service). You will submit your job directly from a plugin inside the 3D software. With the experience of more than 14 years in the field of 3D rendering, Rebus has been improving a lot to be one of the most trusted render cloud services. 
RebusFarm is so easy to use with good UI/UX. Uploading or downloading files is managed by a RebusFarm software element called "Rebusdrop". Your job will be rendered frame by frame, so it will automatically be downloaded to a folder chosen by you in advance. Users can reach the optimal rendering process if they use the CPU-based rendering service of RebusFarm. The cost is a little higher, but fast rendering may be suitable for medium and large businesses working against the clock to meet tight deadlines. RebusFarm does a great job at supporting a wide range of software and renderers. Regarding software, RebusFarm meets the high standard when offering 3Ds Max, Maya, Cinema4D, Blender. Apart from the aforementioned major software, they also support Modo, Lightwave 3D, Sketchup, Rhino 3D, Autodesk Softimage. In terms of renderers, common names such as Vray, Corona, Mental Ray, Maxwell are CPU render engines supported on RebusFarm. When it comes to hardware, the CPU type on their farm is Intel i9-7980XE, 2.60 GHz, 18 cores with hundreds of render nodes to complete your job in minutes. However, RebusFarm is not really good at response times with customer service even on their Germany working hours. So just be sure you know what you are getting into before sending your render to RebusFarm.
Garage farm was established in 2010 with a team of two, Tomek and Minhee. They are a UK-based business that provides cloud rendering services. There are 2 brand names from Garage including GarageFarm and Xesktop. In terms of supporting software, you should look at Garage Farm which is a SaaS (Software-as-a-Service) model. This cloud render farm will connect with your 3D software and execute the process of rendering after you send your project from the interface of your application. 
The UI/UX of Garage Farm is not appreciated due to the complexity. Garage Farm is in the top list for CPU rendering when offering from 100 nodes to 300 nodes to render a job. Corona and Vray are used for 3Ds Max software or Maya. However, the most well-known renderer called Arnold is not offered on the Garage Farm system. If you would like to use Arnold renderer on Garage Farm, you need to purchase the license for each render node which needs to allocate a large amount of money.
There are a few benefits of CPU rendering that may pale in comparison to GPU rendering such as image quality, stable performance, large memory, etc. However, rendering on CPU is much slower than that of GPU. It even takes days, or weeks to render the whole project on CPU. As a result, thinking of a CPU-based render farm is an effective solution to shorten the render time from hours to minutes. In the cloud rendering service market, there are some trusted CPU render farms. The first one on the list is Fox Render Farm, rendering at high speed and facilitation. RebusFarm ranked second, followed by Garage Farm, at a reasonable price but more difficult to use. 
See more: Difference between CPU vs GPU rendering