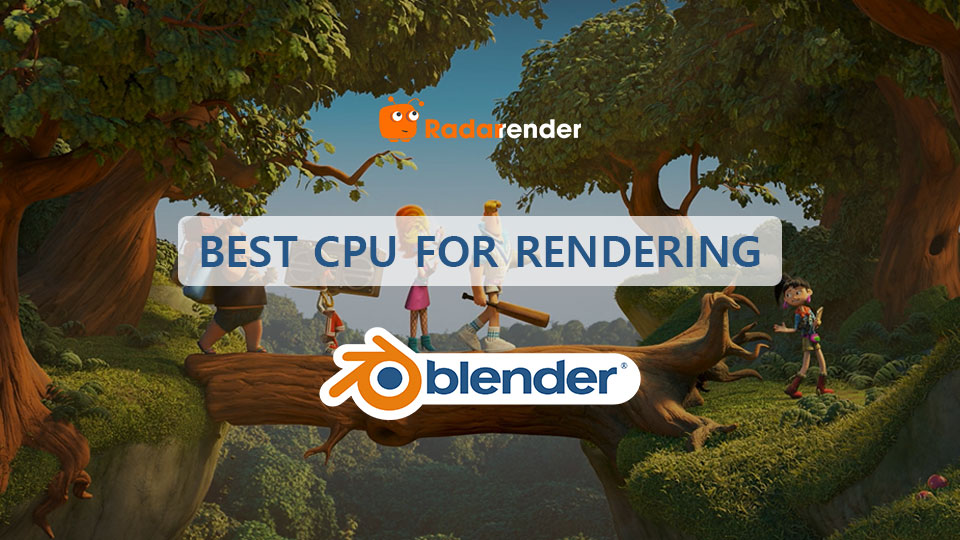 Best CPU for rendering Blender
Blender is a resource-intensive 3D software. A modern CPU will work well with Blender. But, to make the most out of it, you need the best CPU for rendering Blender.
Blender 3D software
Blender is a free and open-source 3D digital content creation application. It is versatile and has been used for the entirety of the 3D pipeline. From modeling, rigging, animation, and simulation to rendering, compositing, motion tracking, and even video editing and game creation. The software's vision is the freedom to create. In other words, everyone should be free to produce 3D CG stuff, have free technical and creative tools for production as well as free access to marketplaces. Thanks to the free and open-source software, individuals, and small studios benefit from Blender's unified pipeline and responsive development process.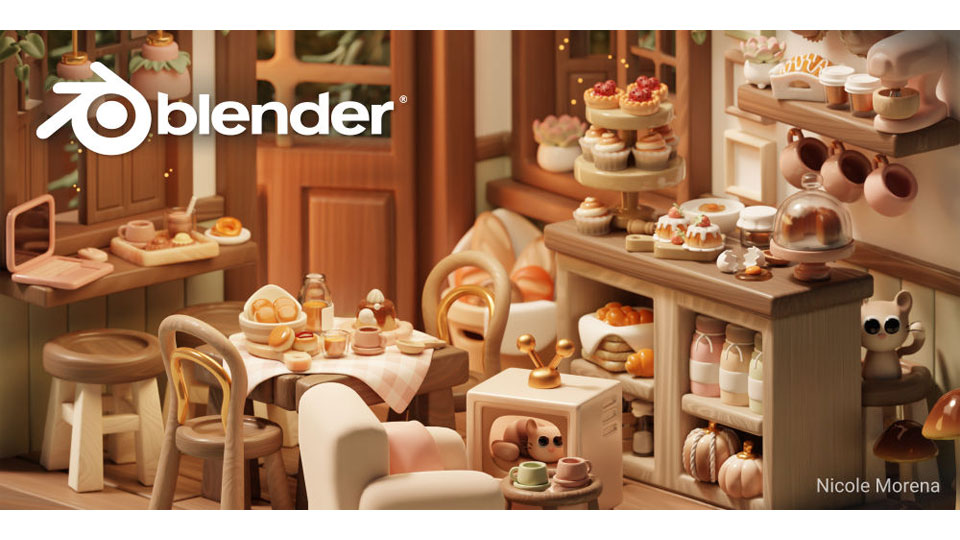 Image: Nicole Morena – Blender
Like any 3D software, it is important to understand precisely what type of devices are necessary to gain the most performance out of Blender. One of the most important computer parts is your CPU. Serving as the computer's brain, the CPU is essential for operating any application and any task in the 3D software. Continue reading to learn how Blender uses your CPU.
How Blender uses your CPU?
The CPU, which is also known as the processor, is one of the key components of a Blender workstation. The CPU performs a range of tasks in the application including 3D modeling, animation, physics simulations, and rendering. Blender requires the CPU for high-precision 3D modeling tasks such as modifiers, shape keys, drivers, etc. Moreover, Blender's sculpting engine is CPU-based, utilizing proper multi-threading. In terms of rendering, Blender needs the CPU for rendering in Cycles, in CPU and hybrid (CPU + GPU) modes.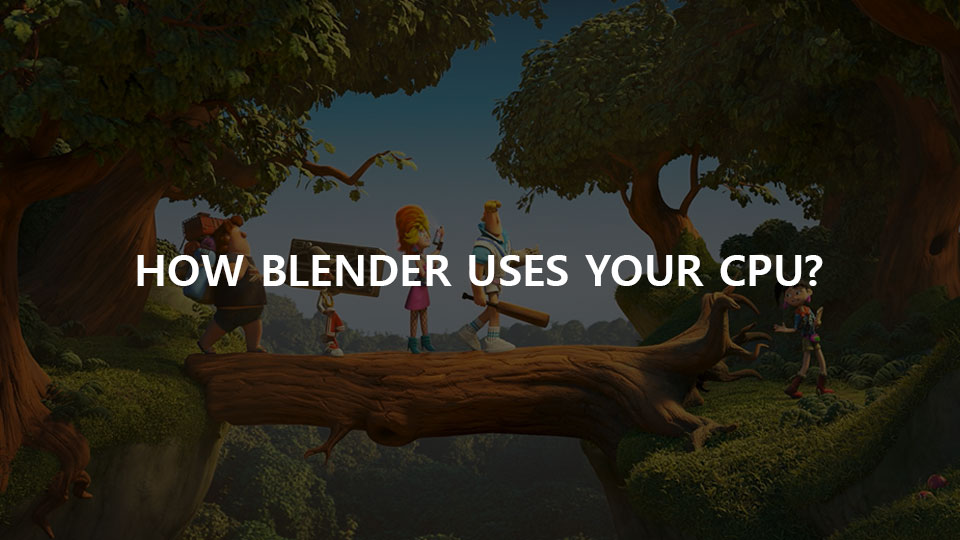 Blender makes use of multi-threading whenever possible, whereas some processes must be handled on a single thread. A decent processor has the ability to run the application and run most tasks. But if you plan to use your CPU for rendering, a processor with multiple cores can be useful. Because Blender is well-suited for multi-threaded CPU rendering. Having said that, it does not necessarily struggle with processors that focus on single-core performance. If you want to use all features of Blender, or if you plan to have an all-purpose workstation without a specific pipeline in mind, you should opt for a processor with a balance between multi- and single-core performance.
Let's find the best CPU for rendering Blender below.
What is the Best CPU for rendering Blender?
Blender Foundation requires the CPU in its documentation as follows. At a minimum, the CPU needs to be a 64-bit quad-core CPU with SSE2 support. The recommended CPU is a 64-bit eight-core one. This hardware requirement is very general and does not give you many suggestions when buying a new CPU. Radarrender will show you in detail.
In fact, the best CPU for Blender depends on the features or tasks you are optimizing for. For example, 3D modeling and animation tasks benefit from a single, fast core, whilst rendering task is improved with a high number of cores.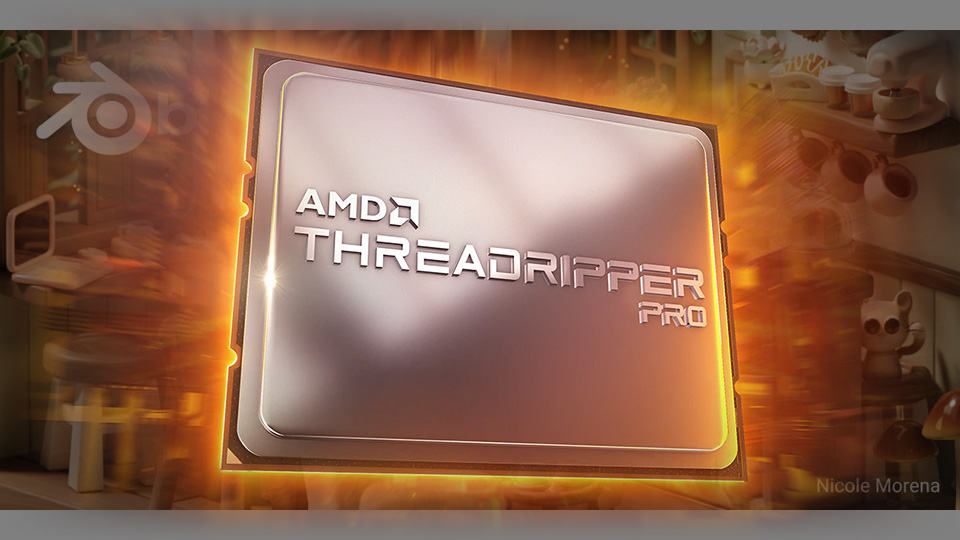 So the best CPU for rendering Blender is a CPU with as many cores as possible. For rendering tasks, AMD processors tend to be superior to those of Intel as AMD processors usually have higher core counts. Below are our CPU recommendations for Blender render:
1) AMD EPYC 9554P (64 cores)
2) AMD EPYC 7773X (64 cores)
3) AMD Ryzen Threadripper PRO 5995WX (64 cores)
4) AMD Ryzen Threadripper 3990X (64 cores)
5) AMD Ryzen Threadripper PRO 3995WX (64 cores)
6) AMD Ryzen Threadripper PRO 5975WX (32 cores)
7) AMD Ryzen Threadripper PRO 3975WX (32 cores)
You can also refer to the Top CPUs of Blender in its open data platform. The rendering benchmark scores are contributed by its community.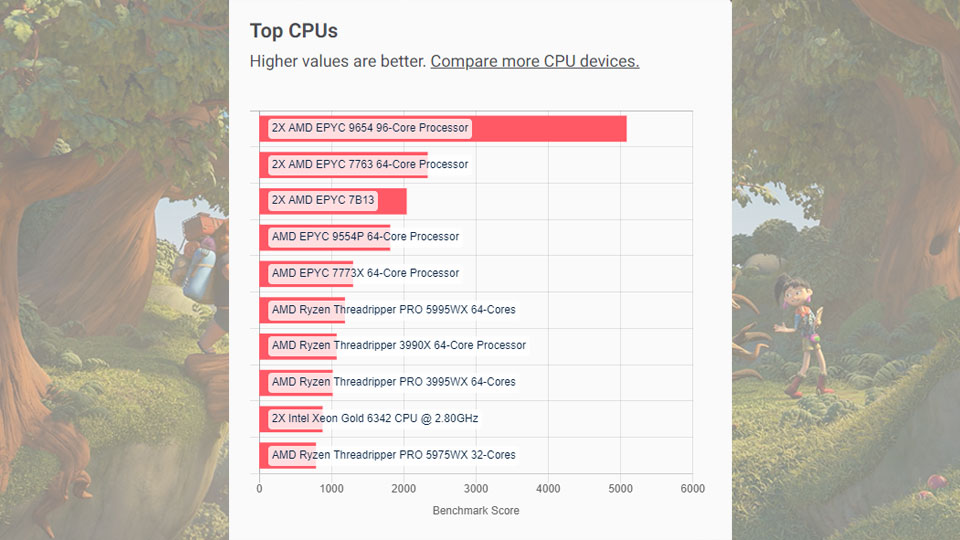 Top CPUs Benchmark Score – Blender Open Data Platform. Date: May 25th, 2023.
Conclusion
So that is a list of our best CPUs for rendering Blender. We hope you found the suitable CPU you were looking for.
See more: How To Enable GPU Rendering In Blender Cycles?