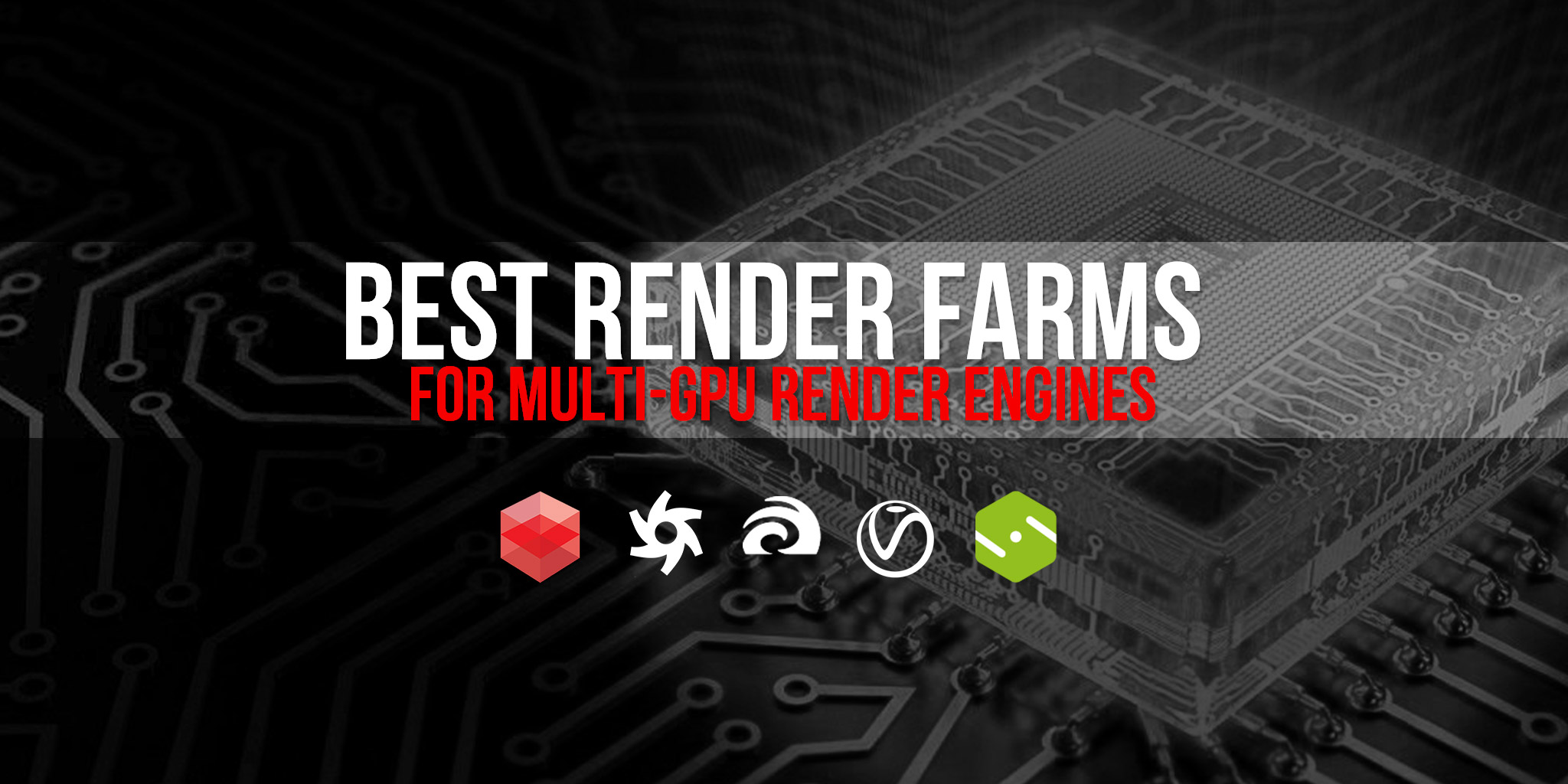 Which cloud rendering services for multi-GPU rendering?
As we all know, Multi-GPU rendering enables to use of graphics cards for rendering in place of CPU, which can remarkably speed up the rendering process as GPUs are mainly tailored for quick image rendering. GPUs were born as a response to graphically intense applications that burdened CPUs and hindered computing performance. The principle of GPU rendering is running across multiple cores on multiple data, focusing parallel processing on one specific task while freeing up the CPU to emphasize different sequential serial processing jobs.
As for shortening the rendering time of GPU, there are a wide variety of render engines utilizing GPU rendering. Especially, leveraging Multi-GPU rendering simultaneously to render can be 5 or 10 times faster than that of a single GPU. As a result, some well-known brand names in the world have primarily focused on developing products that optimize the performance of multi GPUs. It can be mentioned to Maxon or Otoy that brings great rendering solutions and reduce the burden of render time for 3D artists, designers, filmmakers, and so on. The rendering trends in the following years are foreseen to  
Multi-GPU rendering widely used today are Redshift, Octane, Vray, Iray, Fstorm, Eevee, Cycles which have matured significantly and are overtaking CPU-based render engines, both in popularity and render speed.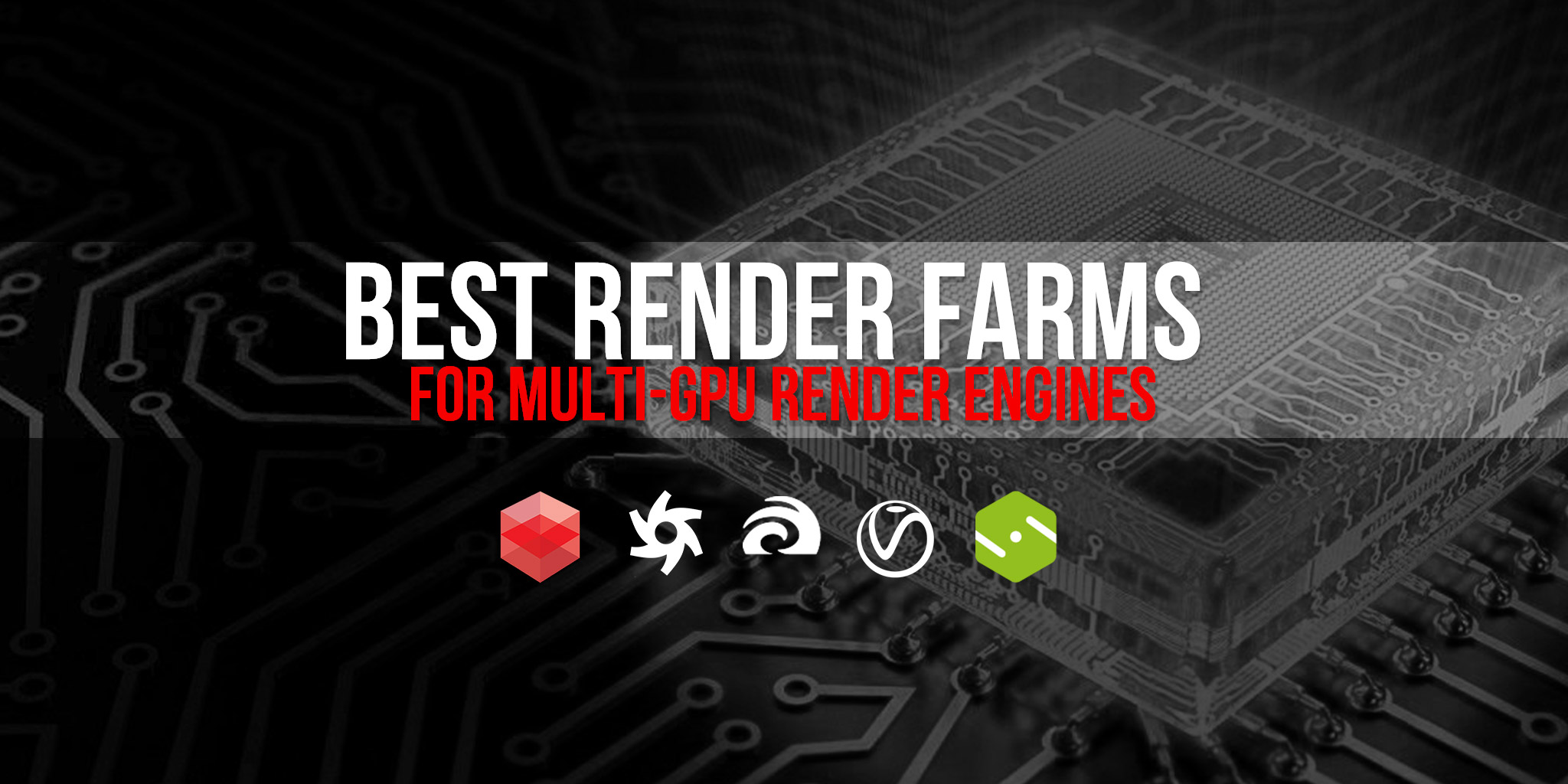 I. MULTIPLE-GPU RENDER ENGINES
Redshift Rendering Technologies Inc was founded in early 2012 in California with the goal of developing a production-quality, GPU-accelerated renderer with support for the biased global illumination techniques that until now have remained squarely in the CPU-only domain. Redshift is now part of the Maxon family and is quickly becoming the go-to render engine for the motion design community. Redshift render engine supports a nice selection of 3D programs: Autodesk Maya, Autodesk 3Ds Max, Maxon Cinema 4D, Houdini, and Katana.
Recommended hardware requirements:
Memory:

16GB RAM or more 

CPU:

Core i7 or Xeon equivalent, 3.0GHz or higher

Graphics card: NVIDIA GPU with CUDA compute capability 7.0 or higher and 10GB of VRAM or more:

NVIDIA Quadro, Titan, or GeForce RTX GPU

for hardware-accelerated ray tracing.

Multiple GPUs
OctaneRender® is one of the world's first and fastest unbiased, spectrally correct GPU render engines, delivering quality and speed unrivaled by any production renderer on the market. As a product of Refractive Software, Octane was founded by Terrence Vergauwen, a key developer of LuxRender. In March 2012, Refractive Software was bought by Otoy which also has investment from Autodesk. Now, Octane is a member of the Otoy family. Octane supports much software such as 3Ds Max, Maya, Cinema 4D, Houdini, Daz Studio, Unreal Engine, and so on.
Recommended hardware requirements:
Memory:

16GB RAM or more 

Graphics card: NVIDIA GPU with CUDA compute capability 3.0 or higher and 10GB of VRAM or more:

NVIDIA GeForce RTX GPU, GTX, Quadro, Titan
Multiple GPUs
Eevee vs Cycles are two main render engines for Blender which is an open-source 3D creation software by Blender Foundation that enables users to work on every aspect of 3D work. It includes modeling, animation, game creation, visual effect, and many more. Blender is easy to download, customize and work your way within itself. The software also provides a large set of plugins that can be beneficial to creating various types of models, animations, sculptures, and so on. When it comes down to it comparing Evee vs Cycles is more or less just comparing Real-time vs Ray Tracing in general. Read more: Eevee vs Cycles Comparison
Recommended hardware requirements:
Memory:

16GB RAM or more 

CPU:

64-bit quad-core CPU

Graphics card:

at least 4GB VRAM

 

Multiple GPUs
Optimal hardware requirements:
Memory:

32GB RAM or more

 

CPU:

64-bit eight-core CPU

Graphics card:

12GB VRAM or more, RTX GPU, Quadro

Multiple GPUs
FStormRender is a new GPU-powered, unbiased renderer with good performance which rather easy-to-use.  It is straightforward, fast, and realistic with convenient materials and light sources. Currently, FStorm renderer engine is exclusively available for 3Ds Max software. Hope that this amazing renderer will be available for major 3D software in the near future.
There are many unique features in FStorm renderer such as improved tone mapping, glossy reflection shader, glare effects, light sampling, improved raytracer, and optimized QMC sampling. FStorm renderer is deeply integrated into the 3Ds Max environment and supports all necessary and key features. Build-in scene converter easily and carefully converts any scene from Corona, Octane, and Vray render. Fstorm is interactive, which allows users to change the scene while it is rendered and see these changes in an interactive way without reloading need. Any scene change, except geometry, is automatically reflected. Geometry changes require real-time geometry update enabled or reload geometry button press. Users can move the camera and get real-time updates in the frame buffer window.
Recommended hardware requirements:
Memory:

16GB RAM or more 

Graphics card:

NVIDIA Geforce GPUs: RTX and GTX series
Multiple GPUs
II. RECOMMENDED RENDER FARMS
Rendering on multiple-GPU render engines can speed up your render time, however, it requires allocating thousands of USD into building strong workstations. In addition to purchasing licenses, you need to invest in at least 4/6/8 GPU cards, compatible CPU, motherboard, and other costs such as electricity, repairs and maintenance. Actually, using Redshift, Octane, or Fstorm on a single GPU is possible, however, their performance will not be optimized and the render time will not be reduced sharply. As a result, spending money on a trusted cloud rendering service is recommended where you let its powerful system render your job in minutes after a few clicks, instead of waiting for hours to render on your local computer. 
Radarrender has been using many worldwide render farms, then we review and rate the top 4 best render farms for multi-GPU rendering including iRender Farm, Rebus Farm, Fox Render Farm, and Garage Farm.
iRender farm is a leading render farm as an IaaS (Infrastructure-as-a-Service) model. They specialize in providing high-performance machines for rendering. You just need to get access to their powerful machine via an RDP file, take full control of the server and use it as your personal computer. There are some points that make iRender unique, namely 24/7 available service, free transfer file tool with unlimited storage; storing images to be available for the next usage, or cloning function. Users can install and use any version of Redshift, Octane, Vray, or Fstorm on the remote server. iRender servers meet all render engine requirements, even the high-end ones because each server is equipped with cutting-edge 6x GPUs RTX 3080/3090 or RTX 2080Ti. Let's take an in-depth look at the GPU rental servers that iRender offers as the following image: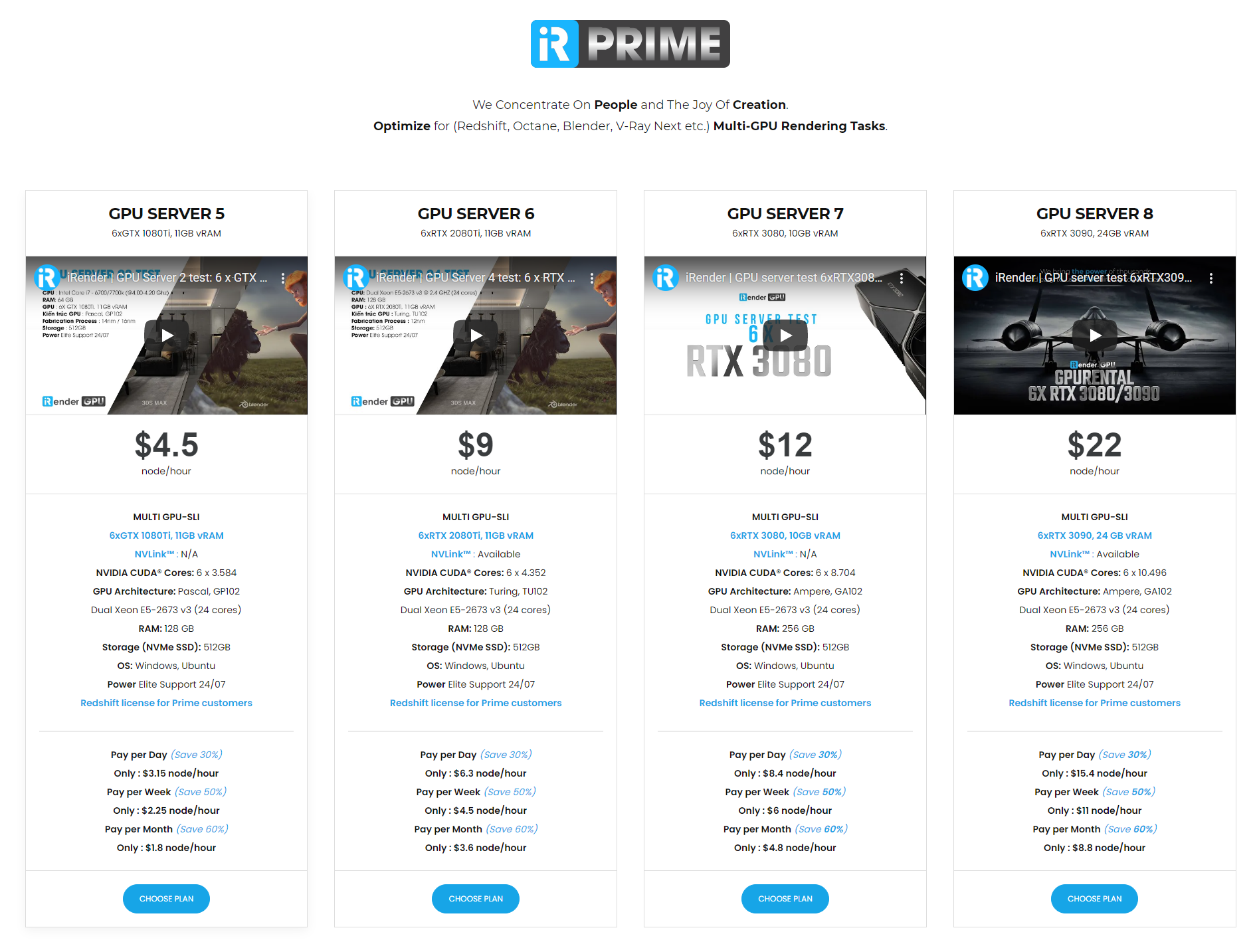 iRender recommends customers using their robust servers with 6x RTX 2080Ti, 6x RTX 3080, 6x RTX 3090 for Redshift, Octane, Vray, Fstorm, Eevee vs Cycles render engines. We made a test with Redshift and Cycles ones on the iRender system and also made a comparison with other render farms namely Rebus Farm, Fox Render Farm in terms of render cost, render time, hardware, and software support. As a result of testing, it is clear that iRender ranked first in the top list of best render farms for multi-GPU rendering. While it only took 6 seconds to render one Redshift frame on a 6x RTX 3090 iRender machine, cost 0.07$/frame, compared to Rebus Farm which needed 2.43 minutes to render the same frame and cost 0.11$/frame. Find out more at Redshift vs Octane Comparison
RebusFarm is a German-based company that is part of the growing commercial rendering service for studios around the world. They offer a cloud rendering service that can handle major 3D software out there. It is based on the model of SaaS (Software-as-a-Service). You will submit your job directly from a plugin inside the 3D software. With the experience of more than 14 years in the field of 3D rendering, Rebus has been improving a lot to be one of the most trusted render cloud services. As a SaaS-based render farm, Rebus Farm is somehow easier to use when you just need to prepare your job and upload it to its system, then submit it to render. However, you are not able to adjust your scene files if problems arise and it may take hours to fix errors on your local computer then send the file back to the render farm to re-render. As a result, SaaS render farms like Rebus should be used for straightforward projects with a simple production pipeline while large projects with a complex production pipeline are recommended to render on an IaaS render farm like iRender Farm because users enable to adjust and customize their scenes at the highest level.
Regarding render engines, Vray, Octane, Redshift for GPU-based rendering is supported by RebusFarm. In terms of hardware, it seems that there are not many GPUs in a single machine on the Rebus Farm system. Instead, they mainly leverage the number of render nodes on the Rebus render farm to complete their job. However, users will not know how many nodes are being used to render their job. We tested rendering a Blender Cycles file on Rebus Farm and compared it to iRender Farm which came first in the top ranking. It took 3 minutes to render one Blender frame on Rebus Farm and paid 1.27$/frame. Meanwhile, the render time for one frame on iRender Farm was only 1 minute which was one-third that of Rebus Farm. 
Fox Render Farm was established in 2009 in China with a team of experienced staff in the field of computer graphics. With professional services and industry-leading innovation, they provide cloud rendering services to a wide range of entertainment studios and animation studios from more than 50 countries and regions. Fox Render Farm is currently one of the fastest-growing companies in the global market, especially in Asia and North America. Fox Render Farm provides Cloud Rendering services – SaaS (Software as a Service) – that allow customers to use their applications to render their projects. In 2015, Fox Renderfarm established a strategic partnership with Aliyun (Alibaba Cloud Computing) to provide global visual cloud services. Therefore, users can be somewhat assured that they will be actively supported if they have any difficulty in rendering.
When it comes to supported software, Fox Render Farm, roughly speaking, offers does a great job at supporting a wide range of software and renderers. They support major software such as 3Ds Max, Maya, Cinema4D, Houdini, Blender. Some render engines are also supported on the Fox Render Farm system namely Arnold, Vray, Redshift for GPU-based rendering. In terms of GPUs, there are P102, GTX 1080, and GTX 1080Ti on Fox Render Farm which is outdated and gradually become unsuitable for 3D rendering. In fact, the number of graphics cards in one node of Fox Render Farm is only 2, compared to 6 of iRender farm. Similar to Rebus Farm, users make use of the number of render nodes on Fox Render Farm to speed up their render time, instead of the robust performance of cutting-edge GPUs. We also made a Blender Cycles test on Fox Render Farm and got a positive result. It took 1,6 minutes to render a Blender frame on Fox Render Farm (cost 0.22$) which was equal to the render time on a 1x RTX 3090 machine on iRender Farm (cost 0.10$), followed by Rebus with 3 minutes.
Garage farm was established in 2010 with a team of two, Tomek and Minhee. They are a UK-based business that provides cloud rendering services. There are 2 brand names from Garage including GarageFarm and Xesktop. In terms of supporting software, you should look at Garage Farm which is a SaaS (Software-as-a-Service) model. This cloud render farm will connect with your 3D software and execute the process of rendering after you send your project from the interface of your application. 
In terms of GPU render engines, Garage Farm offers Vray for 3Ds Max, Maya and Cinema4D while the only Redshift is supported for Cinema4D on its system. Garage Farm only gives outdated graphics cards called 8x Tesla K80 for rendering via GPU. The parameter for GPU servers from Garage Farm is 12GB VRAM & 8x 4992 CUDA cores, compared to GPU servers from iRender Farm with 24GB VRAM & 6x 10496 CUDA cores. Although not offering the state of the art GPUs, Garage Farm can support to render on from 100 to 300 nodes per working session for customers, which helps them to reduce the rendering time from days to minutes or hours.
This week, we make a Blender Test for 4 render farms including iRender Farm, RebusFarm, Fox Render Farm, and Garage Farm. This is a small and simple Blender project from Rahul Parihar without any plugins. Let's watch the following video and see the performance of those render farms.
To sum up, based on the above system requirements, the robust servers for Multi-GPU rendering are absolutely necessary for Redshift, Octane, Vray, Fstorm, Cycles, Eevee. There is no doubt that iRender ranked first, both render time and cost. iRender offers to support all render engines and compatible software for users. As an IaaS-based render farm, we highly recommend iRender Farm for studios or large projects with a complex production pipeline where you are able to adjust and customize your scenes at the highest level. In case your production pipeline is straightforward and no need much customization, SaaS-based render farms such as Rebus Farm, Fox Render Farm or Garage Farm should be your choice.