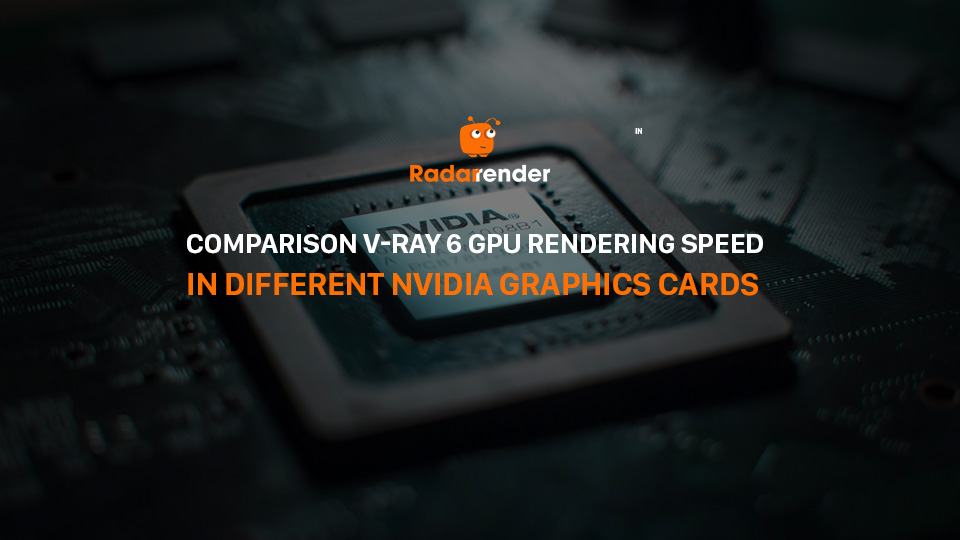 Comparison V-Ray 6 GPU rendering speed with NVIDIA graphics cards
Recently Chaos released V-Ray 6, which has been revised with some functions. Let's see how the V-Ray 6 GPU rendering speed is changed after updating and how the rendering speed is with the different NVIDIA cards in this article.
Overview V-Ray GPU Rendering
V-Ray is a biased computer-generated imagery rendering software application developed by the Bulgarian software company Chaos. V-Ray is a commercial plug-in for third-party 3D computer graphics software applications. It supported all 3D significant designs and CAD programs such as: 3Ds max, Cinema 4D, Houdini, Sketchup, Maya, Rhino, Revit,… 
When you work with V-Ray, you can explore and share your projects with real-time ray tracing and render high-quality 3D visualizations. V-Ray is used popularly in architectural visualization, VFX in film and television, advertising, games and interior design. 
With versatility and unique features, V-Ray has received recognition for introducing fully ray-traced photorealistic CGI to the film and television industries with a Sci-Tech Academy Award® and an Engineering Emmy Award®. 
V-Ray is known for two versions which are V-Ray and V-Ray GPU. Why so? 
Have you ever questioned using a CPU or GPU to render your project? V-Ray supports all renderings, and you can use CPU or GPU. They use call names to distinguish between V-Ray and V-Ray GPU.
Full-featured V-Ray GPU rendering software with rapid, photorealistic results and real-time feedback as you work is called V-Ray GPU.
This article will learn about the latest GPU rendering version, V-Ray GPU rendering 6.
What is V-Ray 6 GPU rendering?
V-Ray 6 GPU rendering has new features, including Chaos Scatter; procedural clouds; VRayEnmesh, Chaos Cloud Collaboration. In V-Ray 6, you can see your scene in a 360° panorama viewer; flip the composition button; improved dome lights, subsurface scattering, and reflective materials; an improved UI. Improvements to V-Ray GPU include faster Light Cache and bringing more feature parity with V-Ray CPU. To see full GPU-supported features here.
Test speed V-Ray 6 GPU rendering with NVIDIA GPU
NVIDIA GPU lineup and methodologies
Before testing directly on the NVIDIA GPU cards, we always have to have the systems we will use and methodologies. 
As usual, we started with V-Ray GPU rendering version 6 vs. version 5 and apples-to-apples to test using five scenes. We use NVIDIA GTX, last-gen TITAN RTX, and last-last-gen GeForce GTX 1080 Ti cards to compare performance between versions.
We have chosen NVIDIA cards because NVIDIA cards are required to take full advantage of the GPU capabilities in Chaos' V-Ray GPU rendering. 
Look at the NVIDIA GPU lineup we use
We don't want to recount the prices of NVIDIA cards here because we just want to compare the renders of V-Ray 6 and V-Ray 5. Instead, we'll show the prices. Card, .. then we will show you the results after we test with the following information about the machine:
We started testing V-Ray 6 GPU rendering, and we have some pay attention to you follow: 
Services that cause disruptions, like Search, Cortana, User Account Control, Defender, etc., are deactivated.

The graphics driver does not include any overlays or additional software.

At the driver level, Vsync is disabled.

Operating systems (OSes) are never transferred across machines.

Before beginning any test run, system configurations are verified.

Testing starts once the computer is at rest (keeps a steady minimum wattage).

All tests are repeated until there is high confidence in the outcomes.
And now, let's see the result of the test. 
V-Ray 6 GPU rendering performance 
Nobody can resist curiosity about its performance and groundbreaking features when a new version is released. We constantly compare the latest version with the old to see how it is different. 
Before we evaluate the rendering speed of V-Ray 6 GPU, we also have a small comparison of the rendering speed of V-Ray 5 and V-Ray 6 with NVIDIA's GeForce RTX 3090. And we were surprised when we got the results. 

How a scene is designed and whether or not it includes functionality that those optimizations would influence will determine how much a location benefits from the speed enhancements in V-Ray 6. The table result can show that V-Ray 6 can only sometimes render your scene faster than version V-Ray 5, but V-ray 6's display results are vastly improved in terms of shadows and reflections. Loft Bedroom completely blew us away with a massive increase, from 182 to 68 seconds, while a project like Chocolate had a modest decrease between V-Ray 5 and 6. And, similar to those V-Ray 6 GPU rendering projects that took a little longer to render, the final product was slightly better.
As it happens, Winter Apartment, one of the projects, is so challenging that only the RTX 3090 made it through. After being forced to incorporate a second 24GB GPU in the shape of TITAN RTX, we decided to include the GTX 1080 Ti to improve the generational view slightly. To keep things simple, we only planned to have NVIDIA's most recent models when we first began testing this collection of V-Ray sceneries.
We will stop the speed-up of V-Ray 6 with the previous version, and then We had a post that collected render times and scenes using V-ray 6 and NVIDIA cards.
And this is the result after we process: 
All scenes were smooth during rendering without losing any errors. And what's unbelievable is that in two sets, Kitchen and Nutcracker, the GTX 3080 Ti surpassed the GTX 3090 in terms of render times.
In the end, the RTX 3090 isn't substantially faster than the RTX 3080 Ti, but a twice as massive framebuffer is where it excels. We had no problems rendering the Winter Apartment project thanks to that framebuffer. Because of this, the last-generation TITAN RTX may have been able to pass the test, but as we can see, Turing and Ampere have significantly improved generationally. When it was first released, the TITAN RTX felt like an incredible screamer, but the next-gen top-end option cuts the resulting render time in half.
RTX 3070 Ti is to improve a bit. But also in the 8G range, anyone who finds a slightly better card can increase the amount of VRAM by 50%. At the same time, testing and receiving a GeForce lineup.
From the Winter Adapmenct, we can see that complex projects need GPUs with generous frame buffers. 
The changes between TITAN RTX and RTX 3090 are substantial. Regarding the older Pascal, the highest-end model from the previous generation is competing against the lowest performance in NVIDIA's lineup. While the $329 RTX 3060 dominates it, the RTX 3050 flip-flops are over the GTX 1080 Ti. The RTX 3060 doesn't lag behind the Titan RTX from the previous generation.
This little test also helps us have a more objective view of V-Ray 6 GPU rendering with NVIDIA cards and which card to use for which project. In the future, Render engines GPU rendering is extremely promising and will have faster development. 
See more: Best render farm for Vray GPU