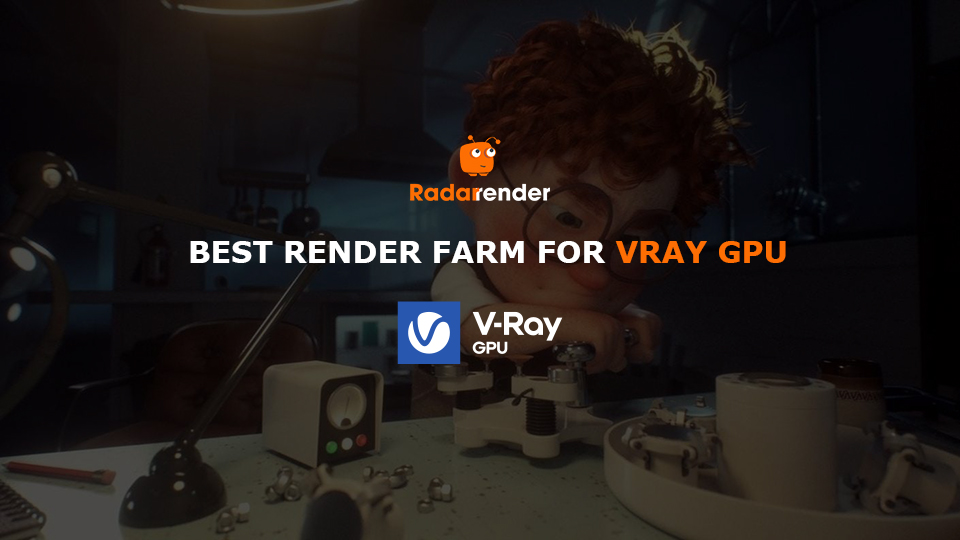 Best render farm for Vray GPU
Are you looking for the best render farm for Vray GPU projects? Then this article is for you. Find out Radarrender recommendation for Vray GPU render farm in 2022.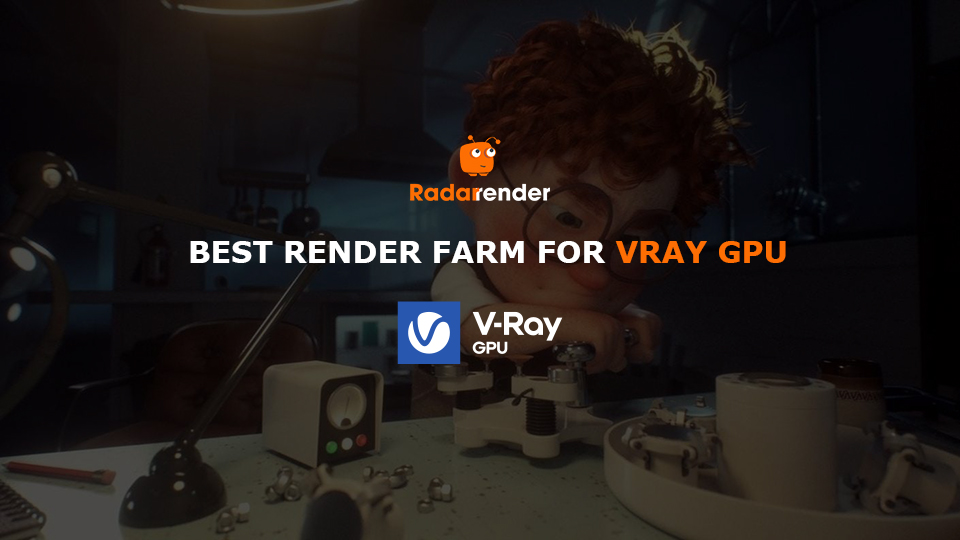 Overview of Vray GPU rendering
About Vray GPU
V-Ray GPU is a full-featured 3D GPU rendering application developed by Chaos company. Other than being a standalone software, V-Ray GPU offers plug-ins for a wide range of third-party 3D applications: 3ds Max, Maya, Sketchup, Rhino, Revit, Cinema 4D, Unreal Engine, Houdini and Nuke.
Vray GPU is widely used for visualizations and computer graphics in industries such as media, entertainment, film and video game production, industrial design, product design and architecture.
Why need Vray GPU render farm?
The benefits of using a Vray GPU render farm:
You easily scale your render capacity up and down without having to purchase and manage additional hardware and resources.
The render farms are easy to set up and use. You're free to render and not worry about computing hardware and infrastructure.
In short, you can render more in less time and concentrate on designing and creating your scene. The render farms will take care of the render process, without hogging your hardware and software.
Best render farm for Vray GPU
In this article, Radarrender gives you the three best render farms for Vray GPU (in our opinion): one IaaS solution, one SaaS solution and one solution from the Vray developer. Let's look in detail.
Chaos Cloud
Chaos Cloud Rendering is a software as a service (SaaS) which enables you to submit and render scenes using a cloud-based V-Ray. This service is provided by Chaos company – the developer of the Vray rendering application itself. The cloud's interface is easily accessible by a web browser.
What is the workflow then? As a SaaS solution, rendering in Chaos Cloud is similar to other SaaS render farms. It is pretty simple and straightforward. All you need is to have the Chaos Cloud Client application installed. After, you can access Chaos Cloud's web-based interface and submit jobs to it directly from your host 3D software application. Moreover, once in the cloud, you are able to monitor the progress of your currently submitted jobs. Or queue up the next jobs, as well as change job settings and resubmit jobs.
Supported applications
Chaos Cloud rendering is available for all 3D platforms that are compatible with V-Ray. In other words, the cloud service is available for all 3D applications supported by V-Ray via vrscene file export. In addition, it integrates directly with V-Ray for SketchUp, Rhino, Revit, 3ds Max, Modo, Blender, Houdini, Cinema 4D and Maya. Please take a look at the full compatibility table below.
There are a few things for you to note when using the Vray GPU engine. Regarding the Vray versions, Chaos Cloud rendering supports only versions V-Ray Next Update 1 (4.10.x) and above for V-Ray GPU. That is any V-Ray GPU scene created in a earlier version will be rendered with V-Ray Next Update 1 (4.10.x).
Hardware specifications
Chaos works with Google Cloud Platform (GCP) to build their cloud render farm. According to Chaos, they use a wide range of machines from 36 to 96 cores at the moment. Although Vray GPU rendering is supported, we don't know the GPU specifications. Just know that Vray GPU jobs are rendered on GPU devices with enabled CUDA and RTX. However, you should pay attention to not submit scenes exceeding 16 GB of GPU memory. Or else the jobs will fail.
Price
Instead of the traditional GHzh or OBh pricing, Chaos Group has selected a system of all-in-one render credits. It means the cloud service is available at a single flat rate. On top of that, at the moment, there is no option to pay more to use a higher specification virtual machine, or for a priority render job.
The pricing of Chaos has its pros and cons. The pros is that every customer is treated the same, with their highest priority. Also, you don't have to consider and choose one among various options. But, that pricing also raises a few questions. First, how to estimate how many credits a job will need. And second, is the price competitive or reasonable in comparison to other third-party online render farms? Fortunately, Chaos Cloud offers 20 free credits for new users to test the service. Please note that the free credits are only valid for 30 days. Besides, the cloud offers discounts for large package purchases and educational purposes.
For more information about Chaos Cloud, please visit here.
iRender Farm
iRender Cloud Rendering is an infrastructure as a service (IaaS) which allows you to rent their cloud-based servers and render Vray projects directly on. This means by renting powerful servers you are able to control and use them as if they were your personal computer.
After selecting a suitable configuration package with Windows or Ubuntu OS, you will connect to their machines through remote desktop application. Once you are on the server, you can install and use any application that needs GPU power (for example, Vray GPU), then start your rendering job. The instance is reusable after each use. iRender Cloud Rendering solution is based on IaaS, that's why its workflow is pretty different from two other render farms in this article which are SaaS solutions.
Supported applications
iRender Cloud Rendering is available for Vray GPU/CPU/Hybrid for all host 3D applications. Since using cloud-based servers of iRender is the same as using your computer, you are able to install any 3D software, renderer with any version. As a result, any Vray version with any host 3D software will do. Of course, the combination must be supported by Vray, including Vray for 3ds Max, Maya, Sketchup, Rhino, Revit, Cinema 4D, Unreal Engine, Houdini, Nuke and more. There is one issue, though. You will need to provide your own licenses for any software if necessary.
Hardware specifications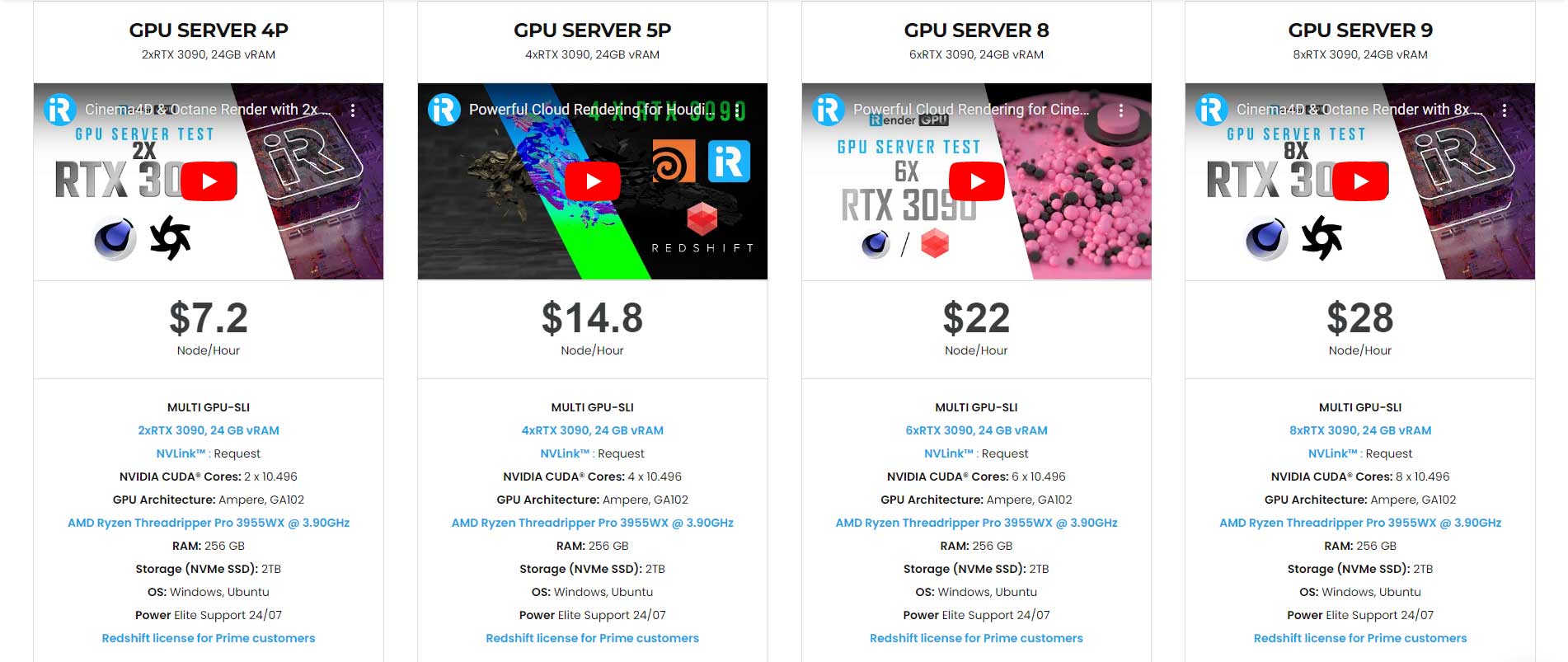 Talking about the machines, iRender offers a variety of GPU configurations, including servers with 1 GPU, 2 GPU, 4 GPU, 6 GPU, and 8 GPUs. Their GPUs are the RTX 3090 and the most recent NVIDIA flagship – the RTX 4090. These two GPUs both have 24 VRAM. The servers also have AMD Ryzen Threadripper Pro 3955WX processors, 256 GB of RAM, and 2 TB of NVMe SSD storage in addition to GPUs. Another plus is that their RTX 3090 servers allow you to request NVLink to increase the VRAM capacity.
Price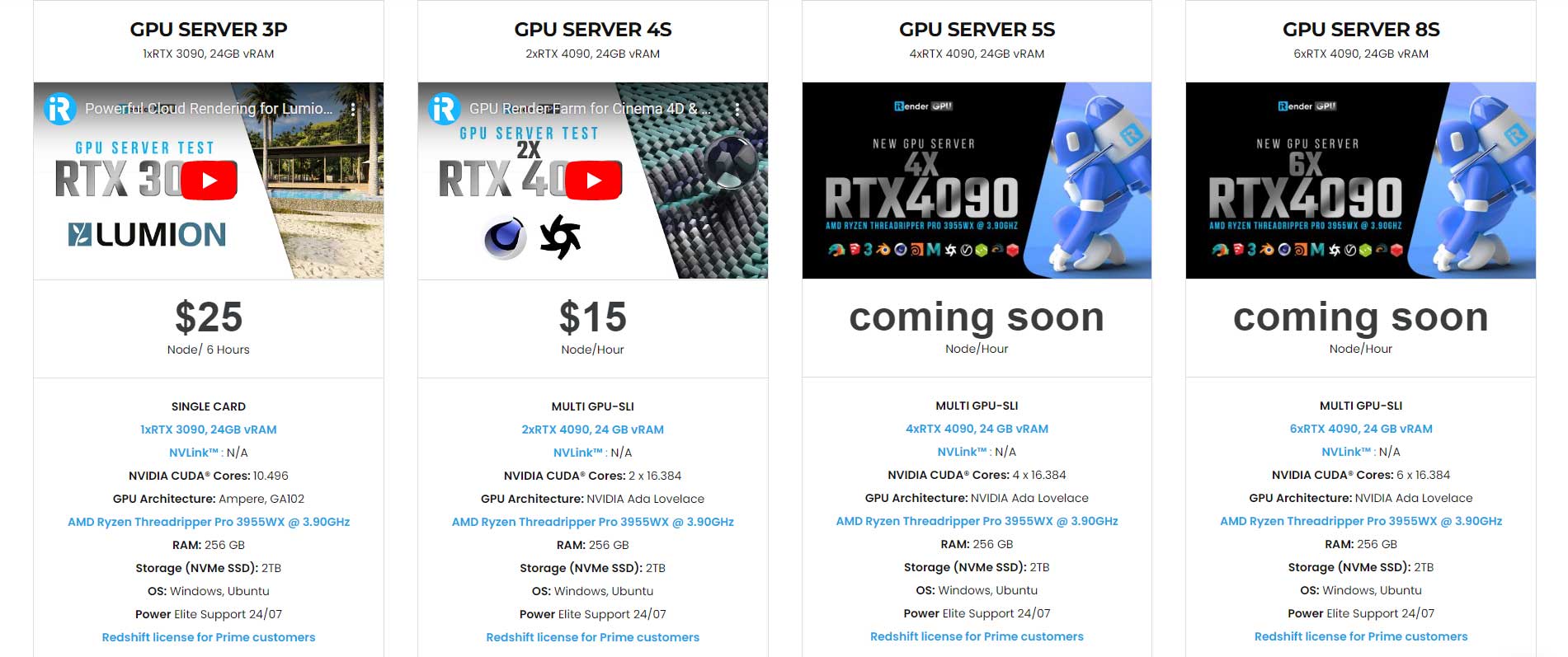 For all of those server specs, iRender's price ranges from $4.5 per hour per node to $28 per hour per node. You can choose a suitable rental plan among hourly, six-hour, daily, weekly, and monthly rental plans. On the hourly rental plan, you will pay for the time you use their server per minute. From the 6-hour and longer rental plan, you can save some credits with a discount. The longer rental plan, the better discount.
iRender typically provides $10 render credits for new users to test the service (by contact). Furthermore, there are volume discounts for bulk purchases and a 50% credit bonus for educational programs.
For more information about iRender, please visit here.
Ranch Computing
Ranch Computing is a software as a service (SaaS) which enables you to submit and render scenes for V-Ray projects online. As a SaaS render farm, the workflow of Ranch Computing is the same as that of Chaos Cloud.
First of all, you will need to install two simple tools – Ranchecker and Ranchsync – which integrate into your software packages. Next, you are able to send the scenes directly from your software interface to the farm to be rendered. It can be done from any device with access to a browser. Once submitting, you can monitor the current progress of the render job on the Web Manager.
Supported applications
Vray GPU rendering is available at Ranch Computing for 3ds Max, Cinema 4D, Houdini and Maya. Many host 3D applications with many versions are supported. Vray GPU, however, comes with just a few product versions.
Hardware specifications
In terms of the server, Ranch GPU farm is equipped with NVIDIA graphics cards that have 11 GB to 24 GB of VRAM. As far as Radarrender knows, Ranch has 2080Ti and 3090 GPU cards. Furthermore, their farm has around 1.8 million cores and 123 000 OctaneBench score (OctaneBench 2020.1.5) in total. Each render node will produce about 1400 – 2700 OctaneBench.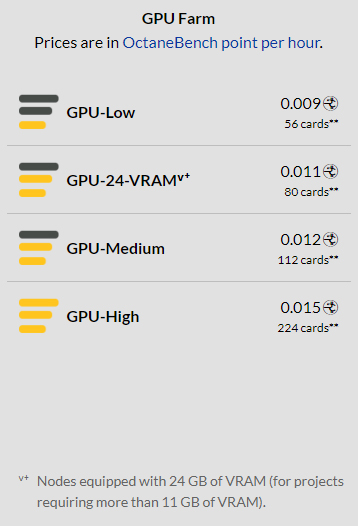 Price
Ranch Computing offers a variety of GPU pricing. Each price is a different priority. There are four priorities: GPU-Low, GPU-24-VRAM, GPU-Medium and GPU-High. The prices are 0.009 Obh, 0.011 Obh, 0.012 Obh and 0.015 Obh respectively. The higher priority, the more nodes or GPUs you can use for your Vray GPU rendering job. That means you will render in less time. Yet, the allocated number of nodes/GPUs will depend on the occupation of the farm and the nature of the projects being rendered.
Like any other render farm, Ranch Computing provides volume discounts for bulk purchases and a 50% discount for academic projects.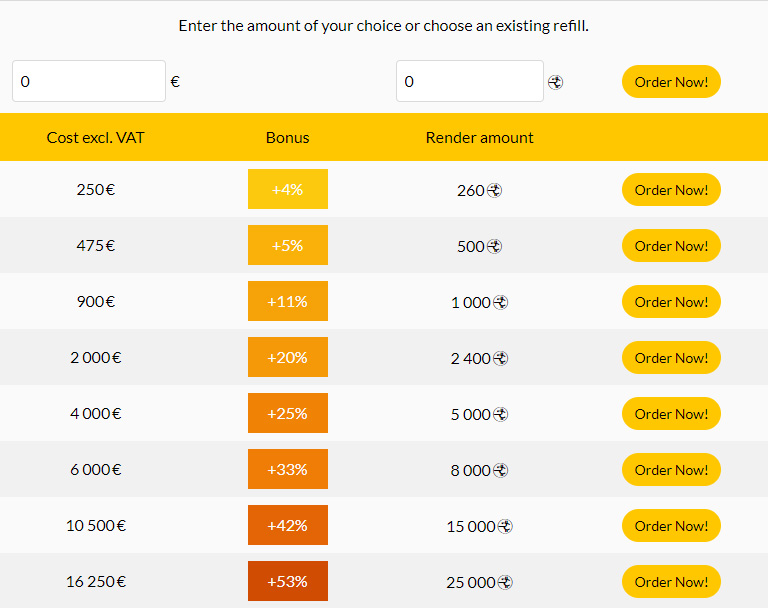 For more information about Ranch Computing, please visit here.
Conclusion
To sum up, Radarrender has selected the three best render farms for Vray GPU. They are Chaos Cloud (SaaS), iRender Cloud (IaaS) and Ranch Computing (SaaS). All of them support a wide range of software versions and provide huge rendering power.
Read more: