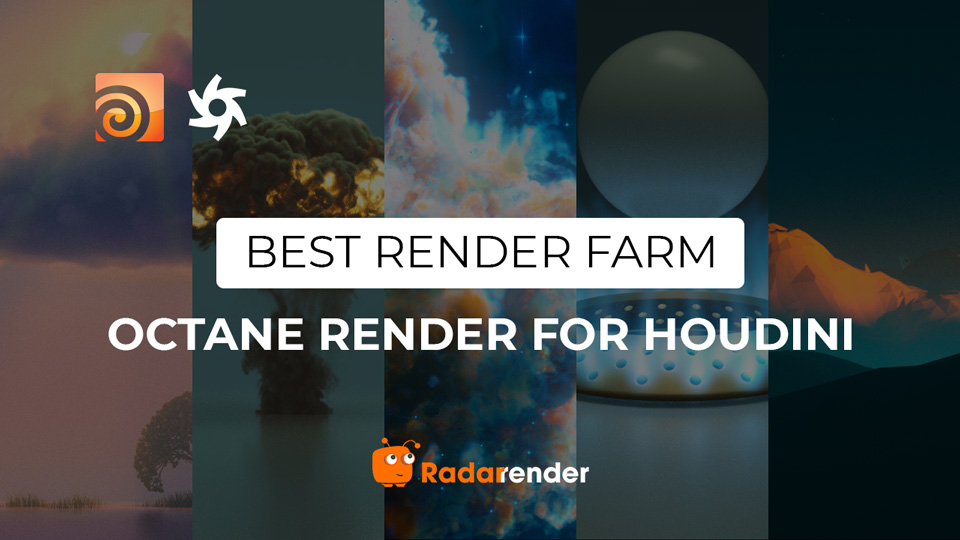 Best Octane Render for Houdini render farm
Are you looking for a render farm supporting Octane Render for Houdini? Then this article is for you.
Find out our recommendation for the best Octane Render for Houdini render farm to reduce your endless rendering time.
Overview of Houdini and Octane Render
About Houdini
Developed by SideFX, Houdini is a 3D software tool used for modeling, animation, simulation, and rendering. Houdini is a must-have skill set for anyone who wishes to work in the film or VFX industries. Despite its widespread use in the business, it is typically thought of as one of the most difficult applications to master. This is due to the fact that the majority of its logic is built on nodes, and many actions are carried out by handling arrays of raw values. Therefore, to work with Houdini, artists need a technical mindset.
Houdini comes with a variety of built-in and third-party renderers, including CPU and GPU rendering engines. To begin, Houdini includes two integrated renderers: Mantra and Karma. Mantra is a CPU render engine, whereas Karma includes both Karma CPU (for CPU rendering) and Karma XPU (for a hybrid GPU/CPU rendering). Karma CPU is ready to replace the prior Mantra engine as Houdini's primary renderer starting with Houdini 19.5. Furthermore, Karma XPU enters beta in this 19.5 version.
About Octane Render
Aside from Mantra and Karma, there are various additional third-party render engines that work with Houdini. RenderMan, Arnold, Redshift, V-Ray, Octane Render, 3Delight, and AMD Radeon Prorender are examples.
Octane Render by Otoy is a fully GPU render engine for Houdini. Its fast rendering speed and photorealistic result have made it more and more popular among CG artists. It is quick and efficient, allowing artists to create high-quality renders with maximum efficiency. Octane Render delivers unmatched performance and visual quality for any kind of project, from architectural visualization to complex animation and stunning visual effects.
Why need Octane Render for Houdini render farm?
Houdini is undeniably a powerful tool for creating physical simulations and particle systems. It is used to create the majority of the visual effects for movies and video games. Moreover, Octane Render is one of the fastest renderers around.
However, simulating or rendering on a single computer/laptop takes like forever. To speed up the render time, it demands a significant amount of computing power from your system. So, what is the solution? In such situations, cloud rendering becomes helpful.
Overall, here are the benefits of using an Octane Render for Houdini render farm:
Speed up rendering time many times.
Control project budget and timeline.
Best Octane Render for Houdini render farm
Only a few render farm supports Octane Render for Houdini rendering. Therefore, artists usually come to IaaS render farms such as iRender and Xesktop. Besides, AnimaRender is one of the rare SaaS render farms that support Houdini and Octane Render. Let's look in detail.
AnimaRender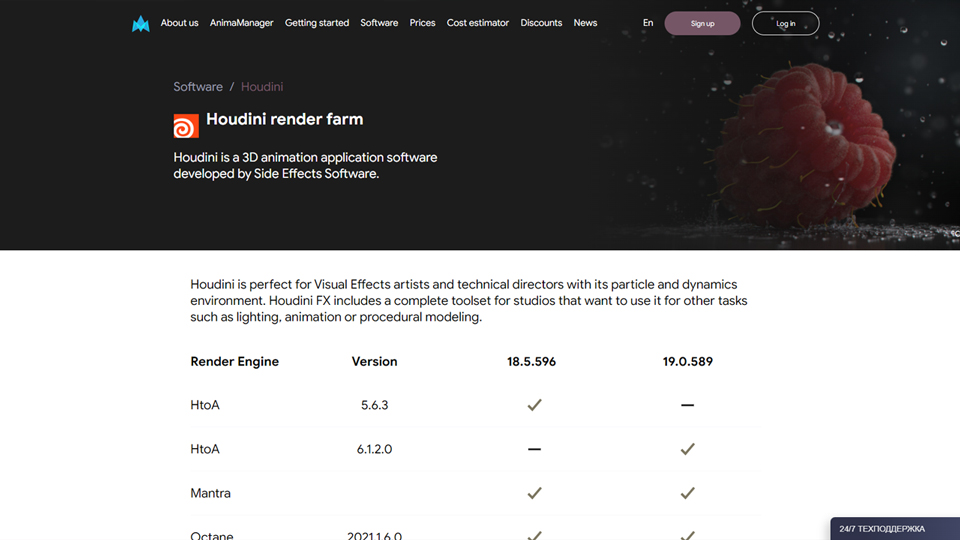 AnimaRender is an online rendering service with 24/7 live support. It has been providing 3D graphics rendering services to a number of studios and individual freelancers from around the world. As a SaaS render farm, AnimaRender allows you to submit the render jobs directly from your 3D software through its plugin. Or you can upload projects via the website or a desktop application.
Software support
AnimaRender supports the most popular CPU and GPU render engines for Houdini, including Mantra, Arnold, Redshift, Octane Render, and V-Ray. However, the supported version is limited. The render farm supports Octane 2021.1.6.0 as well as Houdini 18.5.596 and Houdini 19.0.589. If you need other specific versions, you should contact and consult with the AnimaRender support team.
Configuration
For GPU rendering in Houdini and Octane Render, AnimaRender offers servers with the following graphics cards: RTX 3070Ti, RTX 2080Ti, and GTX 1080Ti. These cards have OctaneBench points ranging from 925 to 2200. Furthermore, AnimaRender offers more than 250 servers, with up to 5 GPUs in each server.
Price
More importantly, the render farm automatically allocates the maximum number of servers that are available to speed up rendering without affecting the cost. To say it in another way, AnimaRender does not have priorities. Instead, it offers a basic tariff that is the same for everyone. For GPU rendering, the price is $0.01 per OBh.
In addition, AnimaRender offers a free "Demorender" for users to test their render jobs. What's interesting is that you can use Demorender many times, in order to check the correctness of settings and render results before submitting full in any job. The farm also has a profitable bonus policy for bulk purchases.
You can find more information about AnimaRender here.
iRender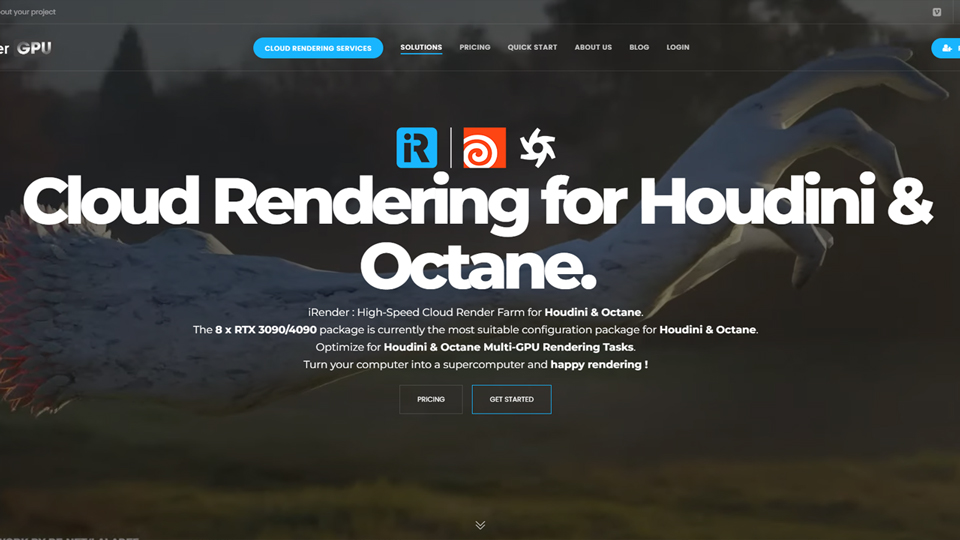 iRender is a powerful cloud render farm for Houdini with Octane Render. Based on the IaaS model, it supports almost all 3D software, render engines, and plugins. On top of that, iRender enables you to rent its robust remote servers and use them as if they were your own PC. In other words, you fully control your rendering process on iRender. You will need to create and set up the instance once and then reuse it each time you need to render.
Software Support
As you have full control of the remote server, you can install any application or any version. Basically, any Houdini Octane version that works on your computer will work on its machines. The latest Houdini 19.5 or Octane 2023, anything is supported. Aside from Octane Render, iRender also supports other render engines for Houdini, such as Mantra, Karma, V-Ray, Arnold, Renderman, and Redshift, in any version. However, there is one downside. That is, you must provide your own licenses for any software that requires them.
Configuration
In terms of configuration, iRender provides many GPU servers with single and multiple GPUs (2/4/6/8). It offers two types of graphics cards: NVIDIA RTX 4090 and RTX 3090. Both of them have 24 VRAM which can handle most complex scenes. In addition to GPUs, the servers are configured with good CPUs –  AMD Ryzen Threadripper Pro 3955WX/5975WX, and a large amount of RAM and storage – 256 GB and 2TB NVMe SSD respectively.
Price
With the configuration above, iRender's pricing starts from $8.2/hour/node to $42/hour/node. It offers hourly, 3-hour, 6-hour, daily, weekly, and monthly plans. On the hourly plan, the farm charges you for the time you use (in seconds) per machine. For other plans, you can save some render credits at a discounted price. The longer plan, the more discount.
In addition, iRender offers free render credits for new users to test the service by contacting the support team. Volume discounts for bulk purchases are available, as is a 50% bonus for educational projects.
You can find more information about iRender here.
Xesktop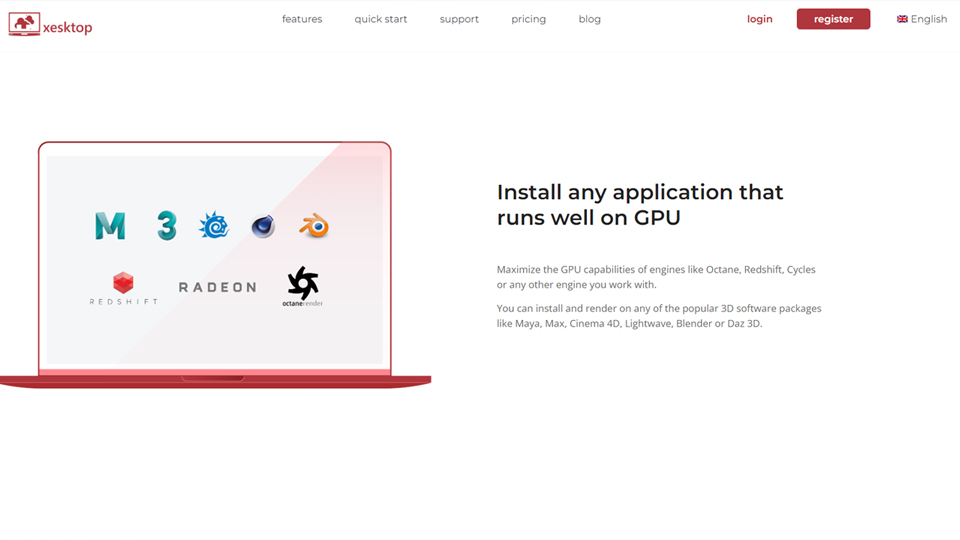 Xesktop is a cloud-based remote server rental service that provides powerful GPU machines. You can access the render farm remotely and use it in the comfort of your home or workspace. Same as iRender, Xesktop is an IaaS-based render farm. You can create and configure the server instances as you need and use them on demand. Moreover, the instances that you create will be saved and accessible from your user dashboard.
Software support
You will rent a powerful server from Xesktop and use it as your own computer. So you can install and use any application that needs GPU power, including Octane Render for Houdini. You can also install and use any version of the 3D software packages and render engines. Yet, you will need to provide your own licenses for any software that needs it.
Configuration
Xesktop provides 2 types of GPU servers: 10x GTX 1080Ti and 8x Tesla V100 servers. The 10x GTX 1080Ti server has 11GB vRAM and is equipped with a dual Intel Xeon E5 v4 CPU. Meanwhile, the 8x Tesla V100 server has 16GB vRAM and is equipped with a dual Intel Xeon E5 v4 CPU. But these two servers both have 256 GB RAM, 200 GB system drive, and 500 GB storage drive. 
Price
Regarding the price, the GTX 1080Ti server costs $6 per hour per node, whereas the Tesla V100 server costs $8 per hour per node. Besides paying as you use (billing per minute), you can also rent Xesktop's servers for a week to save money with a 4% and 8% discount respectively.
Additionally, like any other render farm, Xesktop offers volume discounts for bulk purchases. The larger your purchase, the more bonus you will receive. Moreover, there are trial credits for you to test the service.
You can find more information about Xesktop here.
Conclusion – Octane Render for Houdini render farm
To sum up, Radarrender has selected the three best Octane Render for Houdini render farm. They are AnimaRender (SaaS), iRender and Xesktop (IaaS). AnimaRender is easy to use and provides a more precise estimation of the render cost with Demorender. Whereas iRender and Xesktop give you full control of the high-computing GPU servers.
See more: Best Houdini render farm

See more: Best Octane render farm