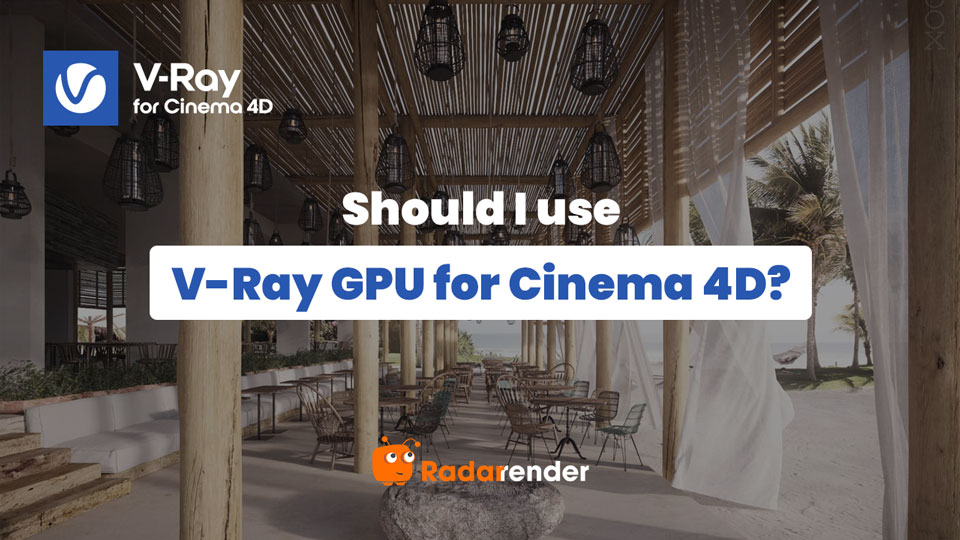 Should I use V-Ray GPU render for Cinema 4D?
V-Ray is generally a professional 3D rendering software for artists and designers. Should I use V-Ray GPU render for Cinema 4D? Let's find out!
What is V-Ray GPU render for Cinema 4D?
V-Ray for Cinema 4D
V-Ray for Cinema 4D is an industry-recognized professional rendering option for artists and designers. It is an all-inclusive solution that enables users to complete tasks quickly, produce projects on time, and adhere to the strictest deadlines. It even goes beyond rendering and allows users more creative flexibility to bring to life even their boldest ideas. You can focus on your creation without switching to a different program thanks to V-Ray's integrated compositing, interactive light mixing, and many other smart features. Moreover, V-Ray is designed to handle even the toughest scenes. It is renowned for its stability and capability to manage any project.
Therefore, V-Ray for Cinema 4D is ideal for anyone who needs high productivity and artistic freedom when creating visualizations within Cinema 4D.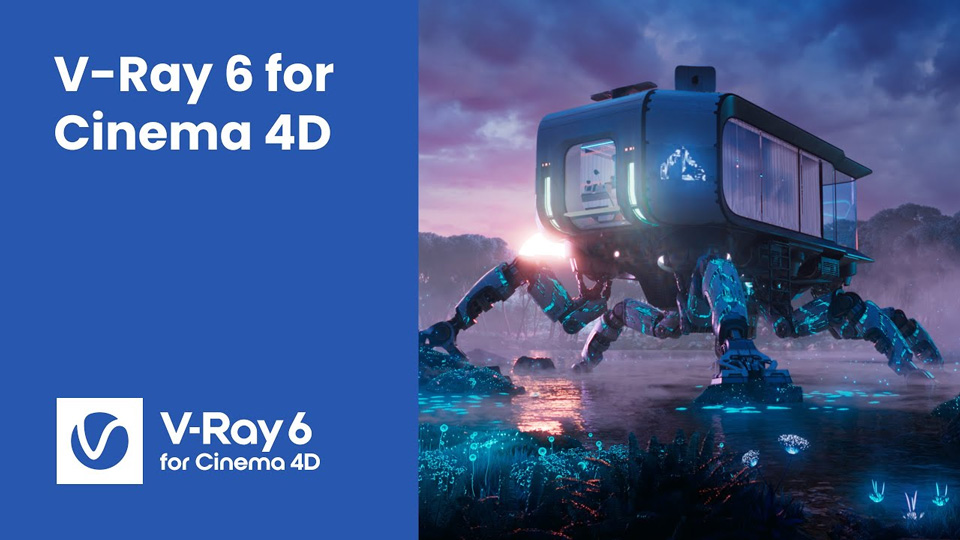 Image Source: ChaosTV Youtube
V-Ray GPU render for Cinema 4D
Chaos, the developer of the V-Ray, introduced two separate render engines: V-Ray CPU and V-Ray GPU. While V-Ray CPU relies on the CPU (processor) to render, V-Ray GPU uses mostly GPU (graphics card) for acceleration. In addition, V-Ray GPU can combine the CPU and GPU hardware for a hybrid rendering.
V-Ray GPU is available in many V-Ray products, including V-Ray for Cinema 4D. As a result, artists and designers can take advantage of V-Ray GPU render for Cinema 4D to maximize the creative speed in their C4D projects.
Do you know what's so good about V-Ray GPU for Cinema 4D? You can switch between V-Ray GPU and CPU without losing any work. Furthermore, two render engines render identical results.
What is V-Ray GPU render for Cinema 4D used for?
Since V-Ray GPU render for Cinema 4D can help bring your C4D projects to life, it is widely used for several industries. Take a look at below:
Architectural visualization

Interior design

Product design

Automotive design

Advertising

Video games

VFX for films and television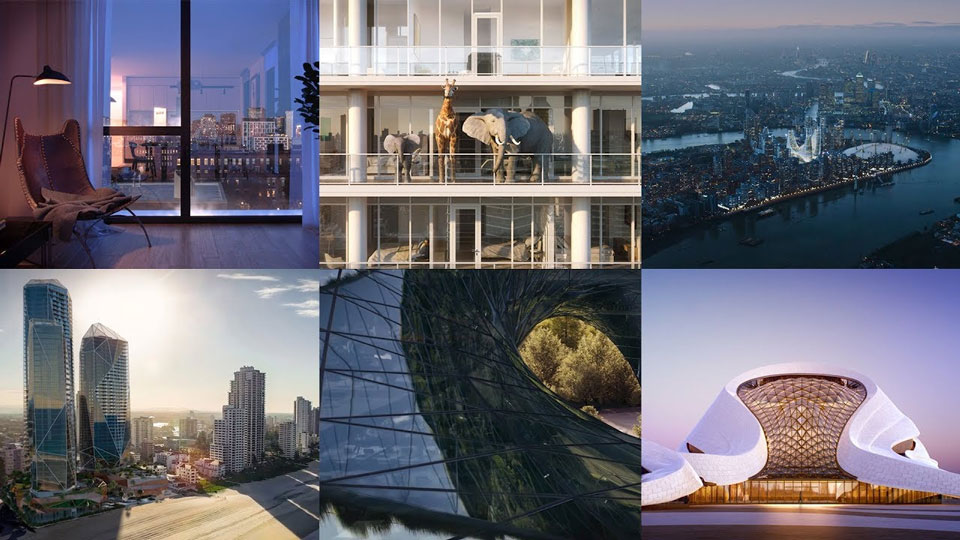 Image Source: maxon.net
System Requirements
Moving to the system requirements, let's see what hardware and operating systems are necessary for V-Ray GPU render for Cinema 4D to work properly.
Operating system
Windows: Windows 8.1, 10, or Windows 11.
macOS: macOS X 10.14, macOS 10.15.7 or higher.
Processor
64-bit Intel, AMD, or ARM processors.
Or compatible processor with SSE4.2 support.
RAM
The actual amount of RAM needed will vary depending on scene requirements. But overall, V-Ray GPU for Cinema 4D needs at least 8 GB RAM, or 64 GB RAM or more for the best performance.
GPU
V-Ray GPU render for Cinema 4D renders with the NVIDIA CUDA and RTX platforms. It is recommended to use an NVIDIA card from Maxwell, Pascal, Volta, Turing, Ampere, and Ada architectures. Besides, the minimum required compute capability is 5.2.
Moreover, V-Ray GPU supports multiple GPU rendering. Therefore, you can add more cards to your workstation in order to increase the speed.
See more: Best GPU For Vray Rendering
Should I use V-Ray GPU render for Cinema 4D?
As we all know, there are a variety of renderers to render in Cinema 4D. But in terms of GPU rendering, we think two of the best render engines are Redshift and Octane. Is V-Ray GPU render for Cinema 4D worth using? Or why should I use this render engine?
Easy of use
V-Ray offers artist-friendly tools and an intuitive interface. So it can help you work smarter and easier to get the job done.
There is also a rich library of 3D content available – Chaos Cosmos. Where you can add render-ready models, comprehensive materials, and beautiful HDR skies to your scene with just a few clicks.
Fast render
V-Ray for Cinema 4D has a powerful rendering capability. In addition to CPU rendering, it also supports GPU rendering, bringing a speed boost to any production. You could see changes to your scene immediately thanks to quick interactive rendering.
Powerful tools
V-Ray comes with a broad range of lighting, shading, and rendering tools. With those smart tools, you can bring any idea to life. Furthermore, the renderer is very strong that can handle your biggest projects. It is able to handle scenes with massive amounts of geometry and thousands of lights.
Flexibility
By utilizing all of your GPUs and/or CPUs, V-Ray GPU for Cinema 4D maximizes interactive performance and produces similar output. Especially, you can render on CPUs in your render farm after making use of GPU speeds on your local workstation. By doing that, you will get the same quality renders but in a very shorter time.
Scalability
V-Ray has a useful feature, which is its distributed rendering. With it, you are able to harness the power of multiple computers to render high-resolution images. Aside from local rendering, V-Ray gives you the ability to send your rendering to the cloud. Such as Chaos Cloud or other online render farms.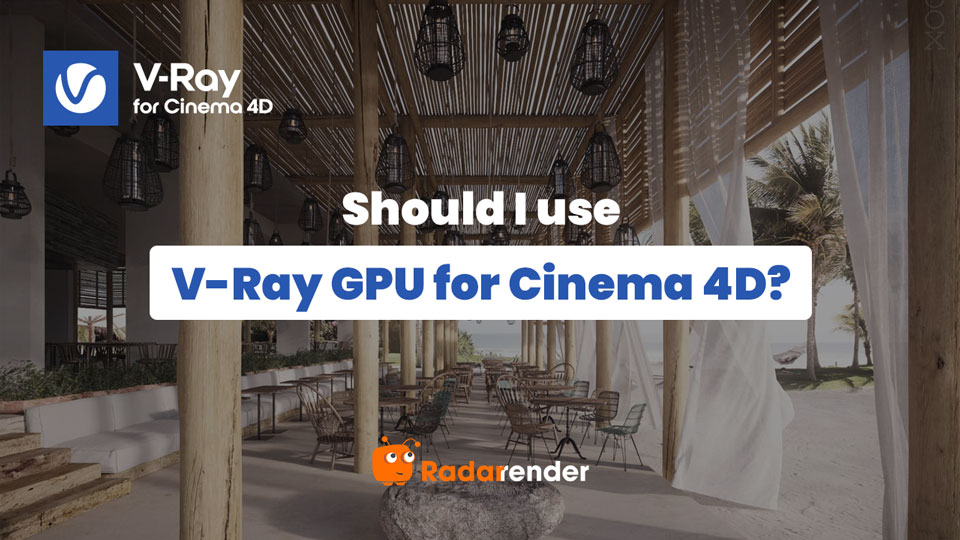 Getting started with V-Ray GPU render for Cinema 4D
You are a V-Ray GPU render for Cinema 4D newbie or want to improve your skills. Radarrender has gathered a few useful resources to assist you in getting started. This contains the basic tutorials you need to learn V-Ray for Cinema 4D and master photorealistic renderings.
Head start
Below is a series of tutorials for beginners to help you get started. You will get familiar with the program and master its basics. After that, it won't take you long to start making stunning renders.
Guide to interior design rendering
Nejc Kilar, a Chaos 3D artist, creates a series of tutorials guiding you to produce gorgeous minimalistic, interior renders. He will take you step-by-step through the entire workflow, from scene modeling to final rendering and post-processing. The fundamentals of using V-Ray for Cinema 4D to produce photo-realistic interior design renderings as well as helpful tips and tricks for streamlining your workflow will all be covered in this series. This training series is for both newbies and more experienced users.
Conclusion
To sum up, the V-Ray GPU render for Cinema 4D is a great renderer. It is a combination of speed and creative control.
What is your experience with this render engine? Let's share with us and other V-Ray users.