Rate and Review SuperRenders Farm 2022
Rate and Review SuperRenders Farm
SuperRenders Farm – The brand was established in 2010 in California. From a small rendering company in Fullerton city in the state of California, SuperRenders Farm has outperformed many competitors and stayed firmly in the fierce US tech market. By 2017, the company launched "online rendering technology", which marked a new major achievement in their development. On the rise, it's rapidly expanded overseas markets. The company uses one of the most popular render farm performance solutions available today – a service in the form of Software as a Service (SaaS), meaning the user will interact through an application or web-application (web-app), and upload the project to the provider's server for rendering – it's called Cloud Rendering.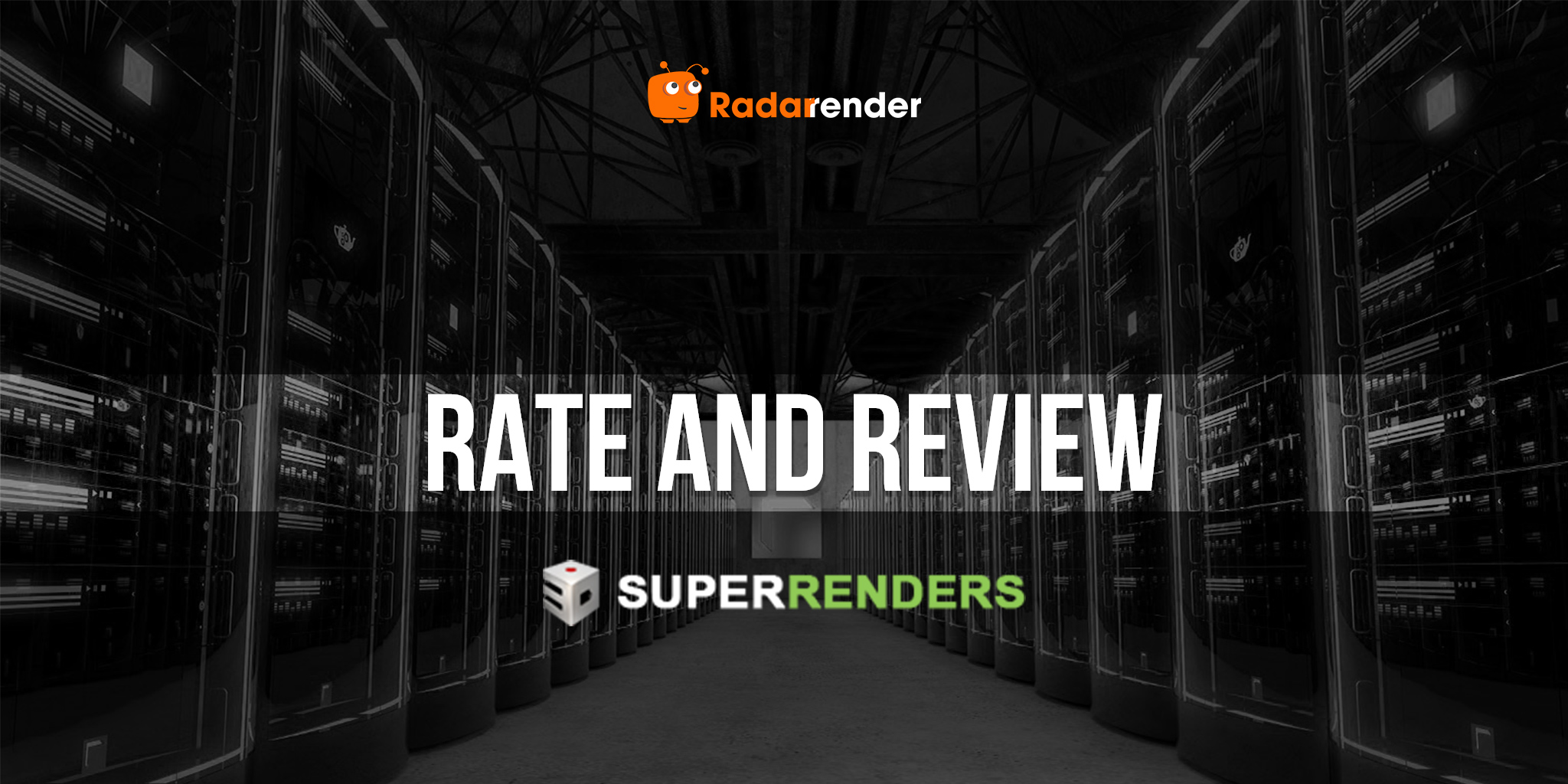 The interface and usage are quite simple thanks to their great UI/UX. After creating an account, the thing you need to do is package the project as their guidelines, make sure you package your projects properly before uploading & rendering your scenes. You should keep in mind that uploading all the project files/scenes before start render jobs are highly recommended. It is because the system then will temporarily pause all the uploads during rendering progress. Farm provides three ways to upload your project by the SuperRenders Farm sync tool, Web Browser, or Google Drive/Dropbox. Uploading speed is quite fast regarding a small and medium project size, but it is faced with a problem when you upload a large size over 5GB. Bandwidth speed, however, is a minus point. When you update a file at a large amount of size, the time to synchronize the entire folder will be around hours (4-6 hours) just waiting for a synchronized scene file to display. The reason here is due to the bandwidth speed – which seems to be a factor that is rarely noticed. However, in the Cloud Rendering service which mainly transfers files between devices, this is an extremely important bottleneck, especially for heavy projects that are rushing to meet the deadlines.
Besides, the file format to upload or be shared with the system is under a file or a folder, .zip format is not supported. After uploading files, the system will analyze your scene file, however, it usually takes around 5-20 minutes to analyze which depends on your project size. It may take longer if your files are up to Gigabytes. However, we don't know what analyzed because when our project was deployed, there was an error that should have been recognized in the analysis step. Therefore, we needed to find out what the error was by asking the SuperRenders Farm staff and fix it, then upload our project again to render. The SuperRenders Farm system will automatically return the user's output to the predefined folder on Google Drive/Dropbox. 
Regarding types of supported software, now SuperRenders Farm mainly offers to support 3Ds Max, Cinema4D, Maya, Cinema4D, Blender, and other software such as Houdini 17.5 & 18.0, After Effects 2018-2020, Nuke v11.0, Fusion v9.0.2, Natron v2.3.14. Nevertheless, we feel like we've been cheated because what SuperRenders Farm shows on their website is different from what they really support. For instance, the SuperRenders Farm website shows that they support Redshift 3, Octane 3, Corona 6, etc. In fact, they do not have Redshift, Octane, or Corona 6 on their farm. In detail, if your software is Houdini, the render engines that are compatible with Maya on SuperRenders Farm are only Mantra, RenderMan, while Redshift, which should have been supported, cannot be used on SuperRenders Farm. One more thing, we do not actually know these software, renderers, and plugins on SuperRender Farms are legal or illegal. They offer low software versions and don't upgrade them, which makes us suspect whether they use cracked versions or not. Please take a look at some renderer and software versions as the following images and see the huge differences between what SuperRenders Farm shows on their website and what they really support: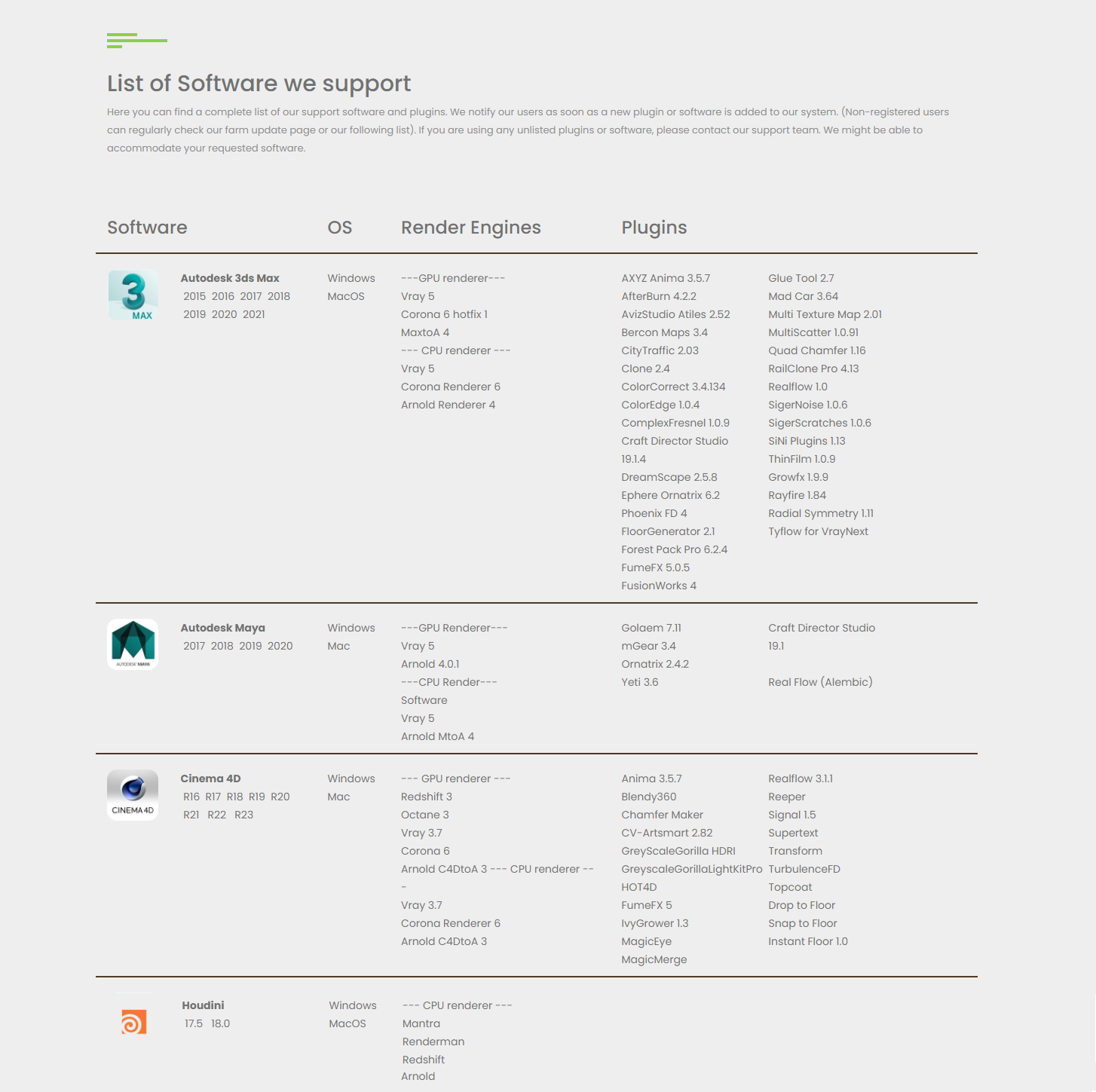 In terms of hardware, SuperRenders Farm one more time made us disappointed. What they advertise is that their farm provides both CPU and GPU rendering services. The CPU server contains Dual Intel XEON E5-2670 v2, 2.60GHz, 16 cores, 48-128GB RAM while the only GPU type is GTX 1080Ti. The performance of these aforementioned CPU & GPU types can be gradually considered "outdated" for 3D rendering. However, at the moment, what made us unsatisfied with this render farm is that SuperRenders Farm only offers CPU rendering service, without GPU rendering service. Their staff said that the GPU servers have been under maintenance and did not know exactly how long it will take. As a result, you are only able to choose CPU-based rendering on SuperRenders Farm. Looking on the bright side, there are 3 options in terms of the number of render nodes you can choose including the Bronze package with a max of 20 nodes, the Silver package with a max of 80 nodes, and the Gold package with a max of 200 nodes. 
Pricing must be one of the most important factors for everyone when considering whether to use a service. It can be said at present, SuperRenders Farm pricing is considered a little higher when compared to the render farm market. The price for CPU rendering is 0.6$/node/hour while that of GPU rendering is 2$/node/hour. It means that, if you select the Bronze package with 20 CPU servers, it costs 12$/hour. The calculating way is similar to the Silver and Gold packages. The former costs 48$/hour, whereas the latter costs 120$/hour. 
Customer service, generally speaking, is the biggest advantage of SuperRenders Farm service. The reason is that they offer live chat when supporting 24/7 directly on their website. Besides the live chat, SuperRenders Farm also gives other communication methods called Skype or WhatsApp in case customers cannot contact them via the first one. This factor is the only thing we rate SuperRenders Farm 2 stars in terms of customer service.