Rate and Review TurboRender 2022
Rate and Review TurboRender
TurboRender is an online rendering service coming from Russia. They established in 2013 and have been helping customers save rendering time. TurboRender is an online render farm that is based on SaaS (Software-as-a-Service) platform. Turbo allows customers to use the render farm to speed up their rendering time with a few clicks. TurboRender is perfect for individuals and small teams to increase the high design productivity. This article shows you the reasons why we rate TurboRender in the top 2-star render farm list as well as why individuals & small teams should use TurboRender.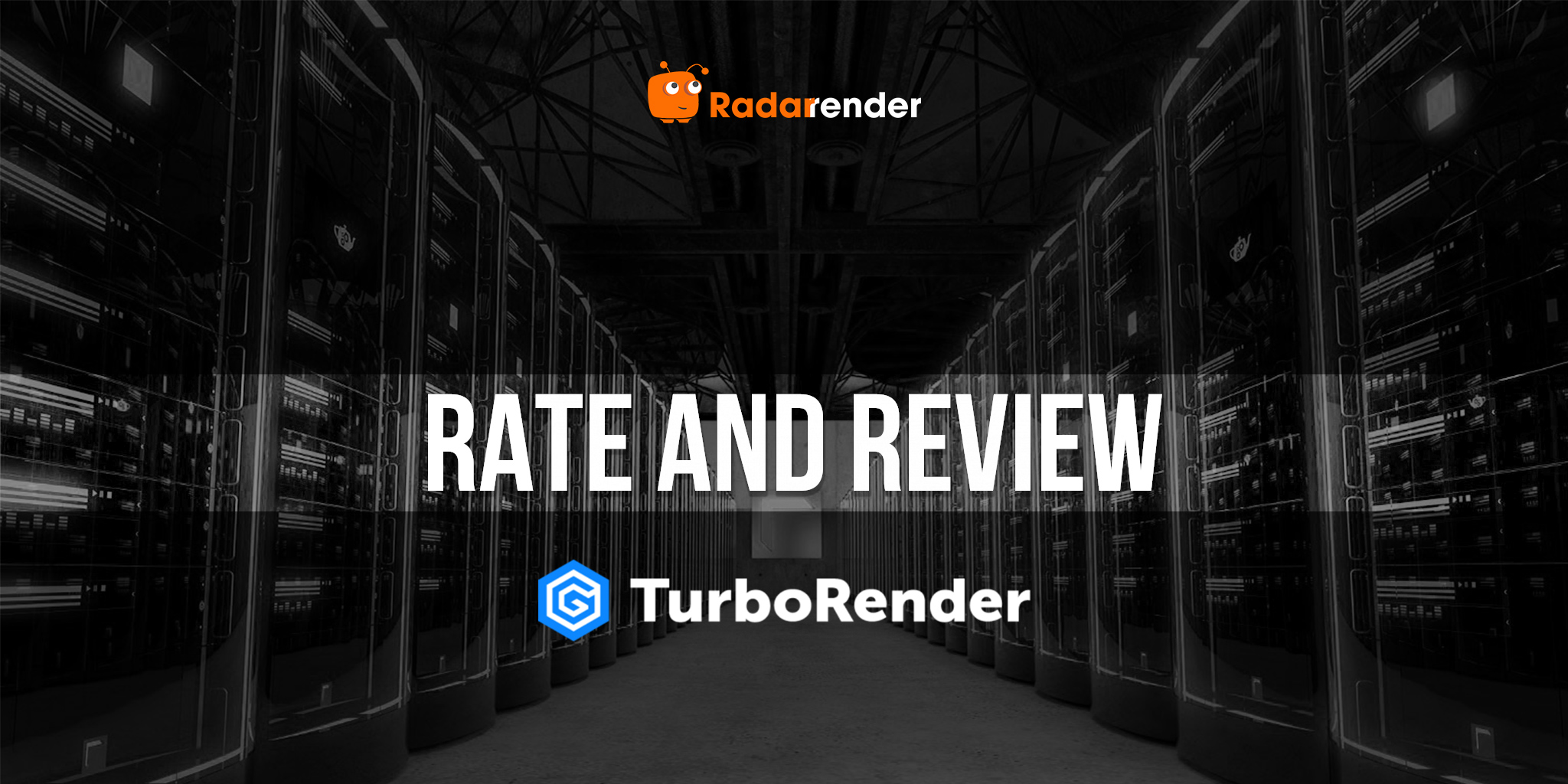 | | |
| --- | --- |
| Company Name | TurboRender |
| Website | |
| Country | Russia |
| Type of render farm | CPU and GPU |
| Free Trial | 5$ (CPU only) |
To commence, you can experience the easy approach to TurboRender farm thanks to its great UI/UX. After registration, you can read the Rendering guidelines on the TurboRender dashboard, step by step to start using this rendering service. They divide their services into two types: Web Farm service and Desktop App service. Regarding Web Farm service, after preparing your project based on the Turbo guideline, you just need to upload your files to the Turbo farm and select options before submitting them to render. Whereas, the Desktop App service is dedicated to supporting CPU-based rendering for 2 software (3Ds Max and Cinema4D). You need to download and install the Desktop App on your local computer, then Manage the project with this app directly on your PC, and finally start rendering with a couple of clicks. However, there is a minus point that we rated for TurboRender because users have to queue before the users' projects are rendered. Users do not know how long it will take them to wait until their turn which makes them frustrated if they are in a rush.  
In terms of transferring files, Turbo also provides 2 ways to upload your project to the TurboRender farm. The first uploading way that Turbo offers you when your size archives are under 10GB of data. You are able to upload only zip- file format and storage is up to 10GB from your local computer or via Google Drive to their farm. The other uploading solution is recommended when archives bigger than 10 GB, therefore, they should be uploaded via FTP-client. You need to follow exactly the instructions for uploading via FTP-client. However, the uploading speed is the serve disadvantage that TurboRender should improve in the near future as it takes users a lot of time to transfer their files to the TurboRender farm. 
Another criterion that has a huge effect on ranking a great render farm is the types of software and renderers that the render farm support. When it comes to software, Turbo Render came top with supporting After Effects on their farm. Giving a long list of supported plugins make customers satisfied with this render farm when they use After Effects. In addition, TurboRender also supports 5 major software namely 3Ds Max, Maya, Cinema4D, Houdini, and Blender. However, there are fewer options for users to choose the software versions and render engines on TurboRender farm. To illustrate, TurboRender only offers Cinema4D R19, R20, R21, Houdini 17.5.460. Mentioning render engines, Corona, V-ray, Arnold, Mental Ray, Mantra, Сycles are supported for CPU rendering on the TurboRender farm, while only Redshift and Octane are used for GPU rendering. You should take TurboRender into consideration for rendering with many GPU servers because there are only 3 Octane licenses and over 10 Redshift licenses on TurboRender Farm. One more thing. they do support several plugins that are compatible with each software, however, there are still some plugins that they do not support, you should ask their staff for more information. The technical support service will reply to your email within 3 hours to see whether they are able to install the kind of plugin or not.
When it comes to hardware, TurboRender provides customers with CPU and GPU Render. In detail, the CPU type is Dual Xeon E5-2650V2, 2.60 GHz, 16 cores with 64GB RAM while GPU including two types are 4 x GTX 1080 Ti, Intel Core i5-7640X, 64GB and 4 x RTX 2080 Ti, 2x Xeon Gold 5220, 64GB. In the GPU render package, you can use their Redshift and Octane renderer to speed up your rendering time. However, it is not likely to select the type of GPU you would like to use on the TurboRender system, they will fix what GPU type is used for your single project. Before recharging money, you are able to use 5 CPU servers. When topping up, each client has a default value of 20 CPU servers to choose from, compared to hundreds of CPU nodes of RebusFarm or Fox Render Farm. As there are only 3 Octane licenses, the maximum of GPU nodes used for Octane is 3, while the number of nodes for Redshift rendering can be up to 15 servers. On 1 server only 1 frame can be rendered at a time, so your frame range will be evenly distributed to all servers you have selected (rendering only 1 frame always runs on 1 server). 
Next, we would like to talk about the TurboRender pricing. It is clear that TurboRender offers a reasonable rental price for customers. The CPU plan costs from $0.87/node/hour, whereas, the GPU plans costs $2.62/node/hour for 4x GTX 1080Ti and $4.37/node/hour for 4x RTX 2080Ti. However, TurboRender charges their rendering service on an hourly basis. For example, the minimum rental hour for CPU servers starts from 1 hour while the number of rental hours for a 4x GTX 1080Ti server is at least 3. These price plans are quite suitable for freelancers, individuals when they just need a medium number of render nodes at a reasonable price. 
Last but not least, customer service is an important factor that impacts the rank of a render farm. TurboRender staffs are available 24/7 to support customers. You can contact them directly via the live chat on the TurboRender dashboard or ping them via Skype. Quick and instant support is a considerable advantage that TurboRender is highly recommended.