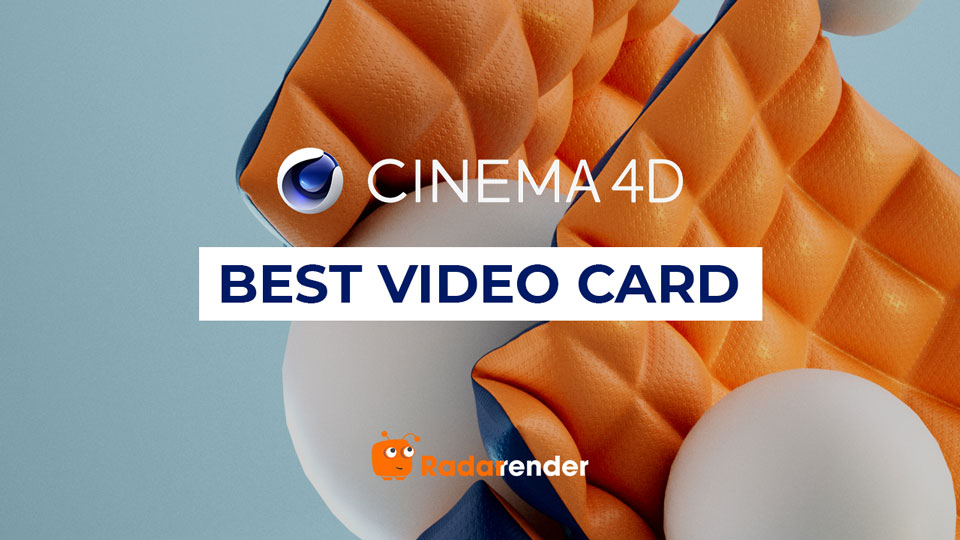 Best Video Card for Cinema 4D
Cinema 4D is a professional 3D design and animation application. Does it need the GPU to work, and what is the best video card for Cinema 4D?
Discover with Radarrender in this article.
What is Cinema 4D?
Cinema 4D is a powerful and versatile 3D modeling, animation, and rendering software by Maxon. Last week, Maxon released Cinema 4D 2024 – the latest version of its software. The 2024 release is a part of the Maxon's Fall 2023 product updates, along with Redshift 3.5.19 and Red Giant 2024.
Cinema 4D 2024 offers the next-level performance with new exciting features and capabilities. Some outstanding features are:
Rigid Bodies:

Rigid Bodies are now added to the unified simulation system. You can add solid objects that interact with all the existing forces, pyro, cloths, and soft bodies.

Pyro:

Pyro can now be emitted from particles and matrixes, giving a whole new way of playing with fire.

Vertex Normal Tools:

The new Vertex Normal Tools in Cinema 4D allow you to control your shading with the fidelity you need to perfect your surfaces.

Modeling tools:

New selection and projection modeling tools to streamline your workflows, saving you precious time and energy.

Node UI:

You can easily manage your nodes with the new annotation and scaffolding tools. A clean organized workspace allows you to find what you need in an instant.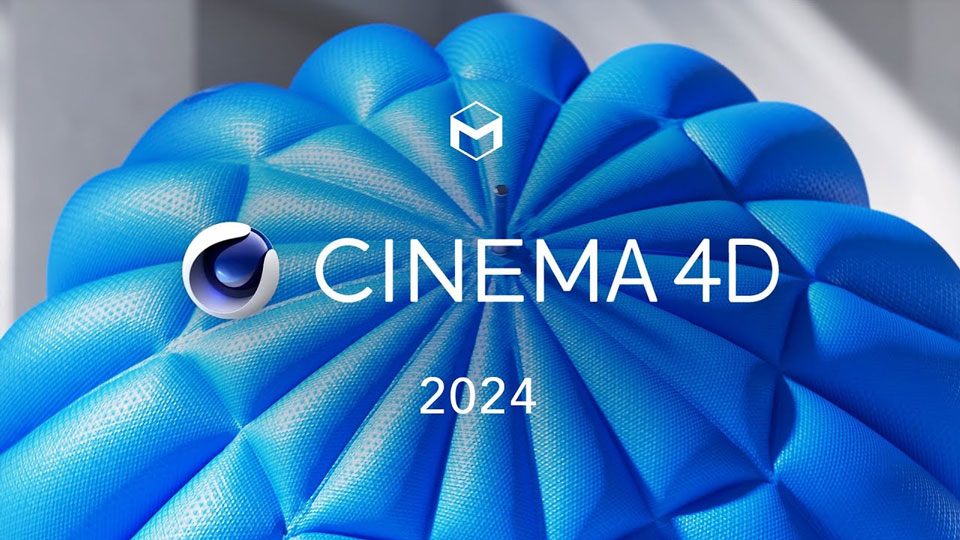 Image source: Maxon
All in all, Cinema 4D 2024 promises to bring you unparalleled speed and power for your most demanding scenes. The development of its new core can optimize and enhance all areas of Cinema 4D, without compromising any workflows and features.
Best hardware for Cinema 4D
Maxon provides a list of system requirements for Cinema 4D. In other words, you will need such hardware in your system to work with the software.
What are the system requirements for Cinema 4D 2024?
1. Operating system
Windows 11, or Windows 10 (version 20H2 or later).

macOS 11.7.7+ (Big Sur), 12.6+ (Monterey), and 13.3+ (Ventura).

Linux 64-bit, with glibc 2.17 or newer.
2. Processor (CPU)
Intel or AMD 64-bit processor supporting AVX2.

Intel-based Apple Macintosh with SSE4.2 support.

Apple M1/M2-powered Mac.
3. System memory (RAM)
16 GB RAM.

Recommended 24 GB or more.
4. Video card (GPU)
(Windows – Minimum) NVIDIA Maxwell GPU, AMD Polaris (AMD GCN 4), Intel Kaby Lake or newer, with DirectX 12 feature level 11.0 support.

(macOS) Metal: v2 (Mac2), Apple 7 (M1) or higher.

(macOS) GPU: only officially supported hardware by Apple (with Metal v2 or higher).

 e-GPU: only officially supported hardware.
5. An online connection is required for Licensing and Online Content Access.
6. Resolution: 1920 x 1080 minimum.
However, these system requirements above are very general, some are barely minimum.
The best hardware for Cinema 4D – the hardware to give you the best performance is what we need to find out. You can refer to Best Hardware for 3D Modeling and Rendering.
In this article, Radarrender will only cover the best video card for Cinema 4D.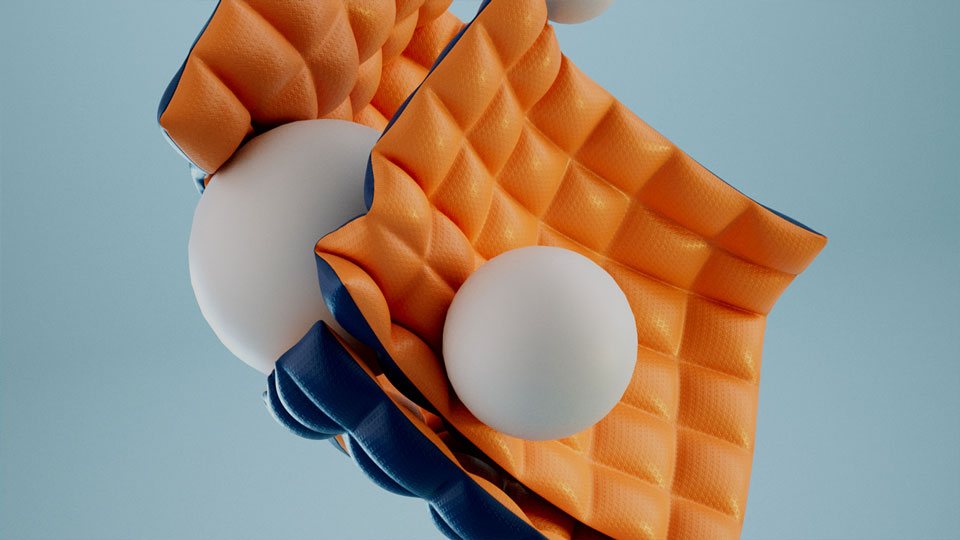 Image source: EJ Hassenfratz
Best Video Card for Cinema 4D
First, for modeling and animating, the video card or GPU plays an important role in how many frames per second (FPS) the viewport can display the model. When zooming and moving around the model you are working on, a higher FPS gives a faster and smoother experience. A powerful GPU is better at displaying 3D with higher FPS.
In the rendering process, Cinema 4D needs to use GPU when rendering with Redshift and other GPU-based renderers such as OctaneRender, Cycles 4D, V-Ray GPU, Arnold GPU, and Maxwell Render.
So, the best video card for Cinema 4D rendering should have a fast speed and a good amount of memory (VRAM).
A fast speed allows you to process and render your scenes very fast

A good amount of memory enables your complex scenes to fit in and renderable with the GPU.

Moreover, you can use multiple GPUs to accelerate the renders. All GPU render engines for Cinema 4D support multiple rendering. Particularly, Redshift and OctaneRender scale very well with multiple cards.
Best GPU for Cinema 4D
Let's check out the best video card for Cinema 4D:
1. NVIDIA GeForce RTX 4060Ti 8 GB
2. NVIDIA GeForce RTX 4070Ti 12 GB
3. NVIDIA GeForce RTX 4080 16 GB
4. NVIDIA GeForce RTX 4090 24GB
All four GPUs have fast rendering speeds. RTX 4060Ti and 4070Ti are good for most artists, while RTX 4080 and 4090 are more suitable for heavy rendering and simulation.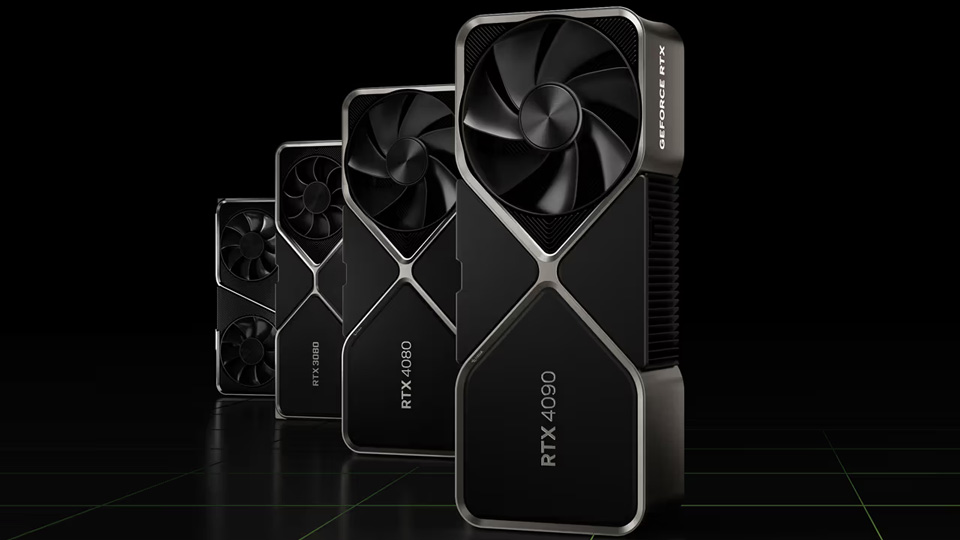 Image source: NVIDIA
If you still need more VRAM when rendering with GPU, check out three professional video cards below.
1. NVIDIA RTX 5000 Ada Generation 32 GB
2. NVIDIA RTX A5000 48 GB
3. NVIDIA RTX 6000 Ada Generation 48 GB
Conclusion
In conclusion, Radarrender has recommended the best video card for Cinema 4D for you. A powerful GPU or using multiple GPUs can improve your rendering speed, whereas a higher VRAM card can handle more complex scenes.
Depending on your everyday workloads, you can select a good GPU for your rendering system.
See more: Our Best Render Farm For Cinema 4D 2023