Top 3 best 3D render farm services 2023
Render farms are sprouting up at a time when technology and computer graphics are booming. Still, the problem is: how do you choose the best 3D render farm services? Find the answer right here in this article.
Why use a render farm?
If you have more than 1,000 frame scenes to render in one day but your computer cannot guarantee the time and image quality you need, then immediately use the service of a render farm.
Save times
Render Farm offers its services to assist you with rendering issues. Projects that take you hours to make will greatly reduce this number when using a render farm.
Save Cost
 At the same time, using a render farm also helps you reduce costs compared to building a "genuine" computer at home. Instead of spending a large amount of money to invest in a PC with a powerful GPU card and quality heat dissipation, you just need to spend a small amount to use the service of a render farm. Both are convenient and economical.
Easy to use 
Render Farm provides 3D software, render engines, and plugins to customers. exceptionally easy to use.
What is the best render farm services?
A good 3D render farm services should ensure the following elements:
Price: You cannot spend a large amount of money to use a render farm equal to the amount of money you spend building a personal computer. This is not reasonable at all.

Render quality: For all projects, render quality is extremely important. If your scene has errors that will affect the quality, or if the render farm is not using the correct version of the software you are using, it will also have errors that affect the render results. A good render farm service must guarantee rendering results for customers.

Speed: Speed is an important factor that every renders farm needs to ensure for users. This is one of the sensitive factors in rendering.

Support: The time of support at the render farm directly affects the service evaluation of the farm. If an error occurs during use, customers can contact support for assistance. Therefore, almost all of the time, a support person is needed to answer.

Software compatibility: You need to make sure that the render farm supports software that is compatible with the software you use.

Security: The protection of user data is very important. A best-in-class rendering farm service needs to ensure the security of users' information and projects.
Above are six factors to evaluate a good 3D render farm services, but the quality and speed depend a lot on your project. We determined that the three render farms listed below have the best speed and cost based on test projects on render farms. Let's take a deep dive into each 3D render farm services in 2023.

Top 3 best 3D render farm services 2023
iRender Farm 
iRender Farm was established in 2019, iRender is also a Render Farm that works in the cloud computing field. iRender provides an IaaS (Infrastructure-as-a-Service) model that allows users to have full control over their computer and set up a similar working environment with the customer's personal computer on the remote server to work and render.
iRender Farm services 
Pricing:  
iRender has a lot of packages for you to choose from. You can refer to their service packages below. iRender offers an additional 20% of the first deposit within 24 hours to those who register for the first time and 50% bonus on educational projects.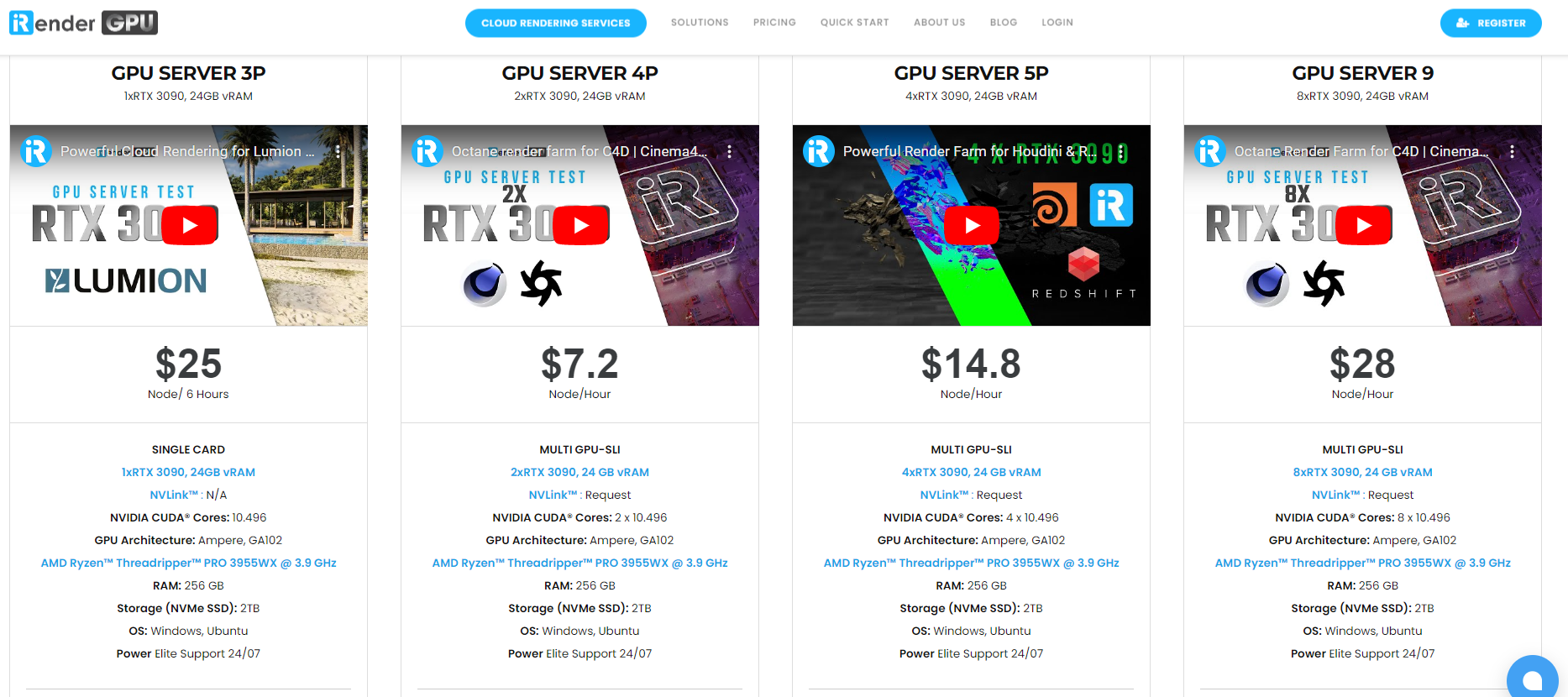 Software supported:
iRender shows that they support all major software such as 3Ds Max, Maya, Cinema 4D, Houdini, Blender, Keyshot, Lumion, Enscape, Unreal Engine, Daz, and so on. And, you can install and use any kind of software, renderer, or plugin on iRender servers, however, you need to add your license key(s) to their farm.
Support: 
Talking about iRender support, I think they do a great job. They are available to you 24 hours a day, seven days a week. Just send them a message, and they will reply immediately. They also support you via email, Skype, and live chat channels, but their approach is unique.
That is, they also support other messaging applications if the customer allows and provides them. such as WhatsApp, Discord, etc. Their staff is very enthusiastic and ready to answer your questions and solve any problems. We really like this side of the farm. iRender's support team not only answered our questions but actively guided us through using their service (as newbies).
Response time is also very fast; you just need to say that they will come to support you immediately. And you can use any chat channel they support, and you don't have to wait long for a response.
Security: 
Like the render farms, iRender has an extremely good information security system. You will not need to worry about your personal or project information being leaked.
Ranch Computing
Ranch Computing is one of the SaaS render farms, which means customers have easy access to the Ranch Computing farm and can utilize the power of render nodes to speed up the rendering process. You just need to download a file transfer tool from Ranch called RANCHecker, which is a free and simple tool. This plugin will gather all assets used by your scene, verify the rendering parameters, change file paths if necessary, and ask you in case of possible issues (an incompatible plugin, for instance).
Ranch Computing services 
Pricing:  
Ranch Computing is a SaaS render farm, so they charge for the service per node. You can see detailed information about each of their service packages in the photo below. They offers a 30€ free trial and a 50% discount for academic projects.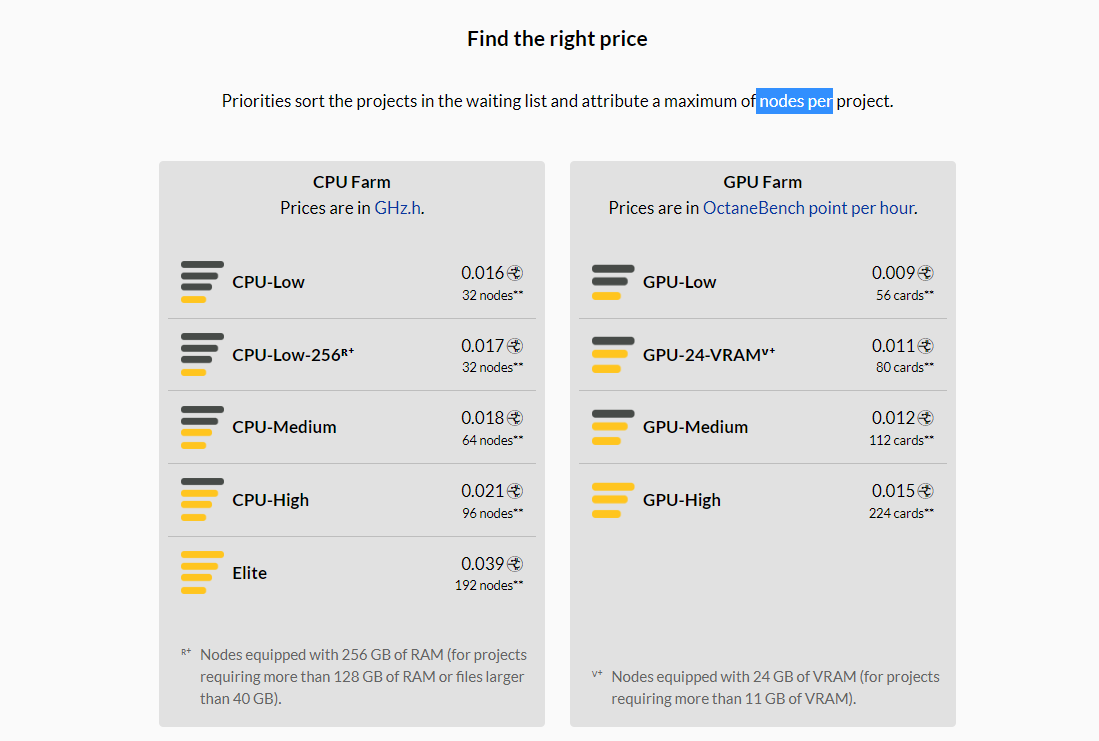 Software supported:
RANCH Computing gives the list of major software namely 3Ds Max, Cinema4D, Maya, Blender, and Houdini. Moreover, RANCH is highly recommended for Lightwave, Maxwell, VUE, and Indigo software which is randomly offered by well-known render farms. 
Support: 
Ranch Computing only has 24/7 support documentation, and if you want help with external questions, they have email or Skype support. The Ranch support team is available by email or phone from 9 a.m. to 7 p.m. (UTC+1 / Paris, France) Monday through Friday. This means that they only support you during office hours, and when you have a problem outside of their working hours, you can ask for support.
Ranch lists some of the most commonly asked questions along with a contact form to make it easy for farms to help their customers. You can contact us via email; there is live chat support on the web, but we found it to be ineffective.
Security: 
They have very clear privacy terms. When you sign up for an account, you must agree to that in order to use the service.
Garage Farm
Garage Farm is a powerful cloud rendering service with thousands of nodes, integrated with many 3D software programs, rendering engines, and plugins. Created by a team of 3D artists, they have been through many renderings and understand that creating rendering services helps artists solve many of their problems.
Garage render farm services 
Pricing: In terms of pricing, Garage is one of the SaaS render farms by GHz per hour/ OB hour (for more information on GHz/OB hour, see our pricing article). You can refer to the price at the garage in the photo below. They have both CPU rendering and GPU rendering rental packages.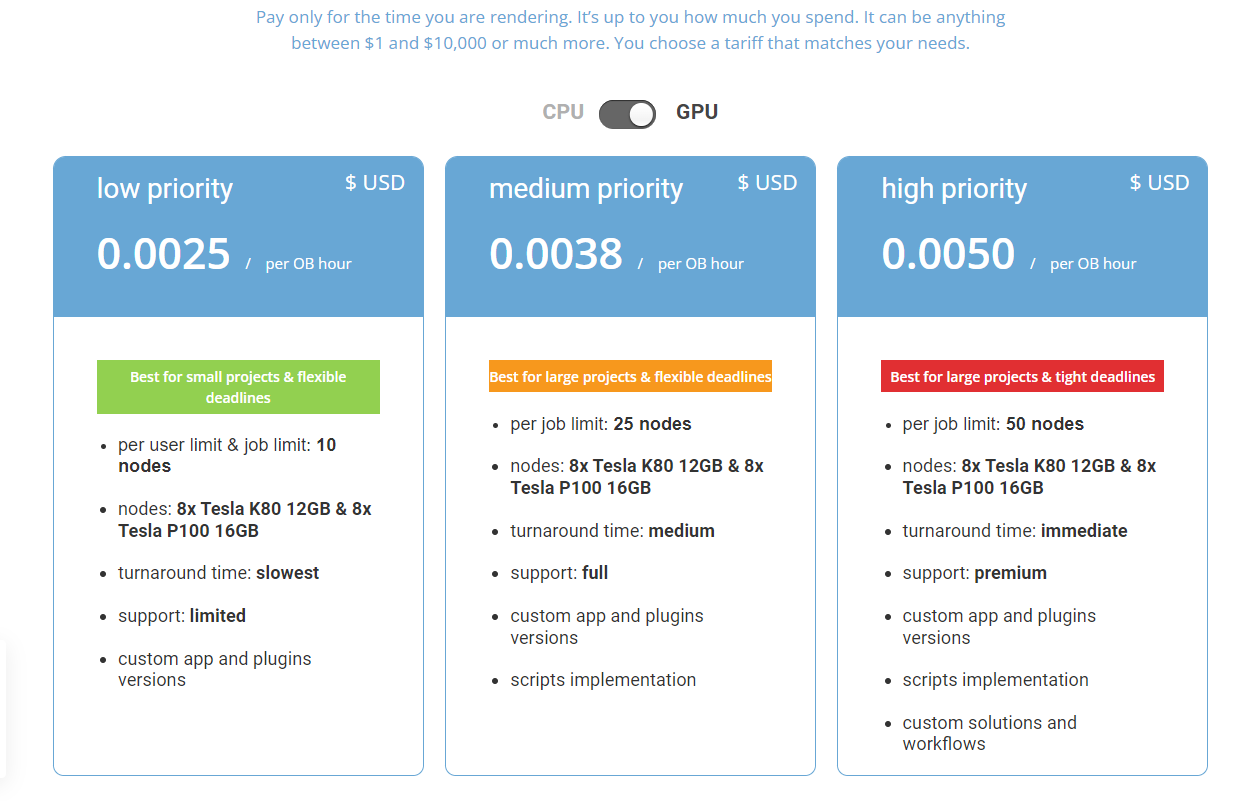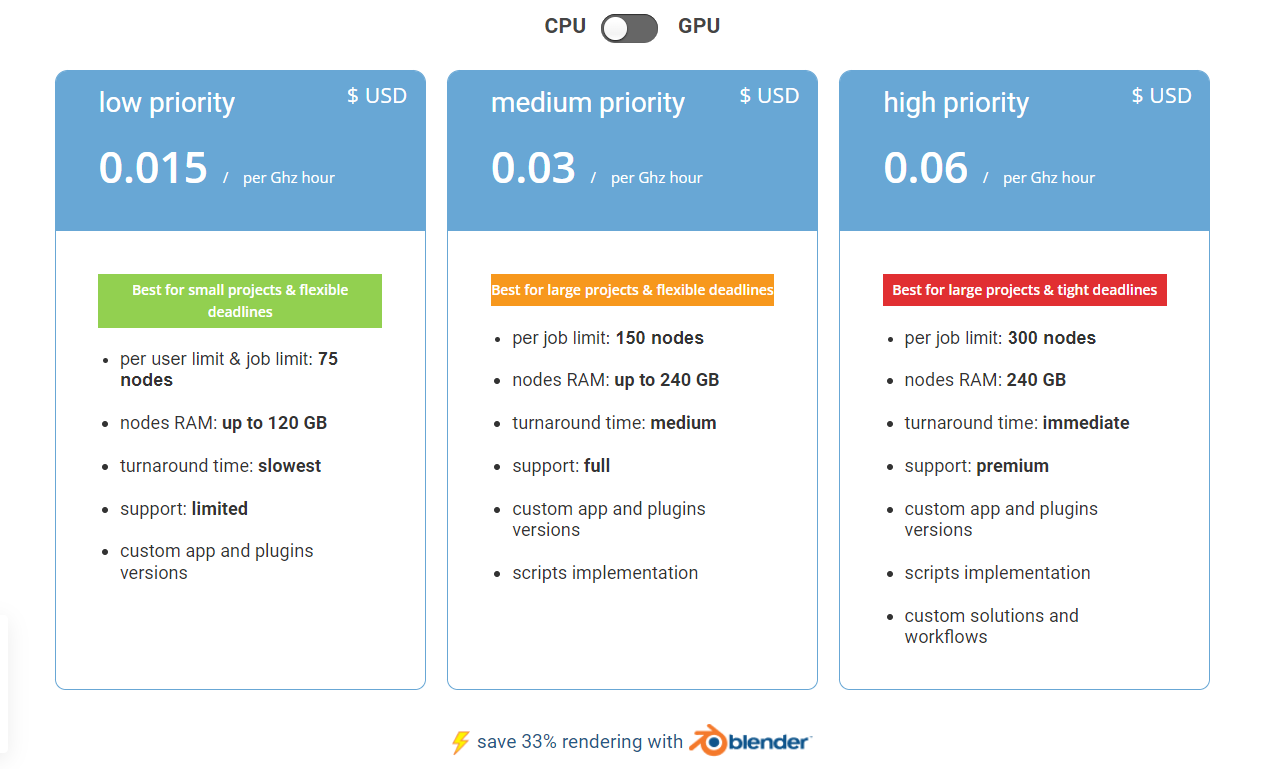 Software supported:
Garage Farm supports a lot of software, such as 3Ds Max, Cinema 4D, Rhino, Sketchup, Maya, LightWave, After Effects, Blender, etc., and many familiar render engines and plugins too.
Support: 
Garage is available to you 24 hours a day, seven days a week. Anytime you have questions or need help, they can assist you. They have three channels to answer questions directly: email, Skype, hotline, and live chat. In general, they respond quite quickly; it usually takes about 2–5 minutes. If you need support as quickly as possible, chat via live chat; this is the fastest response channel.
Security: 
Garage Farm has very good customer privacy policies. They have it publicly available on their website; you can check those terms.
Summary
The top three best render farm services for 2023 are listed above: iRender, Garage Farm, and Ranch Computing. In terms of all 6 criteria, these 3 render farms all have very high ratings. They all have preferential policies for both new and old customers, as well as policies for educational projects.