How to install Octane render for Cinema 4D
Octane renderer is a quick, intelligent render engine that is among the best for GPU cloud rendering. It also is one of the most widely used renderers and the fastest spectrally accurate GPU-accelerated renderer for Houdini, Cinema 4D, Maya, and so on. In the previous article, we talked about Octane for Houdini, in this article, let's explore Octane render for Cinema 4D.
Overview of Octane render for Cinema 4D
What is Octanerender for Cinema 4D
OctaneRender is a physical-based render engine developed by OTOY in 2012. Octane is available as a standalone product and as a plugin for Digital Content Creation host apps like 3Ds Max, Maya, and Cinema 4D. Therefore, Octane render for Cinema 4D acts as a plugin for this 3D software.
Octane render for C4D is often used in advertisements, short movies, and rendering for buildings because of its quickness and stable product quality. With the development of GPU rendering, OctaneRenderer is increasingly used and is one of the best choices for many 3D artists.
The version of OctaneRender for Cinema 4D
Up to the present time, OctaneRender for Cinema 3D is developed to version R23. To use this version, you need to have Cinema 4D should be updated to the latest version as a minimum to run this Cinema 4D plugin.
List of all version C4DOctane: R15, R16, R17, R18, R19, R20, R21, R22, R23.
Hardware requirements of OctaneRender for Cinema 4D
Before using OctaneRender for C4D, your workstation needs to be powerful enough. According to Otoy and Maxon, the hardware requirements follow:
OS: Windows 10 64bit or higher, macOS 10.15.7 or higher.

GPU: NVIDIA Geforce 3050 or higher recommended

VRAM: 8GB or more

RAM: 16GB minimum
Install OctaneRender for Cinema 4D: step by step
Follow some steps to install your OctaneRender for C4D.
Step 1:

Go to otoy.com and click the downloads link in the navbar at the top. From there, you sign in to your account. If you don't have an account, sign up and buy a license. Then, you click to download again and choose the Octane render for Cinema 4D. 

Step 2:

In the Select Software list with several options, choose your version of Octane. You can use either Operating System dropdown to filter between the Mac and Windows version or you can just look at the list and click the Download button next to the latest version for your OS. macOS is for newer (Catalina or Big Sur, with supported AMD cards, and soon (as of this writing) for the M1 chips). macOS (CUDA) is for older Macs that still had NVIDIA cards and older versions of the OS.

When you check to Accept and hit Download, you will get a ZIP file (Mac) or a RAR file (Windows). After downloading, go to the document storage, and decompress the RAR file or ZIP file.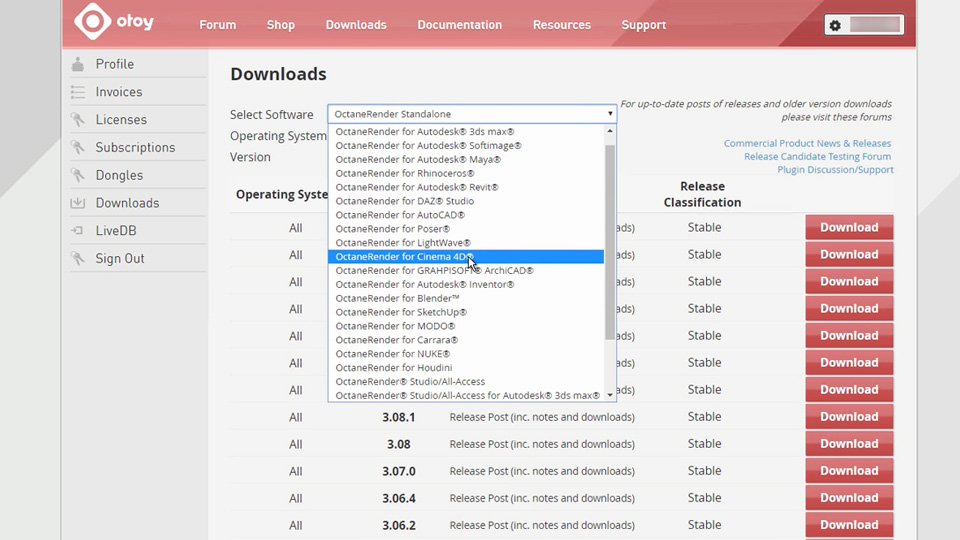 Note: On the Mac, you will have a folder that is the current version. On Windows, you'll have a folder that says c4doctane.
Step 3:

Delete the .xlib files (Mac) or .xdl64 files (Windows) for the versions of the software you are not using. If you have C4D R23, you'll need to delete the R15, R16, R17, R18… cdl and xdl (or xlib on Mac) files for everything except c4dOctane-R23.xld64 or c4doctane-R23.xlib prior to installing.

Step 4:

open C4D, go to Edit>Preferences, and in the bottom left, click the Open Preferences Folder… button to reveal the preferences location in Windows Explorer or Mac's Finder. After that, find the plugins folder, and move the c4doctane (Windows) or C4D-OctaneX-(blah blah version number for Mac) into the plugins folder, then restart Cinema 4D.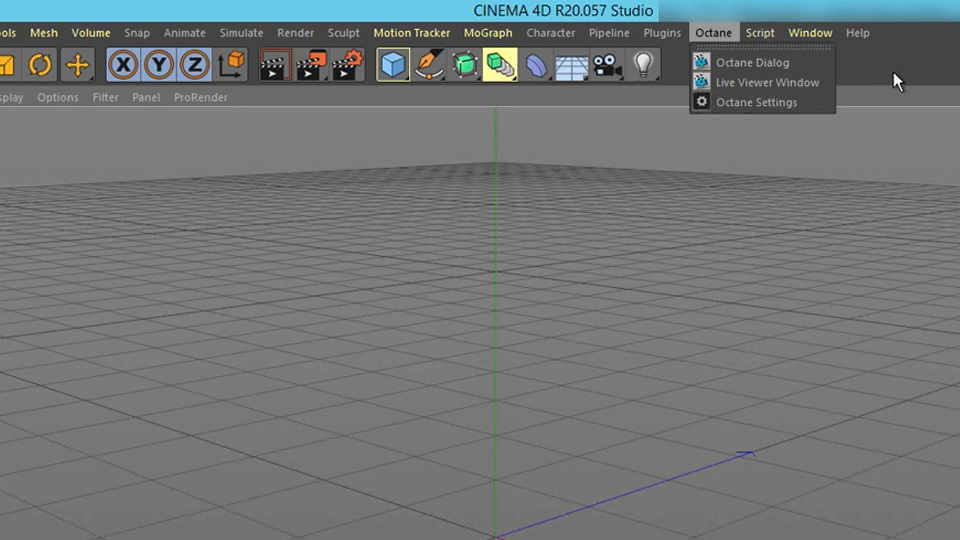 When you finish the installation, launch the Cinema 4D application. You wil see the OTOY account credentials. When you entered your credentials, you will see an Octane tab at the top of your application. It successfully installed the Octane Render for Cinema 4D.
Some troubleshooting
Sometimes, during the installation process, you will encounter some minor errors. Some popular common errors are as follows:
"Initializing" when you launch Cinema 4D. In this case, let's check your c4doctane folder to confirm you have deleted the RXX files that do not match the Cinema 4D version you are using. 
"You can't click the Octane button in the menu". Maybe your Cinema 4D is not on the latest version. Let's check it. If your Cinema 4D in the latest version, click Help > Check for Updates in Cinema 4D menu.
"You get a CUDA 700 render error". Let's check your NVIDIA driver is updated. Next, check to see if your OS is updated.
OctaneRender is a very fast and powerful rendering engine. It helps you meet the deadline and get the highest quality results for your job. Throughout this article, Radarrender hopes you can easy installation Octane Render for Cinema 4D. Thank you for your reading!
See more: How To Install Octane Render For Houdini