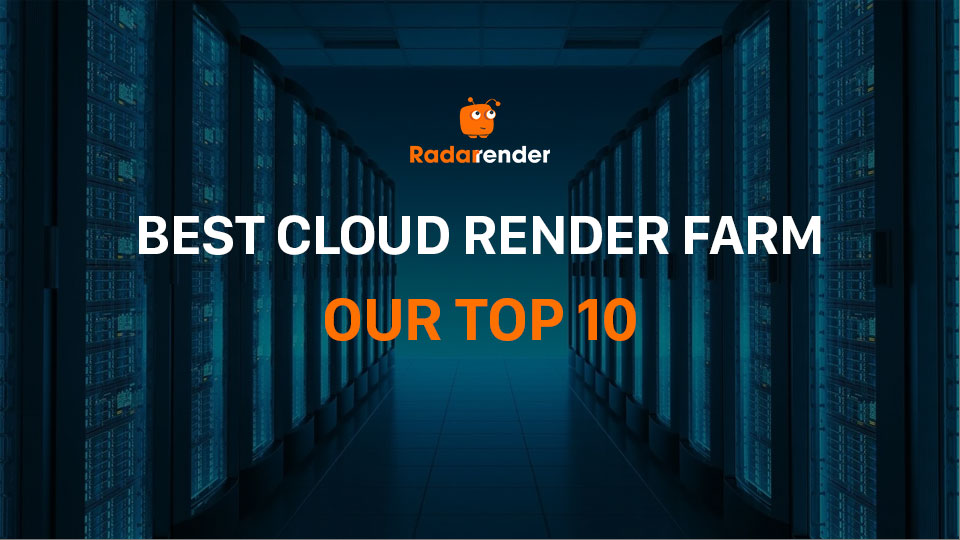 Top 10 best cloud render farm
If you work in fields such as 3D graphic design, animation, VFX, architecture, or video editing, and encoding, then the concept of "Render farm" is totally familiar. There are many huge technology computing brand names that provide the Best cloud render farms to solve the big problem of computer performance for rendering. Each Cloud Render farm has its own advantages and disadvantages, providing a variety of services and choices, which brings the highest efficiency to customers. In this article, Radarrender will show the top 10 best cloud render farms today.
Amazon Web Services (AWS) is the world's most comprehensive and broadly adopted cloud platform of Amazon providing on-demand cloud computing platforms and APIs to individuals, companies, and governments, on a metered pay-as-you-go basis. In detail, Amazon Elastic Compute Cloud (Amazon EC2) is a web service that provides secure, resizable compute capacity in the cloud. The Amazon EC2 allows you to obtain and configure capacity with minimal friction. This service provides you with completely taking control of your computing resources and lets you run on Amazon's computing environment.
Amazon EC2 offers customers the broadest and deepest compute platform with various options of processor, storage, networking, operating system, and purchase model. It can be considered as Iaas (Infrastructure as a Service) when they can provide the faster processors in the cloud or the most powerful GPU instances for graphics workloads, rendering where you can take control of a remote server via an RDP file. In case you are using a CPU biased renderer for Maya, such as Arnold or V-Ray, then C4 instances are a great choice because they have the lowest price/compute of any instance type. The minimum requirement for Maya is 8 GB of RAM, with 16 GB being recommended. As a result, the minimum C4 instance type you should use is c4.2xlarge, which has 8 vCPUs and 15 GB of RAM. Let's take AWS Portal and Spot Instances as another example. AWS supports an extraordinary diversity of GPU cards coming from Nvidia. You also have access to GPU instances, which allow you to use GPU renderers like Redshift or Octane without the expense of having to pay for costly GPUs yourself. But you need to add your own license to any server you access. The G3 instances type is recommended for rendering, and they feature NVIDIA ® Tesla M60 GPUs, each with 2048 CUDA ® cores and 8 GB of GPU memory.
However, the interface of AWS is quite complicated and users have difficulty access to the server. Experts and people who know more about technical parts should choose AWS for their projects. You need to figure it out on your own to make a decision on which instances can be suitable for you and your projects. The support from AWS is rather hard to approach and the staff will not respond directly when you have issues or need help. 
Microsoft Azure is a public cloud computing platform with solutions including Iaas, PaaS, and SaaS. It provides a large range of cloud services such as computing, analytics, storage, or networking services. Users can select one or some of these services and control the Virtual Desktop to do their tasks. 
Everyone who would like to work with high-resolution 3D content will find value in the remote rendering service of Azure which can be considered as one of the best cloud render farms today. Or you can leverage the virtual machine service from Azure which offers a variety of specs ranging from CPU (Intel Xeon, AMD) to GPU (Tesla V100 and M60). You can select their product lines that can be suitable for your project(s) and can customize the number of RAM, Storage, Bandwidth, etc.
Scalability and Data security are the backbones of any cloud provider in the world, Azure is a great one that meets these requirements. What's more, it is a cost-effective solution. You only have to pay for what you need and use. Azure gives you the ability to leverage the cloud, so you can lose the burden of hardware costs without losing the benefits of having them.
However, speed can be an issue for some businesses due to location. Today Azure covers exactly 54 regions in the world. In some countries such as the US, Europe, Australia, Japan, or China, you're all set and can take advantage of speedy data access. But if you live in South America, you only have access to one particular region which is Brazil South. Also, the interface of Azure is quite complicated which makes it difficult to use it.
iRender Farm was established in 2019, iRender is also a Render Farm that works in the cloud computing field. Although iRender is a new name in the global market, with the new and breakthrough steps, iRender can fairly and quickly compete with other famous Render Farms worldwide and be one of the best render farms. iRender provides an IaaS (Infrastructure-as-a-Service) model that allows users to have full control over their computer and set up a similar working environment with the customer's personal computer on the remote server to work and render. iRender helps to bring 3D artists, VFX, filmmakers, animation studios, etc. an efficient rendering method with the high computing GPU and CPU (Dual Xeon & Intel Xeon) infrastructure that can handle all the heavy-duty tasks like a breeze.
Like the above businesses, users can take full control of the server and use any software on it, but it is easier to use and have easy access to the server. On top of that, users can have in hand one or many new computers with high configuration which support different operating systems, different graphics software. You can select a wide variety of cards namely RTX 2080Ti, RTX 3080, or RTX 3090 which are all the state-of-the-art and newest ones in the market. It means that you can customize types of GPU cards, OS, or the number of GPU cards. You can choose a single GPU if your software just works on a single GPU. In case your software supports multi GPUs, you should select a multi-GPU package to speed up your rendering time. They also support a free transfer-file tool called GpuHub sync tool that helps users to upload and download files to the server without charging money. Besides, their support is an outstanding point that I need to mention. They possess enthusiastic staff and experienced experts who support us directly and immediately whenever we need help with a diversity of communication methods.
Nevertheless, iRender needs more steps in the rendering process. After connecting to the remote machine, users need to manually install the software they need on a new machine, only once. All installed data and software are automatically saved for later use. In addition, users need to add their license of software they use on the iRender server, they now just support Redshift license keys.
RebusFarm is a German-based company that is part of the growing commercial rendering service for studios around the world. The company has a high capacity for data rendering with 3,000 XEON CPUs at its disposal. They offer a cloud rendering service that can handle almost every major 3D software out there. It is based on the model of SaaS (Software-as-a-Service). You will submit your job directly from a plugin inside the 3D software. With the experience of more than 14 years in the field of 3D rendering, Rebus has been improving a lot to be one of the most trusted render cloud services. 
RebusFarm is quite easy to use due to uploading or downloading files is managed by a RebusFarm software element called "Rebusdrop". You can monitor your cloud rendering jobs and can start, pause, and cancel all jobs at any time using this tool. Especially, your job will be rendered frame by frame, so it will automatically be downloaded to a folder chosen by you in advance. They do support some particular software such as 3dsmax, Cinema 4D, Maya, Blender, Modo, Lightwave 3D, Sketchup, Rhino 3D, Autodesk Softimage; and some render engines: Vray, Corona, Redshift, Octane, Mental Ray, Maxwell render. If you use one of these software and applications, you don't need to add your license keys, you just need to submit your project and get your rendered files. But if you use other software, renderers, or plugins, Rebus should not be your choice.
That being said, the cost is rather pricey which may be suitable for medium businesses that often render large architectural projects and they work against the clock to meet tight deadlines. One more thing, they aren't really good at response times with customer service even on their Germany working hours. So just be sure you know what you are getting into before sending your render to Rebusfarm.
Fox Render Farm was established in 2009 in China with a team of experienced staff in the field of computer graphics. With professional services and industry-leading innovation, they provide cloud rendering services to a wide range of entertainment studios and animation studios from more than 50 countries and regions. Fox Render Farm is currently one of the fastest-growing companies in the global market, especially in Asia and North America. Fox Render Farm provides Cloud Rendering service – SaaS (Software as a Service) – that allows customers to use their applications to render their projects. Fox supports a wide variety of plugins and mainly focuses on 5 main design software including Maya, 3Dsmax, Houdini, C4D and Blender.
With Fox Render Farm, users can submit files to be rendered easily through the Web or the Desktop Client app (for two operating systems: Window and Linux). The Desktop Client app also allows the user to send files to be rendered directly from the user's 3D application (Maya and 3ds Max). Fox Renderfarm has an excellent team with over 20 years of experience in the CG industry. Team members are from Disney, Lucasfilm, Dreamworks, Sony, etc. They serve top special effects companies and animation studios from more than 50 countries and regions. In 2015, Fox Renderfarm established a strategic partnership with Aliyun (Alibaba Cloud Computing) to provide global visual cloud services. Therefore, users can be somewhat assured that they will be actively supported if they have any difficulty in rendering.
You will find it hard to use Fox render farm if you are not using 5 main software including Maya, 3Ds Max, Houdini, C4D, and Blender. Actually, no one understands the product better than the people who designed it. Therefore, when using Fox's SaaS service, Fox may not understand the file settings that the artists made during their design process. Sometimes, in the case there is a missing asset file, Fox only warns you about it, you will have to retrace the file, re-upload it, and then render. Occasionally, you will see your job failed, and you give up.
Garage farm was established in 2010 with a team of two, Tomek and Minhee. They are a UK-based business that provides cloud rendering services. Coming to Garage farm, you have two options for rendering: GarageFarm & Xesktop.
GarageFarm.NET is a cloud render farm that uses CPU and GPU nodes to render projects prepared in 3D software. The company supports much software and for each of them with a separate plugin that automatically prepares the project for rendering on their side. You can render using any of the most popular render engines and industry-standard plugins. Xesktop.com is a cloud server rental service based on Iaas (Infrastructure as a Service) where you can rent a GPU server via Remote Desktop, where you can install everything you need and render your project yourself. With this service, you use your server remotely just like a standard PC. It is offered as a separate brand but powered by GarageFarm.net. 
Regarding Garage farm, you just need to select software, plugins, upload files and submit them to render, and then get your result. They support several software & plugins: 3ds Max, Maya, Cinema 4D, After Effects, Redshift, Blender, LightWave 3D, SketchUp, Rhino, Modo, V-ray, Corona, Arnold. With this cloud render farm, they just have types of CPU nodes: 4x CPUs, 176 cores, 256 GB RAM as well as GPU nodes: 8x Tesla K80 cards, 128 GB RAM. In terms of Xesktop where you can take control of the remote server, they just support limited packages namely 10x GTX 1080 Ti and 8x Tesla V100. If your software supports only one or two GPUs, it is not a good option for you. Admittedly, you don't have many options to select the machine specs or operating system on Xesktop because they only offer narrow GPU lines and one operating system.
Super Renders Farm – The brand was established in 2010 in California. From a small rendering company in Fullerton city in the state of California, SuperRenders Farm has outperformed many competitors and stayed firmly in the fierce US tech market. By 2017, the company launched "online rendering technology", which marked a new major achievement in their development. On the rise, SuperRenders Farm rapidly expanded overseas markets, including Vietnam (2019). The company uses the most popular render farm performance solution available today – a service in the form of Software as a Service (SaaS), meaning the user will interact through an application or web-application (web-app), and upload the project to the provider's server for rendering – it's called Cloud Rendering.
The interface and usage are quite simple. After creating an account, the only thing you need to do is package the project, then upload it to the cloud and create a job. Then the system will automatically deploy the rendering process and also automatically return the user's output to the predefined folder on Google Drive/Dropbox. The price must be one of the most important factors for everyone when considering whether to use a service. It can be said at present, SuperRenders Farm is one of the lowest cost render farms compared to the render farm market. The price is 20% lower, even 30% to domestic competitors – these numbers significantly affect customer's decisions. Today SuperRenders Farm is supporting the following software: 3DsMax, Maya, C4D, Blender, After Effects, Fusion, Isotropix Clarisse iFX, Natron, NukeX, Houdini and renderers: Vray, Corona, Arnold, Redshift, Octane, Cycles, Evee, Renderman. 
Bandwidth speed, however, is a minus point. Their system is completely based on Google Drive or Dropbox. When you update a file on Dropbox, they will synchronize the entire folder in groups instead of just the updated files. Users may spend hours and hours (4-6 hours) just waiting for a synchronized scene file to display. The reason here is due to the bandwidth speed – which seems to be a factor that is rarely noticed. However, in Cloud Rendering service which mainly transfers files between devices, this is an extremely important bottleneck, especially for heavy projects that are rushing to meet the deadlines. One more thing, SuperRenders Farms lacks a range of services. The configuration of the system will be almost the same, the parameters provided on the website include CPU: Dual XEON E5 2670 v3 chip, GPU: Nvidia GTX 1080 Ti card. There now are 3 main service packages to choose from Bronze, Silver, and Gold packages. The only difference here is the number of machines you can hire and the priority compared to projects of others. The only difference between the packages is the RAM capacity (32-96GB).
VSO Cloud is a cloud computing platform that is located in Suzhou, China. They offer various services including Render farm, Agileshot, Investment, and Outsourcing services. Nowadays, VSO Cloud has built strategic cooperation with VHQ company in Singapore, ReelFX in the USA, The Third Floor, Pixomondo, Veta Studio in New Zealand, SOHO VFX, RODEO FX, Intelligent Creatures, and plenty of high-standard VFX / Animation companies around the world. Besides, VSOCloud has invested in numerous projects and turned into blockbusters such as Deep, Panda Island, etc.
Although they support limited kinds of GPU cards namely GTX 1080Ti, RTX 2080Ti, and M6000, they can provide massive render nodes, maybe from 1 to 50 nodes. It is not multi GPUs in one machine (node). Instead, there is one GPU in one node, so you can leverage the number of nodes to render and the total rendering time can be fairly shortened. You can take consideration of VSO Cloud with a few stages uploading your projects to the cloud storage and submitting them step by step, then waiting and getting results, the more render nodes you select, the less rendering time is, But of course, the price is much higher. Especially, they have a professional technical team & service team who can support you 24/7, which is a plus point that I give this render farm as well as iRender farm. They will recommend you to test first, then help you to calculate cost by frame and suggest customized rendering solutions. 
VSO Cloud does support software 3Ds Max, Blender, Sketchup, and renderers Vray, Redshift, Anima, and Corona. It seems there are few supported software and they do not upgrade NVIDIA cards for a long time. If you're in need of using different software or plugins, VSO Cloud is not a great recommendation. Your location will depend on the speed that you upload files to the cloud storage. Because VSO Cloud is in China, so if you're living and working in Europe, it will take a longer time to upload files. In addition, the service and system are not really automatic. You should ask VSO CLoud first for your Project Path, the number of nodes you can use, etc to make sure that everything is okay and your projects are able to be rendered. One more thing, for tasks whose rendering time exceeds over 24 hours but has not finished yet, the system may determine that the tasks are abnormal and automatically stop the rendering. You should pay attention to this point, if you have special requirements, please contact customer service in advance. In terms of jobs with a capped price, they will make an extra charge according to the corresponding unit price for rendering jobs beyond 24 hours.
AnimaRender is an online render farm service which is situated in Russia. Their service combines CPU and GPU power, which allows them to provide render farm services for the entire spectrum of the most popular software. AnimaRender GPU render farm now supports Octane, a Redshift, and other renderers. Regarding some popular software, they support particular software and specific version 3ds Max 2012 – 2021, Maya 2016 – 2020, Cinema 4D R15-R21, Houdini 18.5.351, Blender Cycles, After Effects CC 2019 with V-Ray, Corona, Arnold. Other software can be rendered on the render farm with CPU servers. You can upload your projects to your AnimaRender account, select all necessary settings, and start rendering. If you use other software that is open-source, you can contact AnimaRender, they will install open source software and then you can use VNC Teamviewer to access their machine and render on it.
With supported and preinstalled software, you can select CPU render or GPU render service. AnimaRender farm offers you servers with GPU cards from NVIDIA which are GeForce RTX 2080Ti and GTX 1080/1080ti. When it comes to render farm specs, the CPU consists of 250 Dual Xeon E5-2670 servers with 64GB or 128GB RAM. GPU render farm includes only 3 types of servers namely 5хGTX 1080Ti 925 OctaneBench, 8хGTX 1080 с 1150 OctaneBench and the last one 5хRTX 2080Ti c 1500 OctaneBench. AnimaRender's data center uses high-performance data storage systems and they do not limit users in the volumes of uploaded, processed and downloaded materials. However, you need to keep in mind that the rendered files will be automatically deleted from your folder on the farm 10 working days after the end of the render. The upstream of the render farm is about 2 Gbps. One high point of this service is 24/7 technical support. Technical specialists will support you online via live chat 24 hours a day, 7 days a week and be ready to help you figure out any questions about working with AnimaRender.
Uploading files to your AnimaRender will take time. If you need to render a project with 20-30GB, you should prepare early and wait for 2-3 hours to upload your files to your account or AnimaManager successfully. After selecting settings, you again wait for rendering a period of time and finally getting your results. Using Anima service needs more time for uploading files
 The cost is a bit higher than other farms when they charge from 14.5 $/hour for 8x GTX 1080 to 21.9 $/hour for 5x RTX 2080Ti for hourly rental service. If you have a bigger project that needs rendering for a longer time, you should select GPU Rental service for a minimum of 3 days or a week/a month to get a beneficial price
TurboRender is another cloud rendering service coming from Russia and also the last brand name in the list of top best render farms. They established in 2013 and have been helping customers save rendering time. TurboRender is an online render farm that is based on SaaS (Software as a Service) platform. This company has 800 powerful servers with installed and configured specific software. Users can speed up the rendering process many times and get the finished result faster with a couple of clicks. TurboRender is perfect for individuals and teams because it is easy to use and offers a reasonable price from 0.87$/hour (CPU) to 2.62$/hour & 4.37$4/hour (GPU). 
TurboRender now supports some versions of 3Ds Max, Maya, After Effect, C4D, Houdini, Blender, and some renderers such as Corona, Vray, Arnold, and Mental Ray. They do support several plugins that are compatible with each software, however, there are still some plugins that they do not support, you should ask their staff for more information. The technical support service will reply to your email within 3 hours. TurboRender provides customers CPU and GPU Render. In detail, CPU including one type is 2x Xeon 2650v2, 64Gb while GPU including two types are 4 x GTX 1080 Ti, Intel Core i5-7640X, 64Gb and 4 x RTX 2080 Ti, 2x Xeon Gold 5220, 64Gb. In the GPU render package, you can use their Redshift and Octane renderer to speed up your rendering time. 
TurboRender does not have a wide range of GPU lines when they only support 2 kinds of Nvidia cards which makes your rendering time not be fastened if you just use 1 or 2 servers. Instead, you may use the remote GPU render farm – 10 servers with 4xGTX1080 Ti each, online 24/7. The rendering will be done many times faster, of course, the total cost is 10 times higher than normal. Like other render farms, you need to upload files to your TurboRender account, it will take time to upload and you have to wait for that period of time. 
To sum up, if you are looking for one of the best cloud render farms that support some particular software such as 3Ds Max, Maya, and Cinema4D, you can take 85% of the current render farms on the market into account including Fox Render Farm, Garage Farm, Superrenders Farm, Rebus Farm or AnimaRender. If you use any special plugins or different software, these render farms may not meet your requirements. It's time for you to find out another best render farm that supports your own software. From my suggestion, you should consider using iRender farm or Xesktop where you can take full control of the machine and install any software or plugins you want.
See more: 7 Best Render Farms Comparision