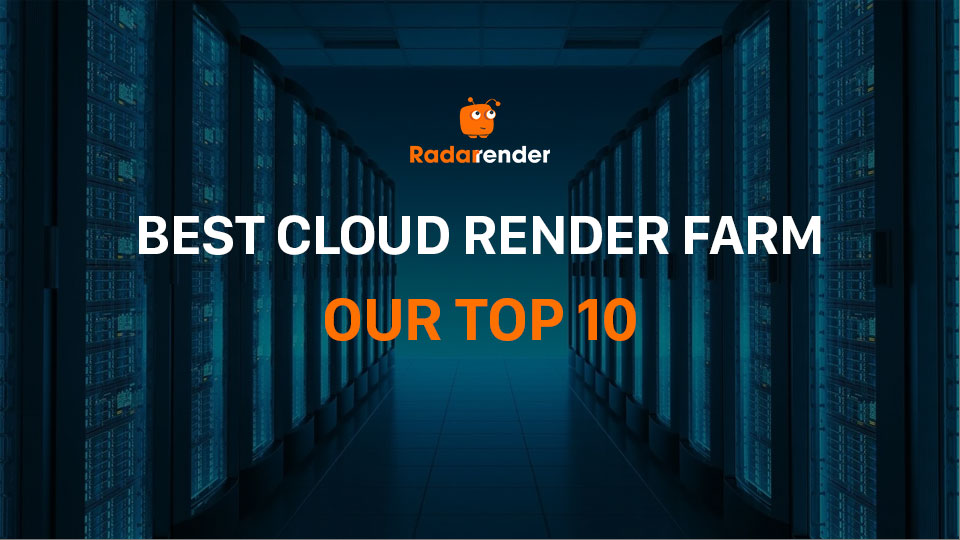 Top 10 best cloud render farm
If you work in fields such as 3D graphic design, animation, VFX, architecture, or video editing, and encoding, then the concept of "Render farm" is totally familiar. There are many huge technology computing brand names that provide the Best cloud render farms to solve the big problem of computer performance for rendering. Each Cloud Render farm has its own advantages and disadvantages, providing a variety of services and choices, which brings the highest efficiency to customers. In this article, Radarrender will show the top 10 best cloud render farms today.
iRender Farm was established in 2019, iRender is also a Render Farm that works in the cloud computing field. Although iRender is a new name in the global market, with the new and breakthrough steps, iRender can fairly and quickly compete with other famous Render Farms worldwide and be one of the best render farms. iRender provides an IaaS (Infrastructure-as-a-Service) model that allows users to have full control over their computer and set up a similar working environment with the customer's personal computer on the remote server to work and render. iRender helps to bring 3D artists, VFX, filmmakers, animation studios, etc. an efficient rendering method with the high computing GPU and CPU (AMD Ryzen™ Threadripper™ PRO 3955WX @ 3.9 GHz) infrastructure that can handle all the heavy-duty tasks like a breeze.
Like the above businesses, users can take full control of the server and use any software on it, but it is easier to use and have easy access to the server. On top of that, users can have in hand one or many new computers with high configuration which support different operating systems, different graphics software. You can select a wide variety of cards namely RTX 3090 or RTX 4090 which are all the state-of-the-art and newest ones in the market. It means that you can customize types of GPU cards, OS, or the number of GPU cards. You can choose 2, 4, 6, 8x GPU if your software works. In case your software supports multi GPUs, you should select a multi-GPU package to speed up your rendering time. They also support a free transfer-file tool called GpuHub sync tool that helps users to upload and download files to the server without charging money. Besides, their support is an outstanding point that I need to mention. They possess enthusiastic staff and experienced experts who support us directly and immediately whenever we need help with a diversity of communication methods.
Nevertheless, iRender needs more steps in the rendering process. After connecting to the remote machine, users need to manually install the software they need on a new machine, only once. All installed data and software are automatically saved for later use. In addition, users need to add their license of software they use on the iRender server, they now just support Octane license keys.
Garage farm was established in 2010 with a team of two, Tomek and Minhee. They are a UK-based business that provides cloud rendering services. Coming to Garage farm, you have two options for rendering: GarageFarm & Xesktop.
GarageFarm.NET is a cloud render farm that uses CPU and GPU nodes to render projects prepared in 3D software. The company supports much software and for each of them with a separate plugin that automatically prepares the project for rendering on their side. You can render using any of the most popular render engines and industry-standard plugins. Xesktop.com is a cloud server rental service based on Iaas (Infrastructure as a Service) where you can rent a GPU server via Remote Desktop, where you can install everything you need and render your project yourself. With this service, you use your server remotely just like a standard PC. It is offered as a separate brand but powered by GarageFarm.net. 
Regarding Garage farm, you just need to select software, plugins, upload files and submit them to render, and then get your result. They support several software & plugins: 3ds Max, Maya, Cinema 4D, After Effects, Redshift, Blender, LightWave 3D, SketchUp, Rhino, Modo, V-ray, Corona, Arnold. With this cloud render farm, they just have types of CPU nodes: 4x CPUs, 176 cores, 256 GB RAM as well as GPU nodes: 8x Tesla K80 cards, 128 GB RAM. In terms of Xesktop where you can take control of the remote server, they just support limited packages namely 10x GTX 1080 Ti and 8x Tesla V100. If your software supports only one or two GPUs, it is not a good option for you. Admittedly, you don't have many options to select the machine specs or operating system on Xesktop because they only offer narrow GPU lines and one operating system.
Ranch Computing was founded in Paris, France, and started operations in March 2007. Since then, Ranch Computing's mission has been to enable all visual artists, regardless of their field of expertise (animation, VFX, architecture, design, video games, etc.), to approach the rendering process calmly in order to achieve their deadlines and their financial constraints. In addition to offering high-performance rendering services for CPU and GPU projects, RANCH Computing also sells hardware solutions for 3D rendering. 
Ranch Computing is one of the SaaS render farms, which means customers have easy access to the Ranch Computing farm and can utilize the power of render nodes to speed up the rendering process. You just need to download a file transfer tool from Ranch called RANCHecker, which is a free and simple tool. This plugin will gather all assets used by your scene, verify the rendering parameters, change file paths if necessary, and ask you in case of possible issues (an incompatible plugin, for instance).
In terms of supported software, RANCH Computing gives the list of major software namely 3Ds Max, Cinema4D, Maya, Blender, and Houdini. Moreover, RANCH is highly recommended for Lightwave, Maxwell, VUE, and Indigo software which is randomly offered by well-known render farms. One of the greatest advantages of RANCH is they support a wide range of software versions, renderers, and plugins for users that allow them to have many options to select. Both CPU vs GPU rendering, RANCH gives us to select the latest versions of render engines for the aforementioned software. When it comes to 3Ds Max renderers, there are Arnold, Corona, Vray, Scanline for CPU-based rendering while Vray, Redshift, and FStorm for GPU-based rendering. With Cinema4D, you can use Vray, Corona, Arnold for CPU jobs, and Redshift, Octane, Arnold for GPU jobs. Maya is supported with fewer options when Vray, Arnold, and Maxwell are used for CPU-based rendering, while the only Redshift, Vray is used for that of GPU.
Hardware is the decisive factor for each render farm to speed up the rendering process. First, we would like to mention the type of CPU on the RANCH Computing farm. They offer CPU Dual Xeon E5-2697A v4, 2.60GHz, and 16 cores. You are able to select the priority level including CPU-Low, CPU-Low 256 (256GB RAM), CPU-Medium, CPU-High, and Elite which the number of render nodes ranges from 32 to 192. Whereas, GPU type that RANCH supports including mainly RTX 2080 Ti and some RTX 3090 as well. GPU 2080 Ti is considered stable enough to render projects on most of design software currently, and RTX 3090 is one of the most powerful GPUs for rendering in 2021. Moreover, you can leverage the number of render nodes that RANCH offers you to speed up your render time. It is because you are likely to select a maximum of 14 nodes for GPU-Low, 28 nodes for GPU-Medium, and 56 nodes for GPU-High.
RebusFarm is a German-based company that is part of the growing commercial rendering service for studios around the world. The company has a high capacity for data rendering with 3,000 XEON CPUs at its disposal. They offer a cloud rendering service that can handle almost every major 3D software out there. It is based on the model of SaaS (Software-as-a-Service). You will submit your job directly from a plugin inside the 3D software. With the experience of more than 14 years in the field of 3D rendering, Rebus has been improving a lot to be one of the most trusted render cloud services. 
RebusFarm is quite easy to use due to uploading or downloading files is managed by a RebusFarm software element called "Rebusdrop". You can monitor your cloud rendering jobs and can start, pause, and cancel all jobs at any time using this tool. Especially, your job will be rendered frame by frame, so it will automatically be downloaded to a folder chosen by you in advance. They do support some particular software such as 3dsmax, Cinema 4D, Maya, Blender, Modo, Lightwave 3D, Sketchup, Rhino 3D, Autodesk Softimage; and some render engines: Vray, Corona, Redshift, Octane, Mental Ray, Maxwell render. If you use one of these software and applications, you don't need to add your license keys, you just need to submit your project and get your rendered files. But if you use other software, renderers, or plugins, Rebus should not be your choice.
That being said, the cost is rather pricey which may be suitable for medium businesses that often render large architectural projects and they work against the clock to meet tight deadlines. One more thing, they aren't really good at response times with customer service even on their Germany working hours. So just be sure you know what you are getting into before sending your render to Rebusfarm.
Fox Render Farm was established in 2009 in China with a team of experienced staff in the field of computer graphics. With professional services and industry-leading innovation, they provide cloud rendering services to a wide range of entertainment studios and animation studios from more than 50 countries and regions. Fox Render Farm is currently one of the fastest-growing companies in the global market, especially in Asia and North America. Fox Render Farm provides Cloud Rendering service – SaaS (Software as a Service) – that allows customers to use their applications to render their projects. Fox supports a wide variety of plugins and mainly focuses on 5 main design software including Maya, 3Dsmax, Houdini, C4D and Blender.
With Fox Render Farm, users can submit files to be rendered easily through the Web or the Desktop Client app (for two operating systems: Window and Linux). The Desktop Client app also allows the user to send files to be rendered directly from the user's 3D application (Maya and 3ds Max). Fox Renderfarm has an excellent team with over 20 years of experience in the CG industry. Team members are from Disney, Lucasfilm, Dreamworks, Sony, etc. They serve top special effects companies and animation studios from more than 50 countries and regions. In 2015, Fox Renderfarm established a strategic partnership with Aliyun (Alibaba Cloud Computing) to provide global visual cloud services. Therefore, users can be somewhat assured that they will be actively supported if they have any difficulty in rendering.
You will find it hard to use Fox render farm if you are not using 5 main software including Maya, 3Ds Max, Houdini, C4D, and Blender. Actually, no one understands the product better than the people who designed it. Therefore, when using Fox's SaaS service, Fox may not understand the file settings that the artists made during their design process. Sometimes, in the case there is a missing asset file, Fox only warns you about it, you will have to retrace the file, re-upload it, and then render. Occasionally, you will see your job failed, and you give up.
Drop & Render is a cloud render farm that is dedicated to Cinema 4D rendering. This SaaS (Software-as-a-Service) render service is specially built for Cinema4D developed by Maxon which is well-known among many 3D disciplines. Drop & Render gives rendering solutions for Motion Graphics, VFX, Architectural Design, Product Visualization, and more. With an integrated In-app plugin and support for almost all major render engines and plugins, Drop & Render will help users to reduce the time rendering a lot.
As aforementioned, Drop & Render is dedicated only to Cinema 4D software. Meanwhile, they do not support other software such as Houdini, 3Ds Max, Maya which are popular and widely used by 3D artists. The orientation is focusing mainly on Cinema4D from R17 – R23 and supporting almost all render engines that are compatible with it. This business strategy is quite interesting when they refuse to support the majority and sever a small piece of the market. By focusing resources on a specific customer segment, this small business may be able to better serve a smaller segment of the market than its larger competitors (Jack of all trades, master of none). Regarding render engines that go with Cinema 4D, Drop & Render supports Vray, Arnold, C4D_Physcial, C4D_Standard for CPU renderers, and Redshift, Octane, ProRender, Cycles4D for GPU renderers. Nevertheless, users are not able to select the versions of these render engines and they cannot know whether these renderers are legal or illegal.
They offer both CPU and GPU rendering. According to what Drop & Render shows on their website, there are RTX 2080Ti, RTX 3090 which are state-of-the-art graphics cards on their farm. However, the actual GPU types on Drop & Render are a mystery. Based on what we know, now they really offer GTX 1080Ti, especially Dual Xeon CPU & GTX 1080Ti/node, sometimes GTX 960, GTX 1070. Like most render farms, Drop & Render works with priorities, however, they take this a bit further to make sure you have full control over your projects.
AnimaRender is an online render farm service which is situated in Russia. Their service combines CPU and GPU power, which allows them to provide render farm services for the entire spectrum of the most popular software. AnimaRender GPU render farm now supports Octane, a Redshift, and other renderers. Regarding some popular software, they support particular software and specific version 3ds Max 2012 – 2021, Maya 2016 – 2020, Cinema 4D R15-R21, Houdini 18.5.351, Blender Cycles, After Effects CC 2019 with V-Ray, Corona, Arnold. Other software can be rendered on the render farm with CPU servers. You can upload your projects to your AnimaRender account, select all necessary settings, and start rendering. If you use other software that is open-source, you can contact AnimaRender, they will install open source software and then you can use VNC Teamviewer to access their machine and render on it.
With supported and preinstalled software, you can select CPU render or GPU render service. AnimaRender farm offers you servers with GPU cards from NVIDIA which are GeForce RTX 2080Ti and GTX 1080/1080ti. When it comes to render farm specs, the CPU consists of 250 Dual Xeon E5-2670 servers with 64GB or 128GB RAM. GPU render farm includes only 3 types of servers namely 5хGTX 1080Ti 925 OctaneBench, 8хGTX 1080 с 1150 OctaneBench and the last one 5хRTX 2080Ti c 1500 OctaneBench. AnimaRender's data center uses high-performance data storage systems and they do not limit users in the volumes of uploaded, processed and downloaded materials. However, you need to keep in mind that the rendered files will be automatically deleted from your folder on the farm 10 working days after the end of the render. The upstream of the render farm is about 2 Gbps. One high point of this service is 24/7 technical support. Technical specialists will support you online via live chat 24 hours a day, 7 days a week and be ready to help you figure out any questions about working with AnimaRender.
Uploading files to your AnimaRender will take time. If you need to render a project with 20-30GB, you should prepare early and wait for 2-3 hours to upload your files to your account or AnimaManager successfully. After selecting settings, you again wait for rendering a period of time and finally getting your results. Using Anima service needs more time for uploading files
 The cost is a bit higher than other farms when they charge from 14.5 $/hour for 8x GTX 1080 to 21.9 $/hour for 5x RTX 2080Ti for hourly rental service. If you have a bigger project that needs rendering for a longer time, you should select GPU Rental service for a minimum of 3 days or a week/a month to get a beneficial price
TurboRender is another cloud rendering service coming from Russia and also the last brand name in the list of top best render farms. They established in 2013 and have been helping customers save rendering time. TurboRender is an online render farm that is based on SaaS (Software as a Service) platform. This company has 800 powerful servers with installed and configured specific software. Users can speed up the rendering process many times and get the finished result faster with a couple of clicks. TurboRender is perfect for individuals and teams because it is easy to use and offers a reasonable price from 0.87$/hour (CPU) to 2.62$/hour & 4.37$4/hour (GPU). 
TurboRender now supports some versions of 3Ds Max, Maya, After Effect, C4D, Houdini, Blender, and some renderers such as Corona, Vray, Arnold, and Mental Ray. They do support several plugins that are compatible with each software, however, there are still some plugins that they do not support, you should ask their staff for more information. The technical support service will reply to your email within 3 hours. TurboRender provides customers CPU and GPU Render. In detail, CPU including one type is 2x Xeon 2650v2, 64Gb while GPU including two types are 4 x GTX 1080 Ti, Intel Core i5-7640X, 64Gb and 4 x RTX 2080 Ti, 2x Xeon Gold 5220, 64Gb. In the GPU render package, you can use their Redshift and Octane renderer to speed up your rendering time. 
TurboRender does not have a wide range of GPU lines when they only support 2 kinds of Nvidia cards which makes your rendering time not be fastened if you just use 1 or 2 servers. Instead, you may use the remote GPU render farm – 10 servers with 4xGTX1080 Ti each, online 24/7. The rendering will be done many times faster, of course, the total cost is 10 times higher than normal. Like other render farms, you need to upload files to your TurboRender account, it will take time to upload and you have to wait for that period of time. 
Concierge Render is CoreWeave's flagship rendering platform. This render farm will be useful if you have a limited budget. Cosierge Render has up to 45,000 GPUs and is capable of rendering quickly and without errors. They have the right hardware that can help you show the fastest preview results and get your work done on time. Only when you start rendering will you be charged based on the amount and time consumed by the rendering process. They don't charge for upload time, file storage, download time, or the display of work spread tasks. Depending on the rendering engine and platform your work uses, the rate per system resource will vary. They have a discount policy for you; the more you buy, the cheaper it is.
They have excellent servers with NVIDIA GPUs that you can use. Choose from a variety of GPUs, including RTX-enabled servers, NVIDIA V100 16GB HBM2 GPU, or Intel XEON render optimized servers with up to 248GB of system RAM to render with the CPU.
However, it is very sad to share with you that Cosierge Render only supports users of Blender software and Cinema 4D. Other software doesn't seem to be supported on their site. You can ask more about the render engines and plugins they support.
Cosierge Render has two main service packages:
CPU servers start at $0.85 per server per hour.
GPU servers starting at $0.35 per GPU per hour.
They also have the Blender EEVEE Optimized Servers package starting at $2 per server, per hour
RenderStreet is a render farm established in Romania. Since its inception, RenderStreet creators have been targeting small and medium studios. Using their proprietary RenderWheels solution, RenderStreet's resource allocation algorithm automatically optimizes speed and operating costs, providing the fastest and most cost-effective rendering solution available.
RenderStreet does not have a per-server, per-GPU, or per-CPU package that you can purchase by the month, by the hour, or by the studio. Their systems included powerful servers with Dual Xeon® E5 series processors, Quad NVIDIA® T4 GPUs 16GB of RAM.
RenderStreet supports a variety of Blender versions, from 2.72 to 2.82 (with Eevee support included) and is always up to date with the latest versions the Blender Foundation publishes, including next-generation Modo with versions 902 through 13.2, including GPU rendering for denoising. RenderStreet supports render groups and passes and radiation caching.
You can try their plans for $3.00 per server-hour, $4.49 per server-hour for GPU rendering, or $50 per month.
To sum up, if you are looking for one of the best cloud render farms that support some particular software such as 3Ds Max, Maya, and Cinema4D, you can take 85% of the current render farms on the market into account including iRender, Garage Farm, Ranch Computing, Rebus Farm, Fox Render Farm, AnimaRender or Turbo Render. If you use any special plugins or different software, these render farms may not meet your requirements. It's time for you to find out another best render farm that supports your own software. From my suggestion, you should consider using iRender farm or Xesktop where you can take full control of the machine and install any software or plugins you want.
See more: 7 Best Render Farms Comparision