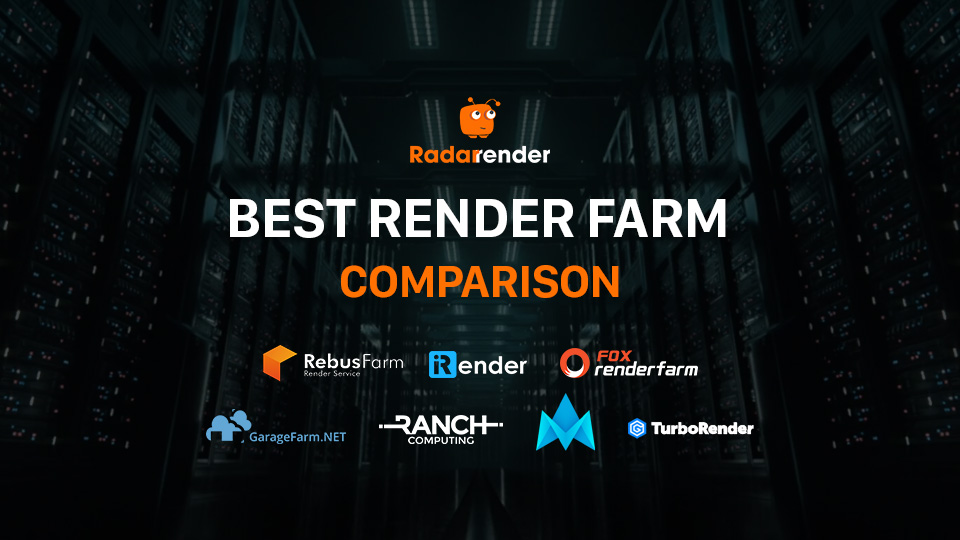 7 Best Render Farms Comparision – Radarrender
7 Best Render Farms Comparision
Render farms offer cloud-based rendering services by utilizing the power of high-performance CPUs & GPUs to handle heavy and complicated rendering tasks. You may be wondering:
Which is the best render farm for your needs?

Is the render farm compatible with your own software, renderers, and plugins?

How much does the render farm cost your project?

How to use the render farm service?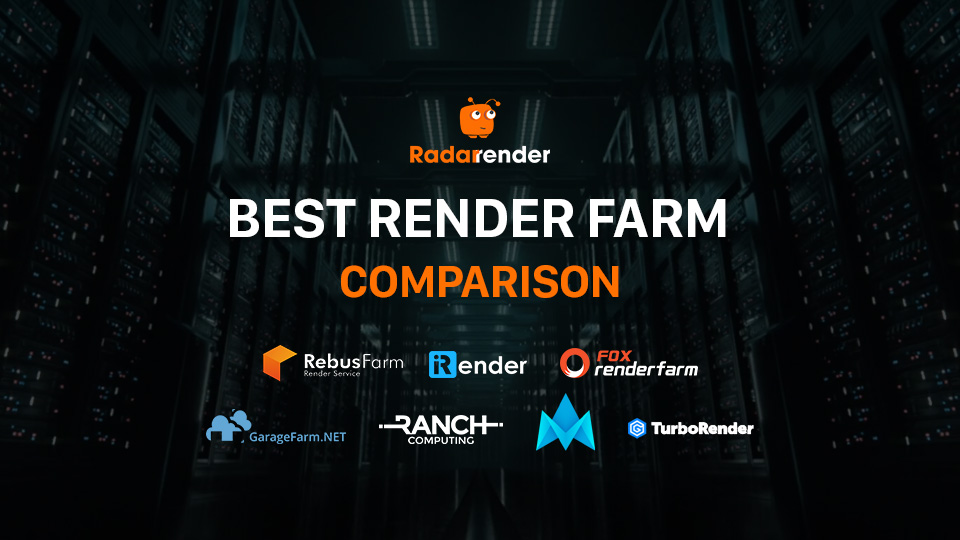 Rendering a job in the quickest time at the lowest budget can be considered the top priority of any customer. So let's do research more on the following famous render farms in the current market and make a list of the best render farms for each software. Thanks to the list, you will make a wise decision about which is the best one for you among the 7 best render farms.
CPU: AMD Ryzen Threadripper Pro 3955WX @ 3.90GHz

GPU: 2/4/6/8x GTX 1080Ti/ RTX 2080Ti/ RTX 3080/ RTX 3090, 2 x 10.496 to 8 x 10.496CUDA cores

RAM per node: 256 GB

Number of Nodes: 1000+

Price: from 3.8$/node/hour for CPU and 3.8-22.4$/node/hour for GPU
Support any software, renderers, or plugins

Powerful servers
Need to install software and plugins on the server for the first usage
CPU: AMD's Threadripper 3970X

GPU: Quadro RTX 6000, 4608  CUDA cores

RAM per node: 128 – 256 GB

Number of Nodes: 2500

Price: 1.5 cent/GHzh and 1.1 cent /OBh
Support various plugins and versions

Easy to use
Cores per node: 16 cores

Number of Nodes: 6000

GPUs per node: 2

Price: 0.06$/core/hour for CPU and 2$/node/hour for GPU
Only support 5 software: Maya, 3Dsmax, Houdini, C4D, and Blender
CPU: Intel Xeon V4 22 – 88 physical cores, AMD Epyc 3rd gen 32.

GPU: 8x Tesla K80 12GB, 8x 4992 CUDA cores

RAM per node: 60 – 240 GB

Number of Nodes: up to 1000

Price: 0.015-0.06$/GHzh for CPU and 0.0025-0.050$/OBh for GPU
Support customers based on low/medium/high priority

Currently doesn't support Redshift and OctaneRender
CPU: 2 Xeon E5-2697A V4, 2.60 GHz, 16 cores

RAM per node: 128 – 256 GB

Number of Nodes: 500

Price: 0.015 – 0.039€/GHzh for CPU and 0.011 – 0.019€/OBh for GPU
Support a wide range of software, versions, and plugins
No 24-hour customer support
CPU: 2 Xeon E5-2670 v2, 2.6GHz, 8 cores

GPU: 8x GTX 1080 and 5x GTX 1080Ti/ RTX 2080Ti

RAM per node: 64 – 128 GB

Number of Nodes: 500

Price: 0.5-1.24$/node/hour for CPU and 12.6-21.9$/node/hour for GPU
CPU: 2 Xeon E5-2670 v2, 2.6GHz, 8 cores

GPU: 4x GTX 1080Ti and 4x RTX 2080Ti, 4 x 3.584 to  4 x 4.352 CUDA cores

RAM per node: 64GB

Number of Nodes: 800

Price: 0.087$/node/hour for CPU and 2.62-4.37$/node/hour for GPU
Only 10GB upload file size limit

Currently doesn't support Redshift and OctaneRender
iRender farm is a render farm platform built as an IaaS (Infrastructure-as-a-Service) in Vietnam. They specialize in providing high-performance machines for rendering. It's one of the friendly and best render farms for users. You just need to get access to their powerful machine via an RDP file and use it as your personal computer. In addition, iRender provides a free tool called GpuHub_sync to transfer your files to the remote server which makes customers to save their time and money to use a render farm.
iRender is a leading render farm that always offers cutting-edge graphics cards in the world such as RTX 3080 and RTX 3090 in 2020. Unlike the other render farms, you need to install software on the remote server on the iRender system, but just one time only, all software will be saved and available for the next usage. This is also the key point that makes iRender farm unique. On top of that, if your studio has a complicated pipeline and complex workflow, iRender farm ranks first in the best render farms 2021 list. In detail, you and your studio are able to take full control of the powerful remote server(s) and customize your jobs as you want.  Installing any software, renderers, or plugins is compatible with iRender servers. Therefore, if you use special software or plugins that other render farms do not support, don't worry, iRender helps you to handle your job in minutes with high-computing servers. To illustrate, software using multi-GPUs such as Daz Studio, Unreal Engine, or popular software Cinema 4D, Houdini using Redshift, Octane is optimized the best in powerful machine specs 8x RTX 2080Ti/ 8x RTX 3080 or 8x RTX 3090. Let's take a single GPU as an example. Lumion, Enscape software that leverages the power of a single GPU is also supported in the iRender farm system while hardly render farms offer. 
RebusFarm is a German-based company that is part of the growing commercial rendering service for studios around the world. The company has a high capacity for data rendering with 2500 XEON CPUs at its disposal. They offer a cloud rendering service that can handle almost every major 3D software out there. It is based on the model of SaaS (Software-as-a-Service). You will submit your job directly from a plugin inside the 3D software. With the experience of more than 14 years in the field of 3D rendering, Rebus has been improving a lot to be one of the most trusted render cloud services.
RebusFarm is good at CPU-based rendering. They are likely to offer you from 200 nodes to 500 nodes to render which takes to complete your job in minutes, instead of hours. Rebus comes first for supporting 3Ds Max because of a large number of rendering nodes and full of render engines for 3Ds Max ranging from Vray, Arnold, Corona, Octane, Mental Ray, Maxwell attached to dozens of plugins. Apart from 3Ds Max, RebusFarm is a well-known brand name in rendering Maya, both CPU and GPU ones. Various releases of Maya offered from the 2014 version to the 2020 version definitely satisfy you.
RANCH Computing is high-performance rendering service for CPU and GPU projects and also a provider of hardware solutions dedicated to 3D rendering. RANCH Computing began its activity in March 2007 and is based in Paris, France Since then, Ranch Computing's aim is to allow any graphic designers, whatever line of business they are in (animation, VFX, architecture, design, video games…), to tackle the rendering process serenely in order to meet their deadlines and their budgets. This brand name does not show the types of CPU or GPU that they are offering, instead, they show customers CPU farms and GPU farms based on their quality such as GPU-low (max 14 nodes), GPU-medium (max 28 nodes), and GPU-high (max 56 nodes).
They now offer customers numerous software versions, renderers, and plugins which is one of the outstanding advantages of this render farm. RANCH is best known for supporting Houdini and Cinema 4D software. Both CPU vs GPU rendering, RANCH gives us to select the latest versions of render engines for the aforementioned software. For instance, regarding Houdini 17.5, 18.0, 18.5 releases, GPU-based rendering is compatible with Redshift, Arnold GPU, Vray GPU while CPU-based rendering is used in Mantra, Vray, RenderMan. In terms of Cinema 4D from R16 to R23, RANCH utilizes renderers in GPU rendering namely Redshift, Octane, Vray GPU, and Arnold GPU, while Arnold, Vray, and Corona are for CPU rendering. 
Fox Render Farm was established in 2009 in China with a team of experienced staff in the field of computer graphics. With professional services and industry-leading innovation, they provide cloud rendering services to a wide range of entertainment studios and animation studios from more than 50 countries and regions. Fox Render Farm is currently one of the fastest-growing companies in the global market, especially in Asia and North America. Fox Render Farm provides Cloud Rendering services – SaaS (Software as a Service) – that allows customers to use their applications to render their projects. Fox supports a wide variety of plugins and mainly focuses on 5 main design software including Maya, 3Dsmax, Houdini, C4D and Blender.
They now possess the largest number of nodes in the world, with 6000 nodes. Fox is one of the best render farms that support CPU-based rendering very well. You can select the number of nodes you want such as 5 or 300 nodes, it depends on you. Therefore, Fox is in the top rank when it comes to best render farms supporting 3Ds Max or Maya when this software is processed in CPU rendering. 
AnimaRender is an online render farm service which is situated in Russia. Their service combines CPU and GPU power, which allows them to provide render farm services for the entire spectrum of the most popular software. You can upload your projects to your AnimaRender account, select all necessary settings, and start rendering. If you use other software that is open-source, you can contact AnimaRender, they will install open source software and then you can use VNC Teamviewer to access their machine and render on it. AnimaRender's data center uses high-performance data storage systems and they do not limit users in the volumes of uploaded, processed, and downloaded materials. However, you need to keep in mind that the rendered files will be automatically deleted from your folder on the farm 10 working days after the end of the render. The upstream of the render farm is about 2 Gbps. One high point of this service is 24/7 technical support. Technical specialists will support you online via live chat 24 hours a day, 7 days a week, and be ready to help you figure out any questions about working with AnimaRender.
Anima Render has become popular in designing field thanks to GPU-based rendering. Hence, Anima Render ranks the top 3 in GPU-based rendering services when supporting Cinema 4D, Houdini, and Maya GPU. In detail, Redshift or Octane is combined with Cinema 4D, Houdini and Maya while Vray is added for Cinema 4D and Maya. The 3 above software take advantage of GPU (particularly multiple GPUs), Anima Render has servers with RTX 2080Ti and GTX 1080/1080ti graphics cards available for your projects. Especially, multi GPU servers such as 5x RTX 2080Ti will render your job in minutes.
TurboRender is a cloud rendering service coming from Russia and also the brand name in the list of the top best render farms 2021. They established in 2013 and have been helping customers save rendering time. TurboRender is an online render farm that is based on SaaS (Software as a Service) platform. This company has 800 powerful servers with installed and configured specific software. Users can speed up the rendering process many times and get the finished result faster with a couple of clicks. TurboRender is perfect for individuals and teams because it is easy to use and offers a reasonable price from 0.87$/hour (CPU) to 2.62$/hour & 4.37$4/hour (GPU).
One of the huge advantages of Turbo Render is that they have easy access to the cloud rendering service and easy to use. When it comes to software, Turbo Render came top with supporting After Effects on their farm. Giving a long list of supported plugins make customers satisfied with this render farm when they use After Effects. Besides, they are also a great choice for Corona 3Ds Max, Arnold CPU 3Ds Max, or Vray Maya. Turbo ranks third in terms of 3Ds Max and Maya, followed by Rebus Farm and Fox Render Farm because they only offer a small number of nodes, but at a reasonable price than the others.
Garage farm was established in 2010 with a team of two, Tomek and Minhee. They are a UK-based business that provides cloud rendering services. There are 2 brand names from Garage including GarageFarm and Xesktop. In terms of supporting software, you should look at Garage Farm which is a SaaS service. This service is suitable for VFX, Product Visualization, or ArchViz scenes. 
Another brand name that provides CPU rendering well is Garage Farm. This cloud render farm offers more types of software than the above render farms. Garage Farm ranks first when giving rendering solutions for Lightwave 3D, Sketchup, Modo, Rhino or Blender. There are few render farms supporting these software, which makes Garage special. On top of that, the Vray render engine will be combined with Rhino, Sketchup, and Modo.
To sum up, depending on your own software, render engines as well as plugins, you should choose a suitable render farm for your need. If your project is not too complicated, simply sending the project to a online render farm and let it do your task is an ideal option. However, when the large and intricate projects with highly-customized settings need rendering under your control, a few IaaS-based render farms such as iRender definitely meet your demanding requirements.

As my recommendation, Rebus Farm or Fox Render Farm is best for 3Ds Max. Anima Render or RANCH Computing should be chosen for Houdini, Cinema 4D, or Maya. Garage Farm handles rendering tasks in terms of Sketchup, Modo, Lightwave 3D while Turbo is for After Effects. Finally, iRender is the best rendering solution for the rest of the software such as Daz Studio, Unreal Engine, Redshift, Octane, Keyshot, Lumion, ect, especially rendeirng on a single GPU or multi-GPU servers.