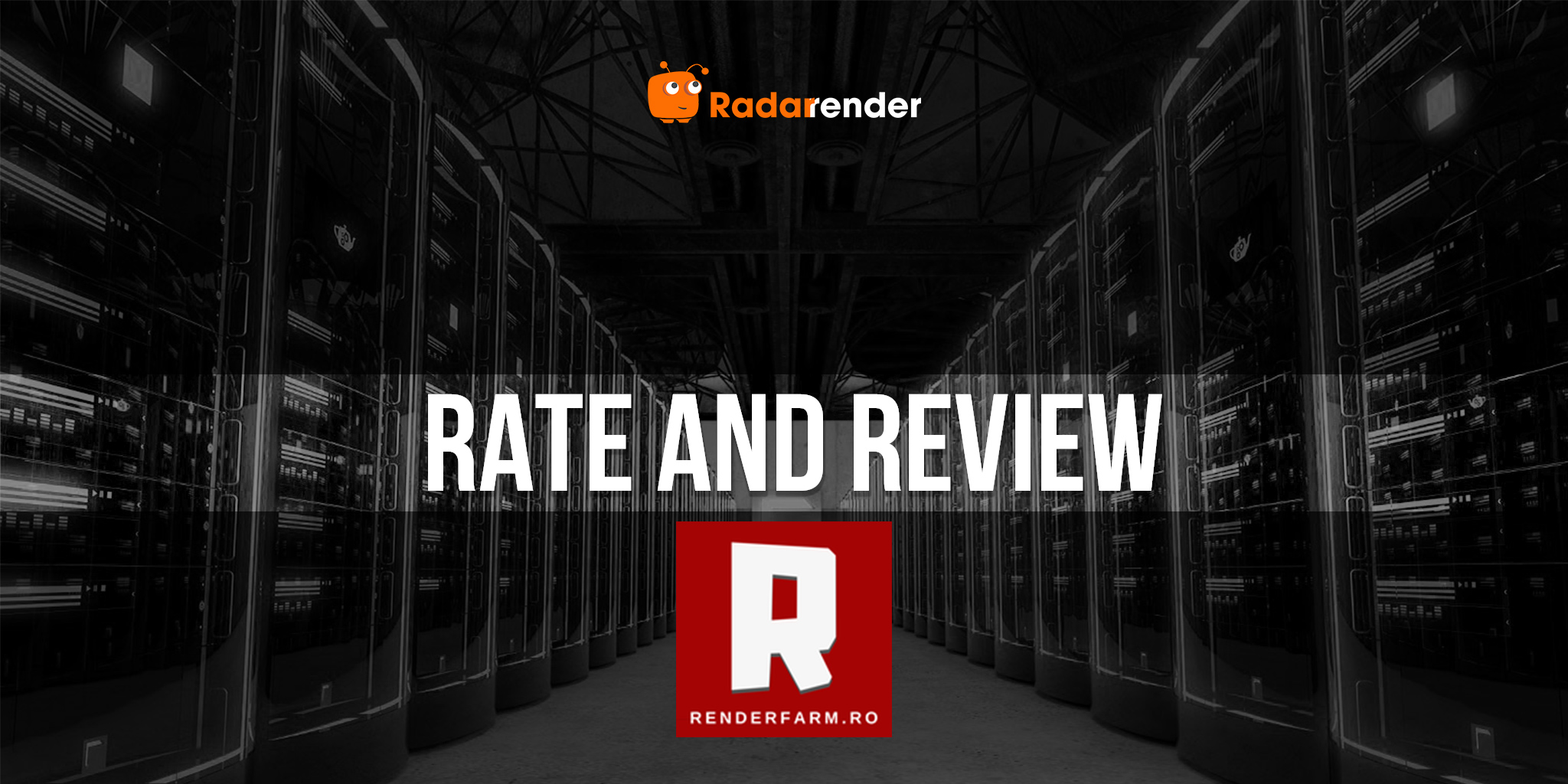 Rate and Review RENDERFARM. RO 2022 – Radarrender
Rate and Review RENDERFARM.RO
RENDERFARM. RO was founded in 2010 as the first render farm in Eastern-Europe. The business model of RENDERFARM. RO is based on the SaaS (Software-as-a-Service) model where allows customers to upload files to RENDERFARM.RO system and let the powerful infrastructure render these scene files. As RENDERFARM.RO said that they can tackle any computing requirements for any type of software as we also support BYOL (bring your own license). Today, let's find out what RENDERFARM.RO provides us and is it a great render farm for users to select?
| | |
| --- | --- |
| Company Name | RENDERFARM.RO |
| Website | https://renderfarm.ro/ |
| Country | Romania |
| Type of render farm | CPU and GPU |
| Free Trial | N/A |
The first thing we are unsatisfied with RENDERFARM. RO is their UI/UX. The loading speed is so slow that it takes time to implement every single step on RENDERFARM.RO from logging into your account to sending a project. The system is really laggy. Roughly speaking, the UI/UX of RENDERFARM.RO is admittedly bad that makes users frustrated while using this cloud rendering service. When we made a single frame test on RENDERFARM.RO, it took a very long time to complete the rendering. The rendering status that changed from PENDING to COMPLETED lasted maybe hours. 
Regarding transferring files, you can upload your scene files and assets and download the rendered output using our amazing online file manager. The project size is uploaded pretty fast when it is under 1GB of data. On the other hand, when it comes to larger file sizes such as 5GB or 10GB, it takes hours to upload the file because the online File Manager cannot handle files larger than 1GB. Therefore, recommends using direct FTP upload/download for projects larger than 1GBG. You can connect to RENDERFARM. RO FTP using FileZilla or another FTP client software. However, even transfer files via FileZilla, the upload & download speed is relatively slow. Unlike other render farms such as Rebus or iRender farm that support a free file transfer file tool, RENDERFARM. RO has limited ways to upload files to their farm and it seems that the upload and download speed does not be improved by using Online File Manager or FileZilla. 
Next, we would like to look at types of supported software that is the key factor to evaluate an excellent render farm. Regarding RENDERFARM.RO, they support a few popular software in the community, namely 3Ds Max 2017 – 2021, Maya 2017 – 2020, Cinema4D R17 – R23, Blender, Maxwell. However, Houdini software or Octane renderer which is widely used by 3D artists is not on the list of this render farm. RENDERFARM. RO offers two kinds of rendering including CPU render and GPU rendering. The former is supported rendering via Corona, Vray, MentalRay, Scanline, Arnold, and Krakatoa. Meanwhile, the latter consists of 3 main render engines Redshift, Vray RT, Arnold. Nevertheless, RENDERFARM.RO does not mention render engine versions, hence, we do not know exactly which versions they are offering and whether these versions are legal or illegal.
In terms of hardware, RENDERFARM.RO offers a wide range of CPU and GPU types which allow users to select an affordable package. As aforementioned, RENDERFARM. RO provides both CPU and GPU rendering. For CPU rendering, there are 2 CPUs per node, 64GB RAM, the number of render nodes depends on the type of package users choose. In detail, RENDERFARM.RO offers 5 CPU packages including Economy Priority with a maximum of 20 nodes, Balanced Priority with a maximum of 40 nodes. Higher priorities are Fast, Ultra, and Max Priority includes 60, 80, and 100 nodes respectively. When it comes to GPU rendering, RENDERFARM.RO provides 3 main GPU types, namely Tesla T4, Tesla P100, and Tesla V100. The specification per node is 2 CPUs, 64GB RAM, and 1x Tesla T4/P100/V100. Likewise, GPU packages also are Economy, Balances, Fast, Ultra, and Max Priority. However, the number of render nodes varies from 5 GPU nodes for the lowest package, 10, 20, 30, and 50 nodes for the rest of the packages. 
Possessing a diversity of hardware, RENDERFARM.RO also offers various pricing plans that are up to the package users choose. Generally speaking, the RENDERFARM.RO pricing is not cheap, can be considered "pricey" when compared to other SaaS-based render farms such as Rebus or Fox render farm. The price per node varies based on the type of CPU or GPU you are rendering with. To illustrate, the CPU packages cost from €0.8/node/hour for the Economy priority to €2.6/node/hour for the Max priority, compared to €0.049/node/hour from Fox render farm. The GPU pricing varies from €2.13/node/hour for the Economy priority to €4.26/node/hour for the Max priority. In addition, the estimates above are for render times only! They do not include the scene loading times, assets loading or any pre-cache for objects which takes a very long time as mentioned above. As a result, it can be said that the RENDERFARM.RO pricing is pricey and not really worth such rendering time.
Customer service is the final factor we would like to mention when evaluating RENDERFARM. RO. According to all experience we have had, it is clear that RENDERFARM.RO support is not good, not to mention bad. They are operational 24/7 but what they offer is not like that. The work hours start 10 a.m to 5 p.m (according to their time zone). Therefore, please keep in mind that projects submitted outside work hours will be processed the next business day. In case you are in a rush, RENDERFARM. RO is not a great choice. If you have any questions or issues, you will be supported during their work hours, not 24/7.
Learn more about the article Top 3 best render farms for Lumion Cloud Rendering Service 2022