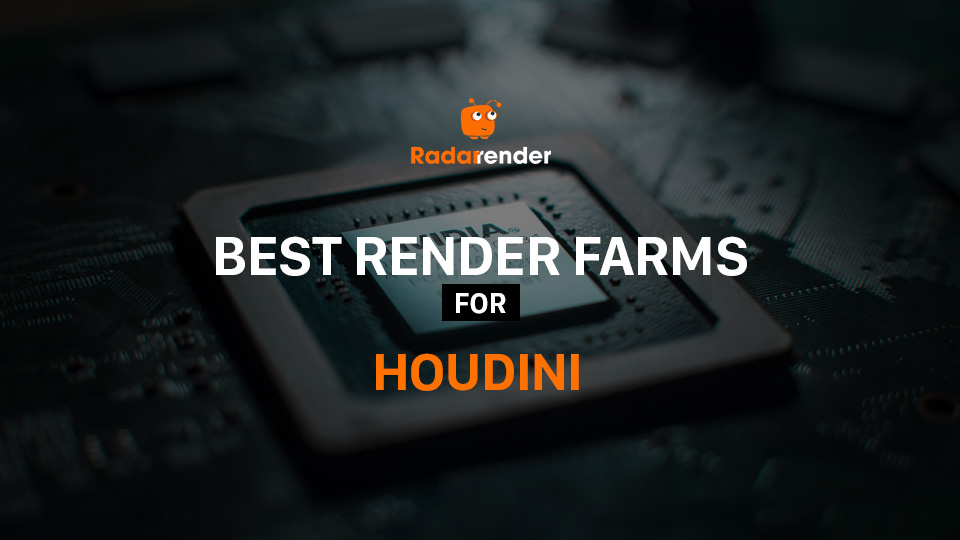 Top 4 best Houdini render farms
Are you working with Houdini software and looking for some solution to speed up rendering time? One of the best solutions is to use a Houdini render farm. In this article today, Radarrender will rank the top 4 best Houdini render farms and give you some suggestions for choosing the right one for your projects.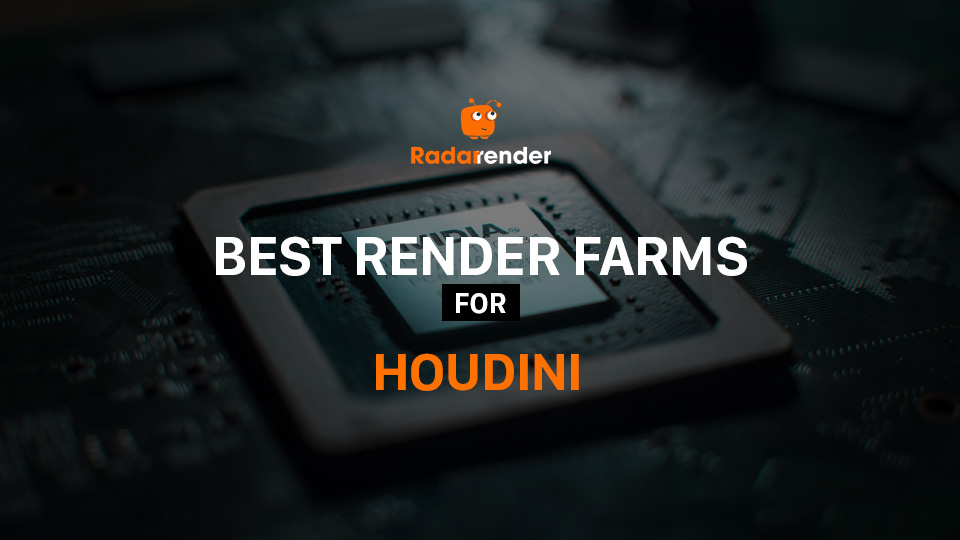 Houdini SideFX is a 3D software for CG animations, films, games, and TV. It is one of the best 3D software in the world and provides powerful toolsets for features, including modeling, rigging, animation, particle effects, dynamics, compositing, integrated rendering, and more. Houdini SideFX utilizes a node-based procedural approach, which enables digital artists with an unprecedented level of power, flexibility, and control. Nowadays, Houdini to be considered is the future software of the 3D industry by many 3D artists and studios around the world.
Houdini can combine with many different renderers and use both CPU & GPU render. Some popular names of render engines utilize GPU rendering with Houdini like Redshift, and Octane. If you prefer CPU rendering, you can render Houdini with Mantra, Arnold, and V-Ray.
Although Houdini is a popular software, there is not much render farm support for it. Because of the specific factors related to the project as well as plugins or the extensibility of the project with Houdini. But we still have the famous names Houdini render farms. So what is that? Let's explore below!
1. iRender Farm
iRender Farm is one of the best render farms for Houdini. It is a Vietnam render farm, established in 2019. Although with over 3 years of experience, iRender provides rendering services for all 3D software and render engine that every 3D artist need.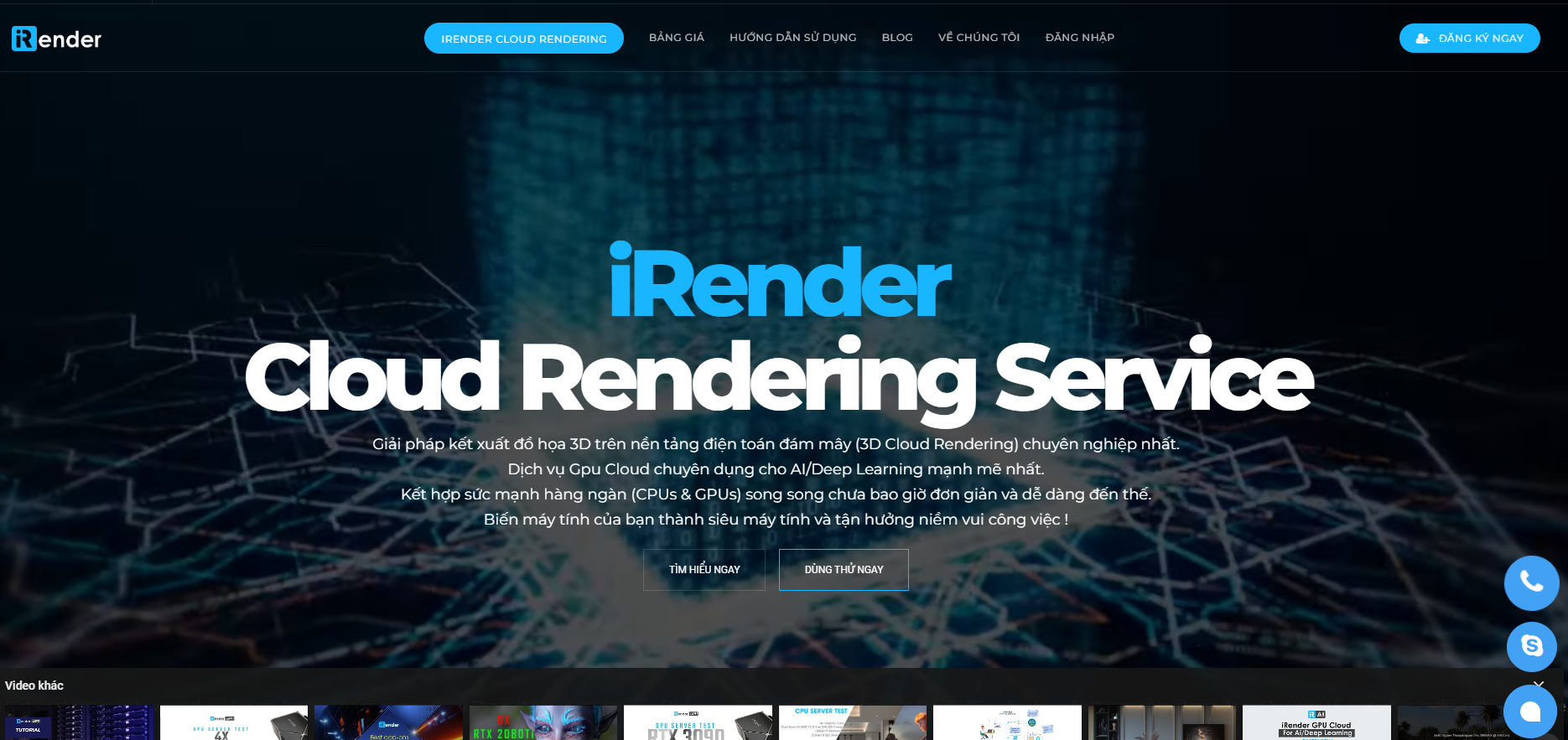 iRender Farm based on IaaS model. It allows users can control every aspect of rendering from choosing the hardware to installing software, plugins, and scripts, using their remote servers as your computer, and more. So, you can install any versions of Houdini (which run on Windows 10 or Linux …), and any renderers. We recommend this render farm for any projects with Houdini, especially large-scale projects.
Hardware: RTX3090 GPU and Intel Xeon W-2245 and AMD Ryzen Threadripper Pro 3955WX CPU
Pricing: pricing starts at $3.8/hour/node to $28/hour/node. 50% bonus for students and educational purposes.
Support: all GPU or CPU renderers for Houdini; all plugins.
Note: You will need to use your macOS to connect to their Windows or Linux OS remote server for use and install your app and transfer your license to their servers.
2. Fox Render Farm
Fox Render Farm is one of the best famous render farms. It is a China render farm, established in 2009. Fox is the best choice for many 3D artists and studios around the world, and it is the service for many hits and blockbusters.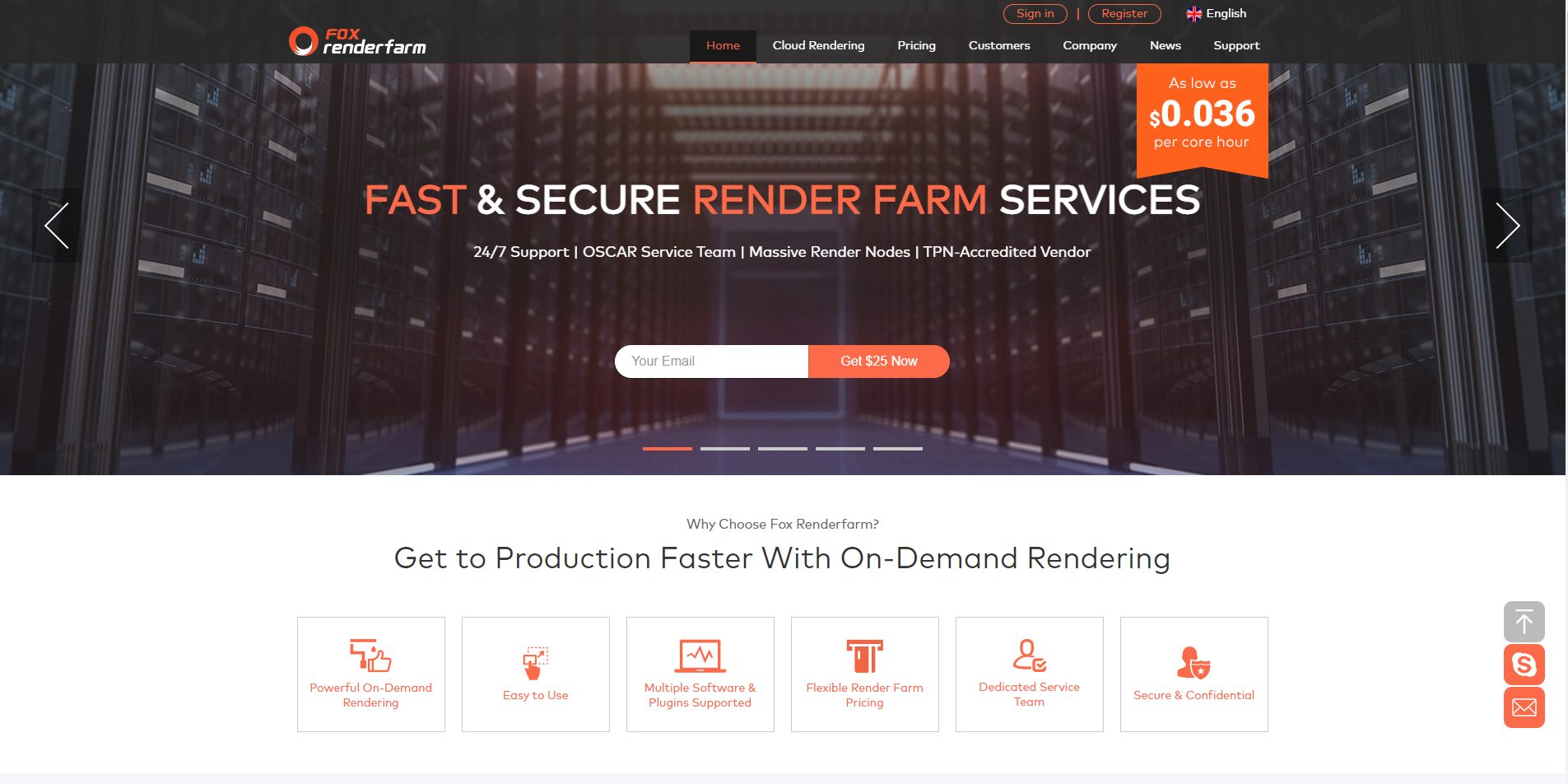 Fox Render Farm is based on SaaS model. It allows proceeding with rendering on their website. Because is a SaaS render farm, Fox just supports certain Houdini versions with render engines. And unfortunately, it does not support Plugins with Houdini at all. It is a con if your projects have scripts or plugins.
Hardware: 16 cores (hyperthreading available), 64-128 GB RAM
Pricing: free trial $25 credits, with a discount for students. The price starts at $0.06 per core per hour.
Support: you will need to check if their Houdini version and render engine match yours.
Houdini version

Renderer

13.0

14.0

15.0

16.0

16.5

17.5

18.0

18.5

19.0

Arnold 

Mantra

Redshift 

V-Ray
Note: Low cost; no plugins and Octane support.
3. Ranch Computing
Ranch Computing is one of the best render farms for Houdini with high-performance 3d rendering service. It is a France render farm with over 15 years of experience in this industry. They provide both CPU and GPU-based rendering. Like Fox Render Farm, Ranch Computing is SaaS render farm, and rendering management is also on the web.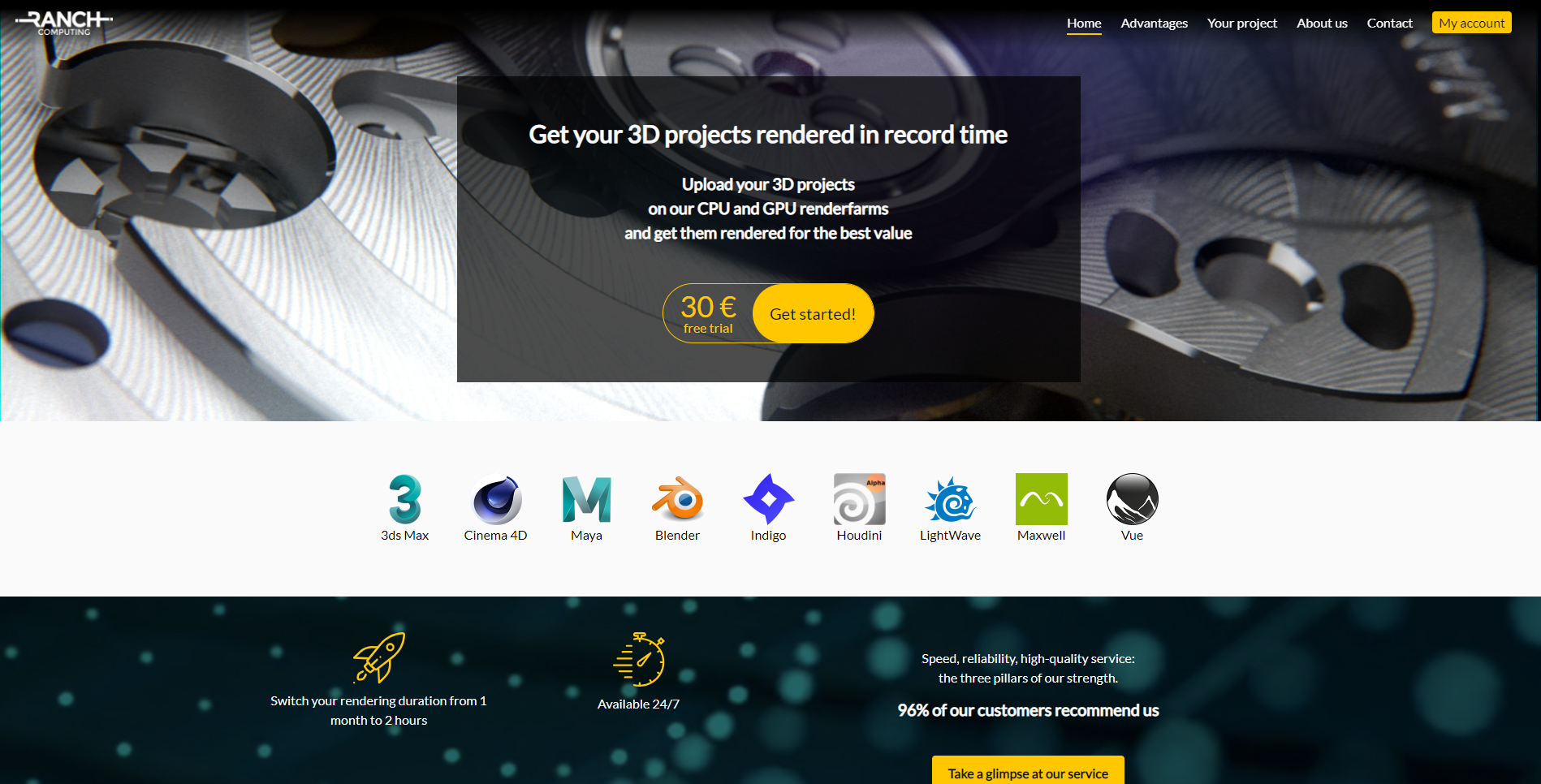 Ranch Computing provides Houdini user RANCHecker – which is a plugin integrated into your Houdini. RANCHecker will help you check if your project is okay. If it's okay, it will upload through RANCHecher. Then you go to their website and submit it. From there, it's up to you to wait until the project is finished and download the results.
Because Ranch Computing is SaaS render farm, Ranch just supports some Houdini versions with some render engines. And of course, you can't control the rendering process.
Hardware: Up to 192 CPUs or 56 GPUs, 128 or 156 GB RAM
Pricing: pricing starts at $0.011-$0.047/hour. Free trials $36 and you need to apply for it.
Houdini support: Ranch supports many versions of Houdini, along with a number of renderers and plugins.
Houdini version

Renderer

Plugins

17.5 (beta support)

18.0 (beta support)

18.5 (beta support)

19.0 (beta support)

Arnold

Arnold GPU

Karma

Karma-XPU

Mantra

Redshift

RenderMan

V-Ray

V-Ray GPU

Simulation

qLib

Lynx

MOPS
Note: no Octane supported.
4. AnimaRender
AnimaRender is a powerful render farm for Houdini. It is a Russian render farm, which was founded in 2016. Like numerous other render farms, they're SaaS and also give CPU as well as GPU rendering. You'll download their plugin and integrate it into your Houdini, also you can start your render from the interface of your software.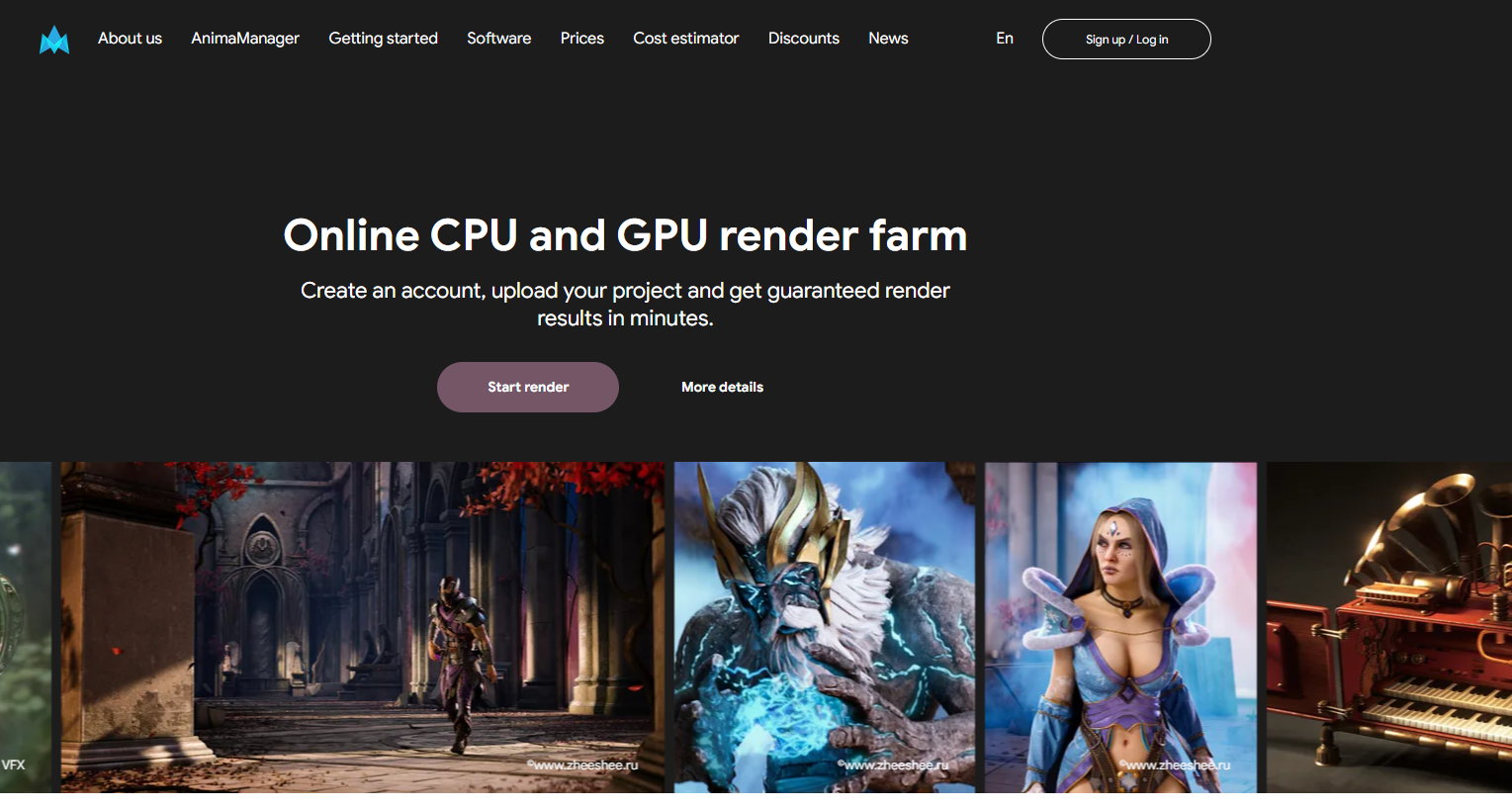 Besides SaaS render farm, they provide GPU Rental service where you can rent fig (5x1080Ti and 5x2080Ti) for at least 3 days. You can connect with the GPU server through Anydesk/VNC. Then, you can install another version of Houdini on their instance and use it as your want.
With SaaS render farm, you need to check your Houdini version, Render engine and plugins before upload to their system. Because AnimaRender doesn't support plugins and some version of Houdini.
Hardware: Dual Xeon 64-128 Gb RAM and Threadripper 3970x 256 Gb RAM for CPU. GTX1080Ti and RTX2080Ti for GPU.
Pricing: pricing starts at $0.5/hour/server.
Houdini support:
Houdini version

Renderer
Plugins

17.5

18.0

18.5

19.0

and more

Arnold CPU

Mantra

Octane GPU

Redshift GPU

V-Ray CPU

and more

no
Note: no support for Linux and any plugins. You can use their GPU rental service if you want to render with the Render engine and plugins they don't support. But you need to rent the server for at least 3 days with a price starting from $249.
Wrap up
There are the 4 best Houdini render farms you should choose for your project. Each render farm has its own pros and cons. Your job is to select the suitable one. If your project is large-scale or has some special plugins or custom scripts, we recommend you use iRender or AnimaRender, but iRender is the best choice. If your project uses popular software and does not have plugins or Octane render, you can choose Fox Render Farm or Ranch Computing.
See more: